Advanced Micro Devices (NYSE:AMD) fits a pattern of ostensible technology business turnarounds that never actually occur. In this article, I'll describe the characteristics of this pattern and provide examples from the recent past. I'll also highlight the ways that AMD does and does not fit this pattern.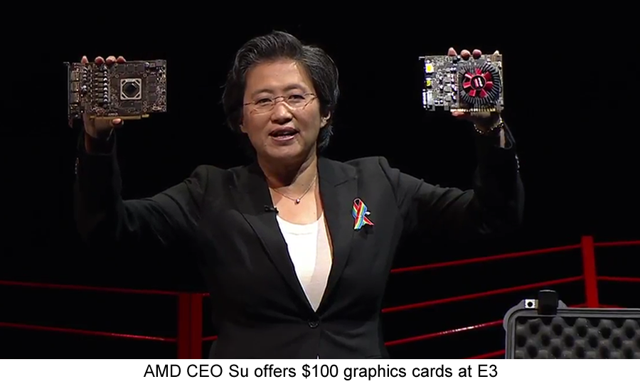 Click to enlarge
Source: PCGamer
Turnaround Thesis
Since I began blogging about technology in 2013, many technology companies have been disrupted by new tech or more powerful competitors. Often these companies attempt to stage a comeback, and a thesis is presented to investors that a turnaround is imminent or underway.
In some cases, I've criticized the turnaround thesis as unrealistic based on my assessment of the financial condition and products of the companies, as well as the competitive landscape. These cases had a lot of features in common:
Financial weakness: Either the company, or the business area involved, had been suffering from revenue declines and was losing money.

Non-competitive products: Often the companies were once market leaders, but their position had been disrupted by competitors with new technology. Invariably, the management of the company fails to recognize or acknowledge the non-competitive nature of their products.

A turnaround thesis: Investors are told that some change or new product offering will turn around the fortunes of the company. Often this is appealing precisely because the stock is cheap and there is a prospect of large percentage gains.

A dissembling management: Often the management will dress up the turnaround thesis with dissembling about the true nature of the financial condition and market prospects of the company. Losses are obscured with non-GAAP financial metrics. Claims are made of sales "momentum" and market share gains. Usually, any revenue or market share gains are short lived and come at the cost of deepening losses.

Negative reaction to my position: my critical articles of these companies have usually been greeted with a vituperative outpouring of personal attacks in comments.
Besides AMD, I can think of three other companies that meet the above criteria. These were Nokia (NYSE:NOK) circa 2013-14, BlackBerry (NASDAQ:BBRY) circa 2014-15, and Intel's (NASDAQ:INTC) mobile device business, circa 2014-16.
Nokia 2013-2014
In the late Fall of 2012, Windows 8 and Windows Phone 8 had been released, and Nokia, under the leadership of ex-Microsoft (NASDAQ:MSFT) executive Stephen Elop had chosen to abandon its Symbian operating system in favor of Windows Phone. The turnaround thesis was a simple one: WP8 was a "modern" mobile OS that would revitalize Nokia sales. Nokia began producing a line of Lumia phones featuring WP8.
At the time, expectations for Windows 8 and Phone were very high, but I, contrary to prevailing sentiment, was not impressed with Nokia's prospects. In a blog conducted by Motley Fool, I wrote "Myths of the Nokia Turnaround." Although Motley Fool subsequently took down the blog pages, the article can still be viewed via the Internet Archives.
In the article, I took issue with Elop's claim that Nokia had achieved "underlying profitability," a non-IFRS metric that ignored Nokia's incessant restructuring. I also called the purported success of Windows Phone 8 a myth. While Nokia managed to briefly grow Lumia revenue, the Devices and Services division revenue continued to decline as the division remained unprofitable. For 2013 Q2, I observed that Lumia was simply cannibalizing sales of legacy Symbian phones. I also discussed the speculation about a Microsoft buyout:
Given Google's experience with buying Motorola, I'm not sure why Microsoft would want Nokia's D&S division, and I'm sure that Microsoft is better off without it for the time being. While trying to reshape itself as a devices and services business, the task of managing Nokia's devices and services business would probably be more than Microsoft could handle.
Nokia's Devices and Services division never achieved profitability and by the end of 2013, Microsoft had agreed to buy it. Although the Lumia phones were billed as "flagship" devices, they simply were not. Clad in cheap plastic and featuring off the shelf processors, they were steeply discounted from the beginning. The pricing of the Lumias was a dead giveaway about their true stature in the market.
Even after the Microsoft purchase, Windows Phone 8 continued to fail in the marketplace. Windows Phone 8 didn't fuel the turnaround of Nokia's Devices and Services business. It did just the opposite.
Although it seemed fairly obvious to me at the time what was happening with Nokia, my articles were greeted with the harshest criticism. Unfortunately, Internet Archives didn't save any of the comments I received. The reader will have to take my word that I was literally called an idiot and told that I had no business writing about technology or investing.
BlackBerry 2014-2015
In 2014, the turnaround thesis was that the appointment of John Chen as CEO, combined with new devices based on BlackBerry's proprietary BB10 mobile operating system would restore BlackBerry to smartphone preeminence.
In September 2014, I wrote "BlackBerry's Collapsing Ecosystem" on Seeking Alpha, acknowledging that BlackBerry's declining revenue and losses had not deterred investors in the stock. But I pointed out that in addition to its financial weakness, BlackBerry's overall user base was declining steeply.
BlackBerry had posted a couple of quarters of unit sales increases, but these were once again coupled to losses for the company. As is so often the case, the sequential improvement was cited as proof of the turnaround, but I took issue with this on the basis of the overall decline in the user base. The slight sequential improvements in hardware unit sales were not compensating for users abandoning the platform.
The very first comment I received (out of 377) is fairly representative of the reaction from BlackBerry supporters:
I stopped reading at this part: "The continuing decline in BlackBerry subscribers, combined with declining hardware and service revenue confirms that the BlackBerry ecosystem is collapsing."

That comment alone tells me that you're ignorant of the latest ER which was released just 4 days ago.
I wasn't ignorant of the earnings release, and BlackBerry's user base continued to collapse. Despite this, BlackBerry's management continued to represent that the turnaround strategy was well underway. By December 2014, I called BlackBerry the "Drowning Man of Mobile." I wrote:
The story of BlackBerry's supposed turnaround is always the same, but becomes increasingly ludicrous over time: BlackBerry has new products and services in the pipeline that will turn the company's fortunes around. BlackBerry's enterprise customers will buy BlackBerry's hardware and services, even if consumers will not.
Once again, in BlackBerry's management I perceived an element of dissembling in its representation of the turnaround. But eventually, it was realized that a new strategy was needed and that BB10 just wasn't cutting it.
Intel's Mobile Device Business 2014-2016
Beginning in 2014, Intel created a new Mobile and Communications Group (MCG) which gave investors visibility into Intel's efforts in smartphones and tablets. Too much visibility, apparently. By the end of 2014, MCG had accumulated a loss of $4.2 billion.
Intel management had been trying to push a turnaround story in mobile: Despite being late to this market, Intel was now determined to push its way in. Since the losses didn't really work very well for the story, Intel decided to obscure those losses by a reorganization that put together the PC group and the mobile group into a new Client Computing Group beginning in 2015. Once again, we have the element of management dissembling regarding its weak financial performance (in the mobile business).
In my assessment of Intel's earnings report in January 2015, I pointed to Intel's "contra revenue" policy as the source of the mobile device losses. I also challenged the fundamental wisdom of strategy of selling its tablet processors at a loss.
Here's another example where the pricing of the product is symptomatic of its market weakness. Throughout 2014, Intel virtually gave away its tablet processors for free. But Intel was very proud of its increase in market share due to shipping 46 million tablet processors in 2014. Intel pointed to this as a sign of its turnaround. Often, Intel supporters informed me that I didn't understand contra revenue, that I overstated the mobile losses, and that the turnaround was real.
But the turnaround was a managerial contrivance. A year later, I pointed out that Intel had capitulated on mobile devices. If there was still any doubt about this, Intel erased those doubts when it discontinued its Atom smartphone and tablet processors.
AMD 2016
AMD is another example of a technology company turnaround story where the financial weakness of the company has in no way deterred investors. As I pointed out for the Q1 earnings report, AMD reported a 19% y/y revenue decline and an operating loss of $68 million.
AMD makes its case for turnaround based on short-term market share gains that once again come at the expense of revenue decline and unprofitability. This should start to sound familiar. AMD also makes the turnaround case on the basis of hopes for new products such as its Polaris GPUs and Zen architecture CPUs.
These are yet to be released, but in the mean time, the actual shipping products are very uncompetitive. AMD's Bristol Ridge SOCs are fabricated on a 28 nm process and are not competitive with Intel's Skylake. Even though Bristol Ridge is based largely on the previous generation of Carrizo processors (according to Anandtech), AMD management hailed Bristol Ridge as a new "7th Generation" device when it was launched at Computex. Once again we have the element of dissembling in the management of the company.
The question of how competitive the new Polaris GPUs will be is still open, but the pricing of the GPUs, as revealed at E3 is a strong indicator of a lack of competitiveness. For instance, the low end RX 460 will have a starting price of $100, and the top end RX 480 will be priced starting at $229. When a company starts out offering new products at the extreme low end of the price range, that's typically not a good sign.
The comments from AMD supporters on my articles have been uniformly negative, but I've come to view this as an indicator that I'm on the right track.
In addition to the five key points of similarity with the other cases of tech decline, there are additional factors that weigh against AMD. In the other three cases, at least the companies were attempting a turnaround in a growing market, mobile devices, particularly smartphones.
AMD is not even attempting to offer anything in the mobile space. Instead, it's trying to grow market share in the shrinking market for PCs. CPUs and GPUs for PCs. This is not a strategy for growth, but it's the only avenue open to AMD. It's not like AMD is going to come up with a smartphone SOC. Even if AMD grows market share, it's likely to be smaller in absolute terms, as the overall market shrinks.
That leaves the data center as the last hope for true growth, but as I pointed out in my recent article on ARM servers, I view x86 servers as a declining market in the long term. AMD management has made it clear that they see their data center opportunity as being in x86, probably on the basis of the market reception to Seattle. So x86 servers are just another shrinking market for AMD to try to gain share in.
And this is the crux of my problem with the AMD turnaround strategy. It's a PC/x86-centric strategy in an era of x86 decline. And AMD continues to face much stronger and profitable competitors in Intel and Nvidia (NASDAQ:NVDA).
Investor Takeaway
Repeatedly, I see comments citing recent AMD stock gains as validation for the turnaround story. I consider the psychology of AMD investors to be very characteristic of a herd mentality. As long as the herd is buying AMD, members of the herd assume all is well.
I think the herd is being driven into the slaughterhouse. When will the slaughter occur? Hard to say, but probably by the end of the year. Certainly not for the June quarter earnings report. The release of Polaris on June 29 will be hailed as a major victory, despite the fact that Nvidia has had its superior GTX 1080 and 1070 cards available for some time, and these are sold out almost everywhere.
AMD will almost certainly post another quarter of y/y revenue decline as well as a net loss. But the herd won't care. I continue to regard AMD as a short opportunity.
Disclosure: I am/we are long NVDA.
I wrote this article myself, and it expresses my own opinions. I am not receiving compensation for it (other than from Seeking Alpha). I have no business relationship with any company whose stock is mentioned in this article.