This article would apprise investors about the possible effects of MSCI's announcement of the inclusion of Pakistan into emerging market index from frontiers markets. Although the weight of Pakistan's stocks into the emerging market index would be much lower than it has been in the frontier market, the sheer size of emerging market investment universe means that the overall price-to-earnings multiple of the stock market would re-rate. According to the finance minister of Pakistan, the country is expected to receive an investment amounting ~$475 million this year.
The following graph depicts the market multiples of regional exchanges relative to Pakistan's KSE-100 index. The KSE-100 has the lowest P/E and P/B, coupled with highest dividend yield among its regional peers.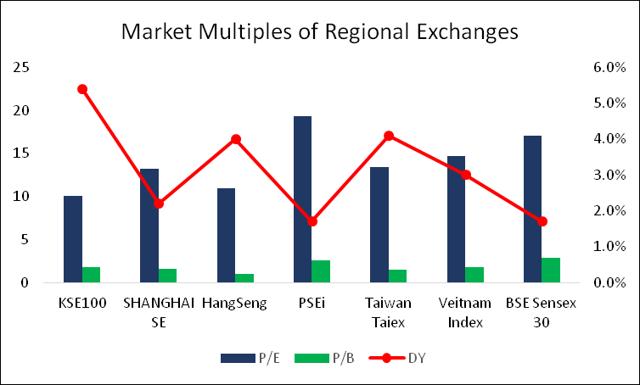 Click to enlarge
After going through above information, one pertinent question that comes into anyone's mind is; Why Pakistan's market is trading a huge discount? The partial answer might include the issue of turbulent law and order situation together with chronic electricity load shedding. However, in this article, I would try to debunk the theory which assigns Pakistan, a swelling country, risk premiums.
Law and order environment in Pakistan is improving since 2009
The graph below illustrates a steady decline in fatalities due to terrorism in Pakistan, indicating remarkable improvement in law and order environment in the country. Further, the steps taken by the incumbent government of Pakistan to enhance and ameliorate the border management with Afghanistan would bode well for the overall security environment of the country.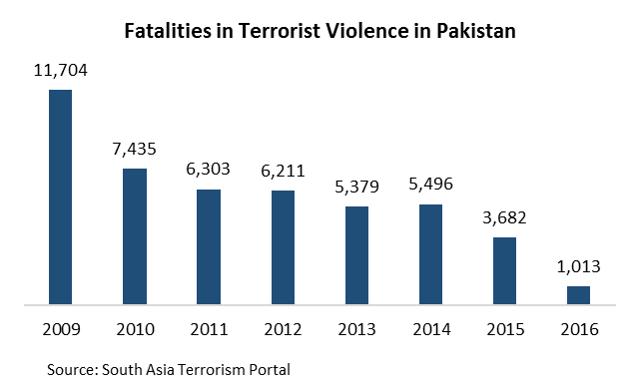 Click to enlarge
Electricity load shedding to end after FY'17
There has been a noteworthy improvement in the generation of electricity, resulting in the mitigation of supply deficit. Moreover, it is primarily due to chronic electricity shortages, that SMEs (small and medium enterprises) and other large scale manufacturing entities were unable to operate at higher utilization levels. However, I opine that going forward; there would be higher utilization levels of SMEs and large-scale manufacturing owing to the enhancement of electricity generation capacity. Thus, this would result in a rebound in economic activity.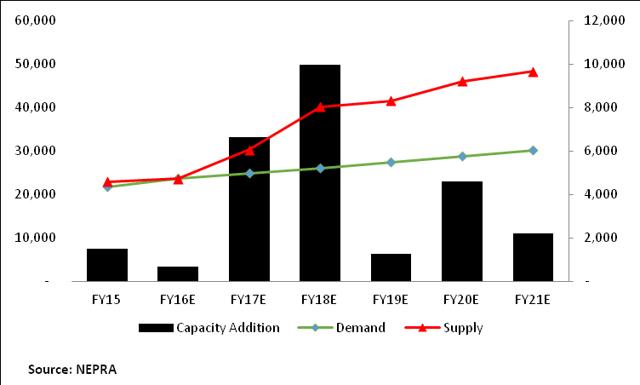 Click to enlarge
Fed Model
The Fed Model relates the earnings yield on the benchmark index (in this case KSE-100) to the yield to maturity on 10-year Treasury bonds (in this case 10-year PIBs). This model assumes that the two yields should be closely linked. Hence, if KSE-100 earnings yield is greater than the yield of a 10-year bond, then the market is undervalued. Thus, according to FED model, Pakistan's benchmark index is still undervalued.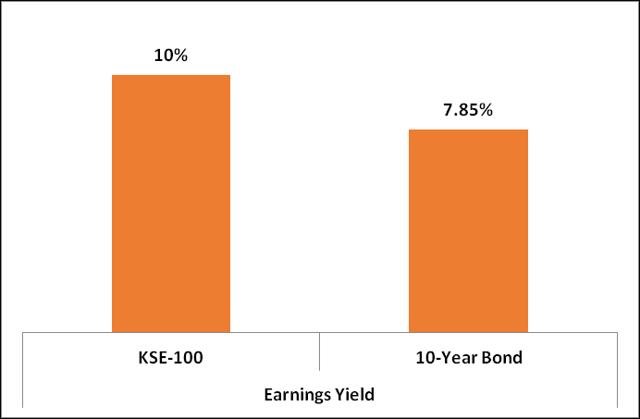 Click to enlarge
In conclusion, if we valuate Pakistan's capital market both on relative and absolute basis, even then the market still offers a huge potential for upside on the back of eroding risks coupled with rising potential for further upsides. Thus, PAK ETF has huge potential ahead.
Disclosure: I/we have no positions in any stocks mentioned, and no plans to initiate any positions within the next 72 hours.
I wrote this article myself, and it expresses my own opinions. I am not receiving compensation for it (other than from Seeking Alpha). I have no business relationship with any company whose stock is mentioned in this article.