Bullish sentiment bordering on complacency
If there's anything we should be afraid of in financial markets it's the "sure thing", and investors seem to consider that Exxon Mobil (NYSE:XOM) can only go higher from here.
It's maybe time to consider the potential risks and rewards in this stock in order to avoid complacency.
Oil may run out of steam
As I wrote in a recent article, the oil price is at another key level and we are really looking at a 50/50 chance of further gains, which is giving the benefit of the doubt to bulls.
While I wrote that article, oil was trading above $50 per barrel and went on to fall in following sessions to test a key support level at $46 so there was an immediate warning of traders' hesitancy at this level. We have since seen a strong bounce there but we are approaching the $50 level again and if we fail to make any substantial gain above there then we can consider $46 and lower as the next destination.
Demand risks and dollar may overpower supply
Much has been made of the supply picture and the market is leaning heavily on this without considering the possibility of medium to long-term demand deterioration.
The dreams of an OPEC save has disappeared and domestic economic indicators in the U.S., such as the "shocking" May NFP number are part of a multi-month slowdown which we should be wary of.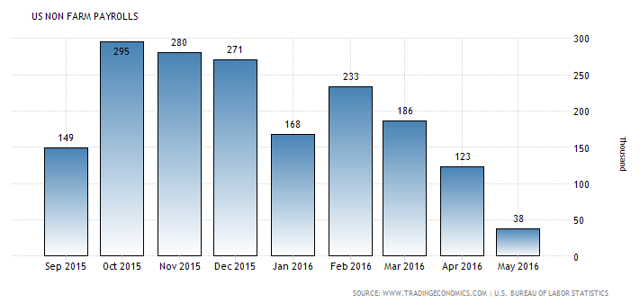 Click to enlarge
Traders may be getting complacent about correlations such as the summer driving season, whilst ignoring the bigger picture economic risks.
Another risk for oil is the U.S. dollar. We are approaching another key juncture in "risk" for markets over the next months with Greece potentially coming back for another bailout for payments due in July, further European elections and of course, the U.S. election in November. Any demand for U.S. dollar as a safe haven will drag on the oil price into the year end, which may also correlate with further economic slowdown.
The Brexit risk has also been a drag on U.S. stocks. Although it's likely that the Remain vote will win on the day, it would be wise to await that confirmation. A post-Brexit vote may even spur a risk rally to take advantage of higher valuations if profit-taking is your strategy.
Is risk and reward worth it?
So the real question we should be asking about stocks in the oil space is not the level of rewards available, but the risk we would have to take for them.
At present prices of $91.12, Exxon offers an initial return of over 3%. Despite this attractive yield, I'd give the stock a maximum of 10% upside for 2016 and a potential downside of 20% into 2017 if the economic deterioration affects demand. It is only 5 months since oil was approaching Armageddon prices at $28 so it's far too soon to take the recent rally for granted. As the recent drop to $46 on little news showed, it wouldn't take much of a catalyst to be eyeing $40 or lower again and if demand deteriorates, the "lower for longer" price expectations may underperform current projections.
Of course Exxon is a strong and solid company, but rather than look for a diamond in the oil space rough, it may be wise to capitalize on oil's 2016 rally and look for safer returns as we approach a headwind of risky events.
Disclosure: I/we have no positions in any stocks mentioned, and no plans to initiate any positions within the next 72 hours.
I wrote this article myself, and it expresses my own opinions. I am not receiving compensation for it. I have no business relationship with any company whose stock is mentioned in this article.