Until recently, Wal-Mart (NYSE:WMT) stock was struggling from a slowdown in sales which prompted the company to launch a major turnaround effort. But since the start of the year, Wal-Mart stock has enjoyed a dramatic resurgence. Shares of Wal-Mart are up 16% year-to-date, making it one of the best performers in the Dow Jones Industrial Average. It has strongly outperformed the S&P 500 so far in 2016.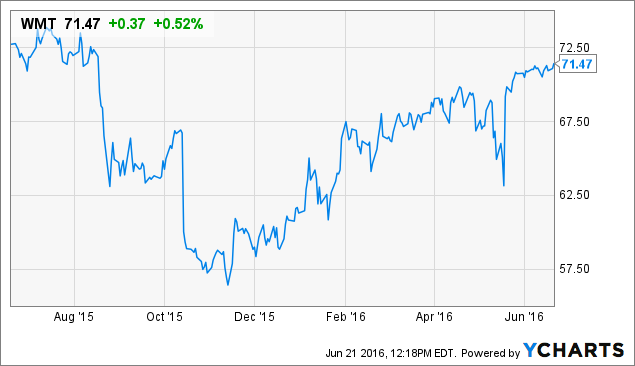 As Wal-Mart fell under $60, there was a clear case to be made that the stock was undervalued. But now that the stock has recovered and trades close to a 52-week high, I no longer think that's the case. Investors looking for dividends and value would be better off buying Target (NYSE:TGT), because it is cheaper than Wal-Mart, its fundamentals are in better shape, and it offers a higher dividend with stronger dividend growth.
A Puzzling Disconnect
Investors seem to be taking a more positive view of Wal-Mart this year in light of the company's first-quarter earnings beat. Although Wal-Mart's results did beat analyst expectations, the results weren't exactly impressive. Comparable sales increased 1%, and total revenue rose 0.9%, but earnings per share from continuing operations declined another 4.9%. To be sure, Wal-Mart's strategic initiatives are gaining traction. Global e-commerce sales and the small-store format Neighborhood Market both posted 7% sales growth.
This has caused Wal-Mart stock to perform very well to start the year, but the performance of the actual company itself hasn't kept up. Wal-Mart's total sales declined 0.7% in fiscal 2016, due mostly to a 3.2% decline in comparable sales at Sam's Club, and earnings per share from continuing operations declined 8% last fiscal year. Wal-Mart has actually struggled now for a prolonged period-earnings hit a recent high of $5.01 per share in fiscal 2013 and have steadily declined ever since. Despite the earnings beat last quarter, the underlying fundamentals remain challenged.
I could understand the market's enthusiasm if Wal-Mart was on the verge of returning to growth, but that is not the case. When Wal-Mart first announced its turnaround initiative last year, the company guided investors that it would not return to earnings growth until fiscal 2019, due to spending on improving the condition of its stores along with investments in employee training and wages. Wal-Mart's stock price has improved dramatically, but the fundamentals have not.
Also, it is worth noting that Wal-Mart has taken down its sales forecast since last year's update. At the end of fiscal 2016, Wal-Mart reduced its sales guidance to flat for fiscal 2017, down from 3%-4% sales growth guidance it gave in October. That was a significant reduction, which makes me doubt the company's ability to grow earnings any time soon. EPS is expected to decline 6%-12% in fiscal 2017 according to management's forecast. It seems the market feels Wal-Mart's turnaround has progressed further than it actually has. Wal-Mart is being priced as though its turnaround is complete, but that conflicts with what the company has said.
By contrast, Target stock is down 5% this year, despite its fundamentals improving last year and this year. Comparable sales increased 2% last year. Target's earnings, as adjusted for one-time charges, rose 11% in 2015. It has enjoyed a great deal of success from its own digital efforts-Target racked up 34% growth in e-commerce sales in the fourth quarter. This positive momentum has mostly continued this year. Comparable sales increased 1.2% in the first quarter, due to higher traffic numbers and also higher average basket size. First-quarter adjusted EPS rose 16%, again due to 23% growth in e-commerce. Target has recorded six consecutive quarters of traffic growth.
Target is the Better Pick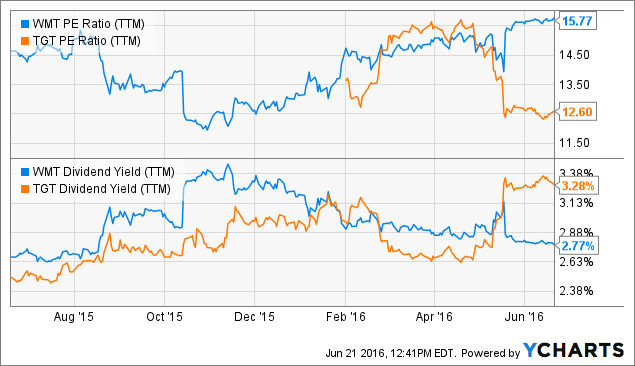 The takeaway is that I believe that there is an unwarranted disconnect between how Wal-Mart and Target are being valued. Wal-Mart stock trades for 15 times earnings, while Target trades for 12 times earnings. I don't see why Target is 20% cheaper than Wal-Mart, when its earnings are growing faster. In addition, I see Target as the better pick for income investors as well as value investors.
Target has a much higher dividend yield than Wal-Mart, as stock prices and yields move in opposite directions. Including its recent increase, Target has a 3.5% yield, while Wal-Mart yields 2.8%. Target has increased its dividend at higher rates than Wal-Mart due to its stronger earnings growth. On June 8, Target raised its dividend by 7.1%, while Wal-Mart's most recent dividend increase was a tiny 2% hike. Over the past five years, Target has raised its dividend by 14% per year, while WalMart's five-year dividend compound annual growth is 6%. I expect Target to have higher dividend growth than Wal-Mart, and as a result will be the better stock for dividend growth in addition to current dividend yield.
Investors are no doubt cheering Wal-Mart's e-commerce growth and stabilizing sales, but one can get that and more from Target. The problem I have with Wal-Mart stock is that investors can get even better performance from Target, at a cheaper valuation and higher dividend yield. At this time, Target is the better buy.
Disclaimer: This article represents the opinion of the author, who is not a licensed financial advisor. This article is intended for informational and educational purposes only, and should not be construed as investment advice to any particular individual. Readers should perform their own due diligence before making any investment decisions.
Disclosure: I/we have no positions in any stocks mentioned, and no plans to initiate any positions within the next 72 hours.
I wrote this article myself, and it expresses my own opinions. I am not receiving compensation for it (other than from Seeking Alpha). I have no business relationship with any company whose stock is mentioned in this article.