Transportation stocks have been struggling for some time. And for those that subscribe to the Dow theory that a downside shift in transportation stocks eventually leads to a decline in the broader market, this is a worrisome development. As a result, should stock investors be concerned about the prolonged decline in transport stocks?
So, why exactly should investors in the broader market be concerned about the performance of a small subset of freight, railroad and trucking companies? It is because these companies not only reside at the heart of the economy, but their activities also tend to run in advance of it. For example, if the U.S. economy is experiencing sustainable and strong manufacturing growth, which makes up roughly two-thirds of corporate profits, these firms will want to increase production and will need to call on the transportation companies to deliver the raw material inputs to increase production and also deliver the final good outputs to the market for sale. As result, if transportation stocks are struggling, it is often signaling that they are seeing a decline in delivery orders for raw materials and product deliveries that will eventually feed through to corporate profits and the broader stock market.
As a result, many investors watch for divergences between the focused Dow Jones Transportation Average and the broader Dow Jones Industrial Average (NYSEARCA:DIA) for clues about where the broader market might be headed next.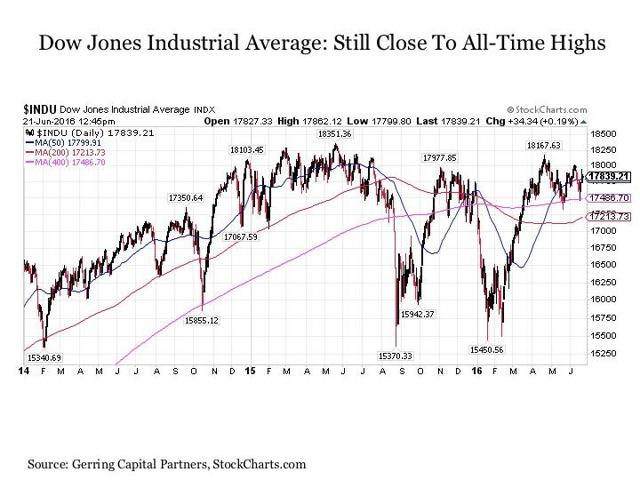 Click to enlarge
At first glance, the recent performance of the Dow Jones Transportation Average looks deeply troubling for the broader stock market outlook. For while the Dow Jones Industrial Average is still within striking distance of its all-time highs set just over a year ago in May 2015, the Dow Jones Transportation Average remains nearly -20% below its November 2014 peak and has entered into full-blown bear market territory, having dropped by as much as -31% from peak to trough along the way. In short, if transport stocks are foreshadowing what might lie ahead for the broader market, difficult times lie ahead for investors.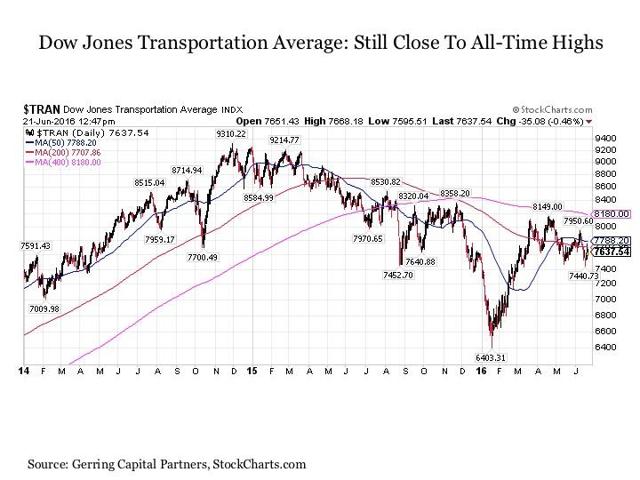 Click to enlarge
But here's the thing. I am a stock market bear and have been so for some time. And I have no shortage of reasons why U.S. stocks could end up falling into a relentless bear market over the next several years. But, at least to date, I cannot count the decline in transportation stocks among the reasons for this view. The following are the two key reasons why.
First, if we are operating under the premise that transportation stocks and the broader market should be moving together over time, and that any divergences in transportation stocks and the broader market should eventually resolve themselves, then if anything the decline in transportation stocks over the past two years has not been about transports foreshadowing a decline in the broader market as it has been transports catching down to the broader market after getting way ahead of themselves for a prolonged spell.
To highlight this point, it is worthwhile to draw back from the tree and take a wider look at the forest. The following is a chart of the S&P 500 Index (NYSEARCA:SPY) versus the iShares Transportation Average ETF (NYSEARCA:IYT) dating back to the start of the financial crisis in July 2007. Indeed, we see over time the close relationship between the transports and the broader market. But starting in 2013 and continuing into 2014, the transports began racing well ahead of the broader market. Thus, the sharp correction that we have seen in transportation stocks since November 2014 has been nothing more than the transports getting back in line with the broader market. If anything, this is a more reassuring sign of rational behavior than anything to emphasize as a concern, at least to this point.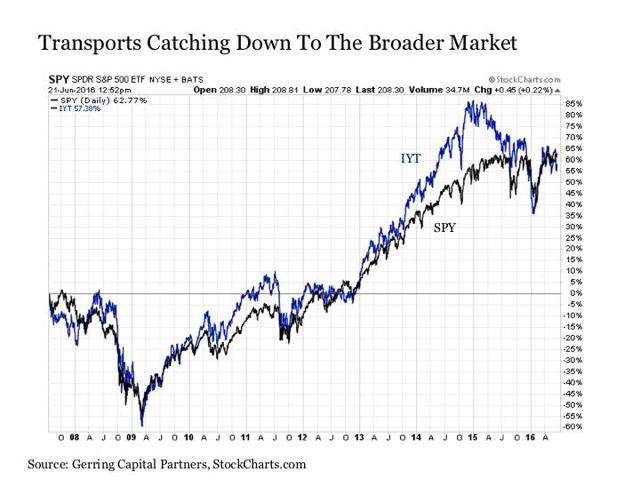 Click to enlarge
Digging, drilling down into the individual components of the transportation index is also revealing. For it has not been the freight stocks such as FedEx (NYSE:FDX) and United Parcel Service (NYSE:UPS) that make up nearly one-third of the index that have been weighing on transportation average, as these stocks have been tracking closely with the broader market.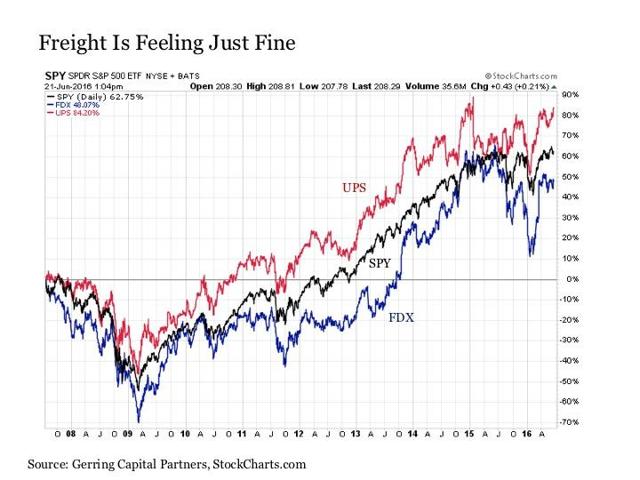 Click to enlarge
The same could be said for the trucking industry to a large extent. While J.B. Hunt (NASDAQ:JBHT) got way out ahead of itself in recent years, both Landstar (NASDAQ:LSTR) and Ryder (NYSE:R) have also been performing generally in line with the broader market with any short-term deviations eventually resolving themselves in a fairly orderly way.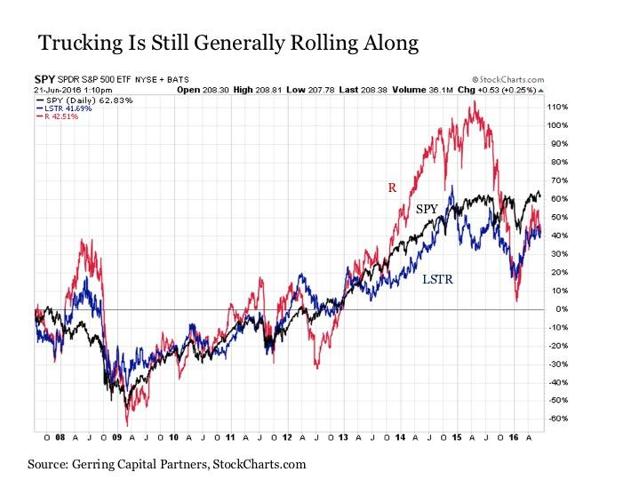 Click to enlarge
Instead, the weakness in transportation stocks has instead has come primarily from the railroad industry. But it is important to put this recent weakness into context. The railroad stocks are highly dependent on the commodities complex including energy. This dependency provided a massive tailwind for years during the post-crisis period. Of course, it eventually turned into a meaningful headwind, particularly once oil prices came crashing lower. But even with these recent challenges, these railroad stocks including Union Pacific (NYSE:UNP), Kansas City Southern (NYSE:KSU), Norfolk Southern (NYSE:NSC) and CSX (NYSE:CSX) are still running well ahead of the broader market over this time period.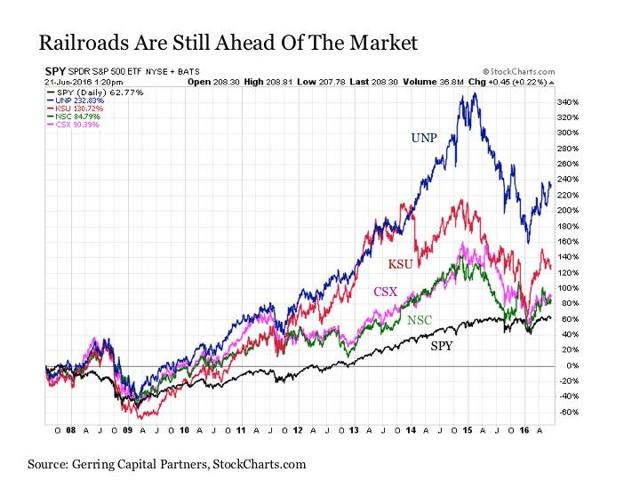 Click to enlarge
Bottom Line
While transportation stocks appear to be sending up a warning signal for the broader market given their recently poor performance since November 2014, upon closer inspection, it appears at least to this point that the decline in the transports has been nothing more than an index that had previous run well ahead of itself catching its way back down to the broader market.
This is not to say that stocks today are not facing meaningful downside risks on a variety of fronts in today's market. But the recent performance of transportation stocks cannot be counted among these downside risks, at least not yet.
Disclosure: This article is for information purposes only. There are risks involved with investing including loss of principal. Gerring Capital Partners makes no explicit or implicit guarantee with respect to performance or the outcome of any investment or projections made. There is no guarantee that the goals of the strategies discussed by Gerring Capital Partners will be met.
Disclosure: I/we have no positions in any stocks mentioned, and no plans to initiate any positions within the next 72 hours.
I wrote this article myself, and it expresses my own opinions. I am not receiving compensation for it (other than from Seeking Alpha). I have no business relationship with any company whose stock is mentioned in this article.