Shares of Boeing (NYSE:BA) have underperformed the market this year, despite the company ringing up several positive developments. The stock is down about 9% year-to-date, making it one of the worst performers in the Dow Jones Industrial Average in 2016. By comparison, the S&P 500 Index is up about 2% in the same time.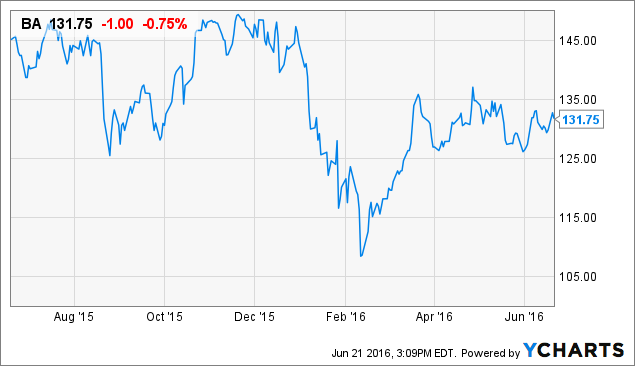 A lot of the concern over Boeing stems from a report earlier this year that the SEC was looking into the company's accounting of costs and expected sales of its Dreamliner and 747 planes. The inquiry is in regards to BA's use of program accounting, which spreads its high early costs over a large block of deliveries. The method allows the company to book future profits and cost-cutting expectations in current earnings. The SEC decided the questions were significant enough to announce a formal inquiry. This is what sent Boeing shares into a tailspin earlier this year.
The SEC inquiry is a concern, since it involves one of Boeing's flagship planes. As a Boeing shareholder, I feel the SEC inquiry is much ado about nothing, and that the long-term growth potential for the company far outweighs any short-term bumps in the road.
Long-Term Growth Catalysts Intact
While the SEC inquiry news continues to be a drag on Boeing's valuation, it likely won't be a meaningful issue over the long term. Boeing's type of program accounting has been used for decades. Whenever a company's name is brought up along with the words 'SEC' and 'inquiry' in the same sentence, the stock typically declines, as short-term investors sell first and ask questions later. But it should be noted that this issue is not likely to affect the company over the long term. It remains entirely possible the SEC will not take any action, and even if it does, it could levy a modest financial penalty. In both cases, Boeing's long-term prospects would remain intact.
Boeing made huge news recently when it announced an agreement to sell planes to Iran. Terms of the deal have not yet been disclosed, but The Wall Street Journal reports it could be worth as much as $25 billion. This is a major opportunity for Boeing. Iran's reluctance to curb its nuclear ambitions and the resulting sanctions have saddled the country with one of the world's oldest aircraft fleets.
This news is going fairly unnoticed by the market, primarily because of the SEC issue which continues to be an overhang on the company. The good news from Boeing's sell-off this year is that it gives investors a great buying opportunity. The stock went down as low as $102 this year. It has recovered off its 52-week low and now trades around $131, but it is still well off its 52-week high of $150. At its current price, the stock is valued for 17 times earnings. That is below the S&P 500 valuation, and is also below Boeing's average valuation. Boeing's stock traded for a high P/E of about 20.5 times in the past year.
Boeing forecasts $8.15-$8.35 per share in fiscal 2016 core earnings. This would represent roughly 5%-8% growth this year, and the Iran deal should fuel even further growth going forward. At the midpoint of management's guidance, an earnings multiple of 20 would represent a stock price of $165 per share over the next year. That represents an approximately 26% return. When you add in Boeing's 3.3% dividend yield, it's not inconceivable to think the stock could return nearly 30% over the next year, and perhaps more if Boeing's earnings come in better than expected.
In the past few years, Boeing shifted focus from defense to commercial aircraft. I believe this is a great strategy over the long term because global demand for aircraft is increasing. Of Boeing's $96.1 billion in revenue last year, approximately $66 billion, more than two-thirds, came from commercial aircraft. The commercial aircraft business grew 10% last year, while its military aircraft revenue remained flat. Boeing should continue to see strong growth because the global commercial aircraft market is booming. Boeing's commercial aircraft deliveries increased 5% last year and set a company record. And, Boeing ended the first quarter with a strong backlog, at $480 billion, including orders for more than 5,700 commercial airplanes, not including the Iran deal.
Boeing is a massive generator of cash flow. The company generated $6.9 billion of free cash flow last year, a 4% year-over-year increase, and even more growth could be in store, thanks largely to the Iran deal as well as the broader rise in global aircraft demand. With its prodigious cash flow, the company rewards shareholders with attractive cash returns.
Strategic Shift Pays Dividends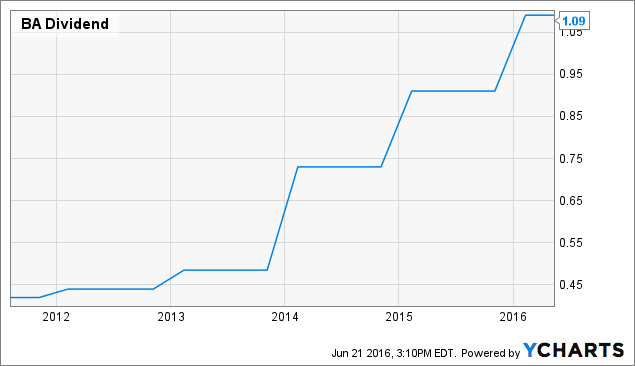 In December, Boeing raised its dividend by 20%. It has done a great job raising dividends over the past five years. Along with the dividend increase, it also unveiled a new $14 billion stock buyback program, which amounts to approximately 16% of the company's market capitalization.
This is why I believe Boeing is making the right decision focusing more on its commercial aircraft business going forward, and entry into new geographic markets will fuel future earnings growth. Boeing isn't a screaming buy like it was in February, but it's still trading at a discount. The stock is still an attractive investment over the long term for growth and income.
Disclaimer: This article represents the opinion of the author, who is not a licensed financial advisor. This article is intended for informational and educational purposes only, and should not be construed as investment advice to any particular individual. Readers should perform their own due diligence before making any investment decisions.
Disclosure: I am/we are long BA.
I wrote this article myself, and it expresses my own opinions. I am not receiving compensation for it (other than from Seeking Alpha). I have no business relationship with any company whose stock is mentioned in this article.