The results of the EU referendum are out on June 23rd and many are expecting sharp swings in either direction after the results. We initiated bearish bets against the S&P 500 at the 209-210 level given the macro outlook; however, the increasing conversation regarding Brexit has forced us to think about the possible scenarios of a remain/ leave vote and how to hedge the Brexit risk. While we still are confident on the position regardless of the outcome of the vote (since we are bearish for macro reasons and do not establish positions based on electoral results) it has taken center stage for market participants and could have potentially drastic implications on the global market sentiment. We will discuss the implications of the EU referendum on markets and how we are adjusting our portfolio ahead of the vote.
Brexit Vote:
Before discussing the implications of the referendum outcome, it is prudent to consider what is being priced in. This is a seemingly obvious question, and has an utmost relevance when initiating any position in the market. The pro-Brexit vote has likely been little priced in after this sharp risk rally. I am using the GBP/ USD as a proxy to gauge the extent to which a potentially tail risk scenario of a Brexit occurs. Here is a few charts provided from Citibank investment research. This does not constitute as investment advice or a solicitation of investment products in the name of Citibank.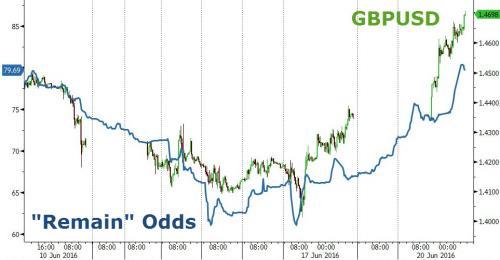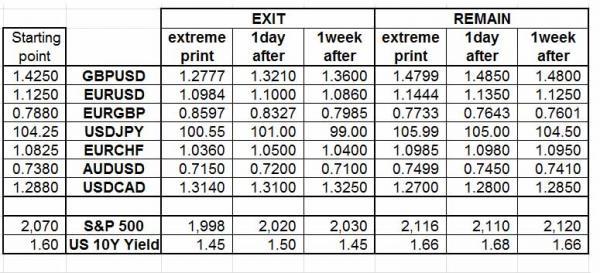 According to Citi, the current levels of GBP/ USD are pricing in a remain victory. This rally has occurred after the most recent polls showing a 3% differential in favor of the remain camp. Though it need be reminded that the polls may not be a truly reliable tool to base an argument. The European averages are still down marginally less than last week after a 2-day rally. Based on these results, I would argue that the risks are more favorably biased to the downside as there is little chance for an upside surprise. Therefore, many claiming that there will be a large scale rally after the Brexit vote are likely to be wrong. Moreover, I don't see a remain victory as a fundamentally compelling reason to buy equities given the macro uncertainties.
What are the implications of each outcome on Global Markets?:
Remain:
As discussed previously, the potential for upside looks to be limited, and I would suggest that longs are perhaps overly sanguine on the outcome of the referendum given the rather unreliability of the polls. Given this fact, those hoping for a large scale rally in stocks are likely to be mistaken as the global macro picture remains muddled. I would present the case that European large cap financials would be the greatest winners and could have the potential to rally on the outcome of a remain victory. I would expect the major averages in Europe to post slim gains as global concerns mount regarding the future status of the EU amid growing nationalistic fervor.
Leave:
Nevertheless, I would also argue that a victory for Brexit will likely result in a mild 5-10%+ sell-off for US equities. For British stocks, I would agree that Morgan Stanley is correct in assuming a 15%+ correction after a pro-Brexit victory as investor sentiment will become drastically negative. EU funds will experience large outflows and confidence in the ability for the European Union to maintain composure will wane as peripheral countries, such as Portugal, could be the next countries to leave. This uncertainty will exacerbate the growing issues in China and dampened outlook in the US as Fed credibility wanes amid a slowing jobs picture and an earnings recession. Sell-off aside, the global central bankers of the world will do anything they can to stem capital market outflows in the wake of a Brexit potentially shoring up global markets in the short-run. I would argue that we could see the global markets regain some of the lost ground while failing to march higher as the Brexit will be yet another specter of uncertainty haunting global markets.
How do you insure yourself on either direction:
The Short-Sellers
While most are looking to hedge for a pro-Brexit victory, we have been looking to hedge against a remain victory. We have established a long position in several European financial stocks that have a large exposure to a pro-Brexit outcome. We felt that these stocks offered a reasonable risk/ reward trajectory as they were sold aggressively ahead of the vote. We have also maintained our overweight exposure to basic materials (miners) as they have also lagged the overall market and present a strong risk/ reward thesis. Buying the GBP/ USD is a risky venture given the sharp rally in the last two days. At this point, the GBP/ USD has more downside potential due to the lack of a Brexit being priced in.
Hedging Against A Brexit:
I think regardless of your positioning, the GBP/ USD looks to be over stretched as longs seem to be overlooking tail risk of a Brexit. Some market researchers have called for a large downside move for the pound citing the fact that there is a large deficit that the English are running. Some have called for a 20% downside move.
Conclusions:
I personally believe that Brexit will not have the doom and gloom for markets that many are hoping for; however, the long-term repercussions on future returns will continue to weigh on markets. The S&P 500 could potentially settle at around 195-200 in the event and rally there shortly after. According to the WSJ, US companies receive only 2.9% of revenue from England. Nevertheless, the remain campaign victory will leave the markets little changed given the fact that this has been priced in as of today. Ahead of the Brexit, we have adjusted our portfolio to include several large-cap European financials as a hedge against the remain vote. For long investors, buying protection ahead of the Brexit after this sharp risk-on rally would be prudent as volatility levels have come down slightly.
Disclosure: I am/we are short SPY, QQQ.
I wrote this article myself, and it expresses my own opinions. I am not receiving compensation for it (other than from Seeking Alpha). I have no business relationship with any company whose stock is mentioned in this article.
Additional disclosure: This does not constitute as an offering or solicitation of securities and/ or investment advice. The ideas expressed are those of BlackVault Investments. I am receiving compensation from BlackVault Investments and SeekingAlpha.