BlackRock (NYSE:BLK) already has one of the most popular international dividend ETFs in the marketplace with the iShares International Select Dividend ETF (NYSEARCA:IDV). The company may have a similar winner on its hands with the debut of the iShares International Dividend Growth ETF (BATS:IGRO).
While the International Select Dividend ETF focuses on companies in developed markets outside of the U.S. with consistently high dividend yields, the International Dividend Growth ETF hones in on businesses with healthy balance sheets and a history of growing dividends. The fund is too young to determine a 30-day yield but it should be expected to carry a lower rate than the International Select Dividend ETF's 5.3% yield. The iShares Core Dividend Growth ETF (NYSEARCA:DGRO) - its counterpart on the domestic side - shares a similar management style and objective and carries a more modest 2.5% yield.
iShares developed this product for income-seeking investors looking to widen their income approach and benefit from the advantages of targeting dividend growth stocks. The fund specifically screens for companies with five or more years of uninterrupted dividend growth, positive earnings forecasts and a payout ratio of under 75%. At a broader level, the fund's managers use a three-pronged approach to populating this fund.
Targeting Sustainable Income - According to the fund's product brief, the fund targets companies with healthy balance sheets and a sustained record of increasing dividends over time.
Using Dividend Growth as a Driver of Long-Term Total Returns - Dividend income has historically provided a large percentage of an investment's total return and dividend growth should be a primary focus in most portfolios.
Broadening Sources of Dividend Income - While many dividend strategies focus on just a few sectors, attractive dividend growth opportunities exist in all sectors and markets.
Dividends have historically delivered a significant portion of the S&P 500's (NYSEARCA:SPY) total return although the percentage of return from dividends has shrunk in recent years. An MSCI decomposition of S&P 500 returns concluded that nearly 80% of the index's return over the past 10 years came from dividends and dividend growth.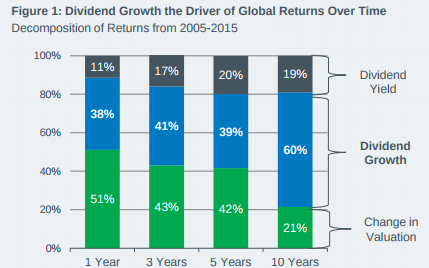 The 79% figure over the past 10 years seems a little high but the trend of a lesser degree of total return coming from dividends in recent years is evident. While short-term risks like a Brexit or a recession seem to be waning, valuations in the S&P 500 remain stretched following seven consecutive years of positive returns possibly signaling a return to the importance of dividends should stocks begin pulling back.
One of the factors I really like about this portfolio is its diversity. The International Select Dividend ETF has more than 40% of its assets dedicated to traditional dividend sectors like financials and utilities. The International Dividend Growth ETF, however, looks much more diversified. Financials take the top spot in this fund too but it gives higher weightings to consumer goods and healthcare stocks. Eight different sectors have roughly a 5% portfolio weighting with no single sector getting an overly heavy share of the portfolio.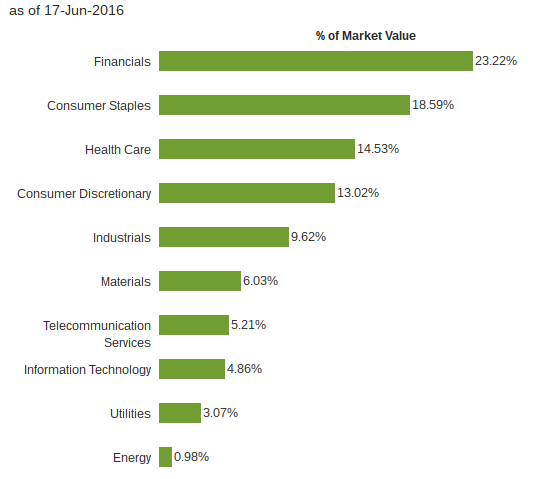 Geographically, the fund is also diversified. More than half of the fund's assets reside in the U.K. and other European countries while nearly 13% of the fund is invested in Canada. The Far East and Australia are somewhat less represented but still comprise 20% of the fund.
Since the fund is new, its asset base is very small. With roughly $5 million in total assets and trading less than 1,000 shares a day on average, the fund is relatively inefficient in its current state but I'd expect that to improve greatly over time as the asset base grows. The fund's 0.22% expense ratio is attractive.
Conclusion
I like this fund. It'll take a little time for the fund to grow and become more efficient but iShares has multiple multi-billion international portfolios under its umbrella and I'd expect this to approach the $1 billion asset level eventually.
Its expense ratio and diversity are appealing selling points and the management style of the fund seems particularly suited to a broad array of investors looking to diversify the income sources of their portfolios. I'd expect the fund's yield to come in somewhere around the 2%-3% range. The yield alone won't compete with some other international dividend ETF alternatives but the style and structure of the fund should make it a reliable income source while minimizing overall portfolio risk.
If you're interested in more dividend ideas and ETF analysis, please consider following me by clicking on the "Follow" button at the top of this article next to my name. Even if you don't, thanks for taking the time to read!
Disclosure: I/we have no positions in any stocks mentioned, and no plans to initiate any positions within the next 72 hours.
I wrote this article myself, and it expresses my own opinions. I am not receiving compensation for it (other than from Seeking Alpha). I have no business relationship with any company whose stock is mentioned in this article.