This article discusses the potential merger-arbitrage opportunity in Federal-Mogul Holdings Corp. (NASDAQ:FDML).
Early Monday morning, Federal-Mogul disclosed that Carl Icahn's company, Icahn Enterprises (NYSE:IEP), increased its bid for auto supplier Federal-Mogul from $7 per share to $8 per share. Icahn's company already owns 82% of the company, and has been successful in the past with acquiring auto supplier and service companies (Pep Boys). The market appears to be pricing in an additional bid, with the current share price trading above the all-cash offer of $8 per share, but the likelihood of a deal looks all but finalized. The final price should be all but a formality at this point.
Shares are up over 60% since the announcement of Icahn's first bid on February 28th for $7 per share. And Icahn's offers come just after the company canceled its plans 6 months ago to spin off into two companies. Federal-Mogul had plans to split into an aftermarket parts company and a powertrain operations company. This is important because Icahn may see the value in spinning off the company into two businesses, and could realize that value by spinning it off after the finalized acquisition.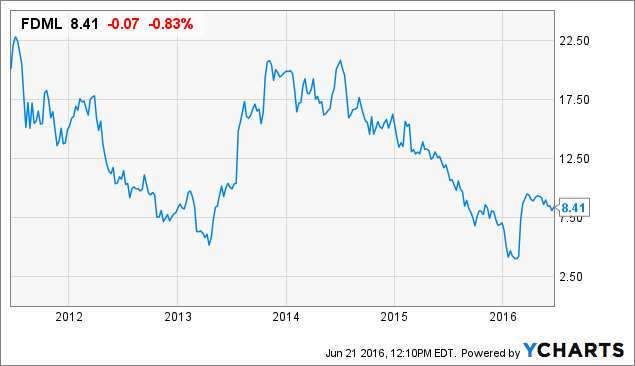 Federal-Mogul was founded in Detroit in 1899 and is a leading supplier of products and services to auto manufacturers and services. Let's see if this company presents an opportunity as a merger-arbitrage candidate.
Icahn Enterprises has more than enough cash on its balance sheet ($11.9 billion in cash and marketable securities), and has the ability to access additional capital from the financial markets, if needed. Because of this, we do not see a high probability of failure given Icahn Enterprises' strong capital position and the lack of regulatory interference.
There is a time frame on the deal right now, but we expect it to finalize relatively quickly. With that being said, we'd expect the transaction to complete in the next 3-6 months. Although Icahn Enterprises owns 82% of the company, the remaining shareholders not affiliated with Icahn still need to approve the deal.
Federal-Mogul is currently priced at an EV/EBIT of 316.62, EV/EBITDA of 12.34, and P/S of 0.18. Although the shares are trading at relatively low levels on a P/S basis, they appear to be fully valued at the moment. This doesn't mean another company couldn't come in and make a bolt-on acquisition at a higher valuation. We saw this with Icahn and Pep Boys a few months ago, when Bridgestone came over the top of Icahn's bid, before Icahn finally won the bidding war with an offer of $18.50 per share. So, anything could happen once a company begins the bidding process.
As with any merger or acquisition, there are many uncertainties around potential mergers, such as anti-trust approvals, multiple government reviews, changes in market conditions, shareholder approval, and due diligence. If the deal were not completed, we would expect prices to drop to the pre-deal price of $4.00 per share, or a loss of $4.26. We give the deal a 95% chance of being complete, based on the parties and terms of the buyout offer.
If we look at the recent quote, the stock is trading at $8.26 per share, $0.26 above the announced cash offer of $8 per share by Icahn.
We calculate our expected return with the probability of a favorable deal (-$0.26 x .95 = -$0.24). And we subtract that from our expected loss with the likelihood of that loss occurring (-4.26 x .05 = -$0.21). This is the expected weighted return, which gives us a potential loss of 5.45%, or $0.45 per share. To calculate our annualized expected return, we divide that by the expected time of holding in years (6 months = .50). This gives us an annualized expected loss of -11.14%.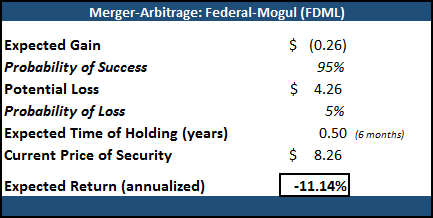 Bottom Line
The merger-arb strategy goes in and out of favor. Currently, the merger-arb strategy is very competitive and offers little opportunity. However, it's always good to be prepared to take advantage of opportunities as they occur. The Federal-Mogul deal looks interesting from the outside and could offer a lost-risk way to play a higher bid in shares.
We do not see a high probability of failure given Icahn's strong capital position and the lack of regulatory interference. However, this appears to be unappealing at current levels, from a merger arbitrage standpoint, with a potential 11.14% annualized loss profile. The risk does not justify the return in this case.
However, if you were inclined to participate in the potential for a higher bid (which we give a low probability), we'd typically look to purchase out-of-the-money call options as cheap and far out as possible. In this case, we'd look at the January 7.50 calls for 0.65.
Happy hunting!
Warning: Merger-arb can be tempting for investors to use leverage to increase their annualized return on high-probability events. Resist the urge! Many Wall Street firms conduct merger-arb as their main business, and they will normally have 50 or more merger-arbitrage investments at any one time. They understand that if a couple of deals go bad, the winners will more than take care of the losers.
Merger-arb can be a very crowded strategy at times. Similar to value investing, it can be cyclical and go in and out of favor over time.
The key to merger-arb is to focus on the few deals that are highly probable (ideally ALL cash deals), with minimal regulatory hurdles and an acquirer with a great capital base. And if you're new to merger-arb, watch a few deals play out over various industries to get an understanding of the deals.
If you do invest in merger-arb situations, conduct proper due diligence and make sure to spread your risk appropriately. If you are so inclined to learn more about these types of special situation, I highly recommend Graham's writing on arbitrage in his book, Security Analysis.
Notable Shareholders:
Carl Icahn
Mario Gabelli
Murray Stahl
Please share your thoughts in the comments section below, as I learn just as much from you as you do from me. It can be a time-consuming endeavor, but I answer all of your comments and questions myself. Your patience and understanding are greatly appreciated. I will get to your remarks as soon as possible.
Disclosure: I/we have no positions in any stocks mentioned, and no plans to initiate any positions within the next 72 hours.
I wrote this article myself, and it expresses my own opinions. I am not receiving compensation for it (other than from Seeking Alpha). I have no business relationship with any company whose stock is mentioned in this article.