Only last week, my research highlighted why multiple reasons existed for United Airlines (NYSE:UAL) to soar off the currently depressed prices. The stock traded down below $42 that day after reaching the highs near $62 as recently as March.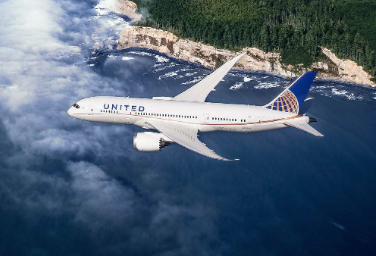 For an investor call, the airline highlighted several initiatives to meaningfully improve margins going forward, but maybe the biggest key to the updated guidance was an improvement in the PRASM (passenger revenue per available seat mile) from only two weeks ago.
At the time of May traffic report, United kept the PRASM forecast of a decline between 6.5 to 8.5%. The updated report forecasts the decline of only 6.5 to 7.5%. Taking away the worse case scenario is a positive turnaround in only a few weeks. A big key to investor sentiment is to reverse the negative trend in the revenue metrics.
The other positives from the call were the projected initiatives that could impact earnings by $3.1 billion over the next couple of years. The biggest benefits are related to revenue enhancements from the MileagePlus program and next generation revenue management along upgauging the fleet to generate more revenue per flight at a lower cost per passenger. The move helps solve some of the pilot shortage issues and related costs.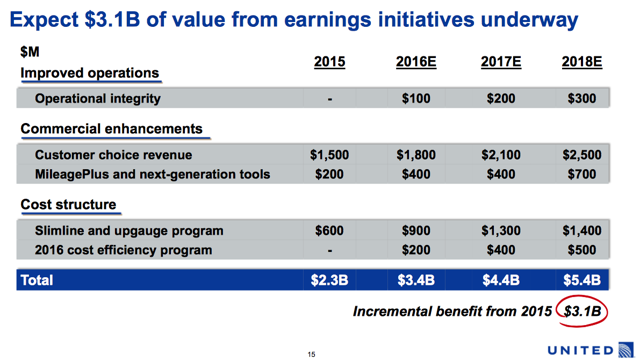 Click to enlarge
Source: United Airlines investor presentation
The amount of the initiatives are rather remarkable considering that United Airlines is only worth $15.1 billion currently. One might assume a market valuation of nearly double those amounts for a credible program involving over $3 billion in value.
A prime example of why these initiatives could easily work to improve profits is the discrepancy in pre-tax margins compared to the sector leader. For 2015, Delta Air Lines (NYSE:DAL) generated a pre-tax margin of 16.2%, compared to only 11.9% for United. The 400 basis point gap in margins amounts to a difference of nearly $1.5 billion in annual pre-tax profits on roughly $36 billion in annual revenues.
Note that a $1 billion improvement to pre-tax profits adds nearly $3 per share to EPS prior to any taxes. The stock only trades at 5.5x EPS estimates that could easily expand based on improving PRASM trends and these earnings initiatives.
The key investor takeaway is that United Airlines has several initiatives to improve margins while the stock trades as if the airline is struggling to survive. If anything, the weak stock prices in the sector have doubled up the resolve of key executives to prove that the industry is no longer like the money losing airlines of the past. Even after the bump up to $45, the stock is extremely cheap.
Disclosure: I am/we are long UAL.
I wrote this article myself, and it expresses my own opinions. I am not receiving compensation for it (other than from Seeking Alpha). I have no business relationship with any company whose stock is mentioned in this article.
Additional disclosure: The information contained herein is for informational purposes only. Nothing in this article should be taken as a solicitation to purchase or sell securities. Before buying or selling any stock you should do your own research and reach your own conclusion or consult a financial advisor. Investing includes risks, including loss of principal.