What to make of this news?
Elon Musk proposed combining his electric-car and solar-energy companies, in a bold effort to consolidate his holdings and offer widespread clean-energy products from vehicles to power in homes.
I offer my thoughts. I would enjoy reading yours in the comments, and promise to pay close attention.
1. This is an embarrassment to Tesla's underwriters.
Elon Musk and others at Tesla (NASDAQ:TSLA) surely were contemplating the combination with SolarCity (NASDAQ:SCTY) when they went to market a month ago for $2.2 billion at $215 per share.
Yet, the prospectus offered not a clue. (Nor did it reveal the NHTSA inquiry made on April 20.) The underwriters have egg on their face.
Those who subscribed for the follow-on shares, assuming they still hold the shares, must be crestfallen. Institutional shareholders may well feel betrayed.
The company already is on course for its all-time record year of operating losses. 2016 GAAP losses will approach $1 billion.
Even before this deal, Tesla would have needed to tap the capital markets again by early next year. Now? Who knows. Possibly even sooner.
Having gone out at $242 per share last August, and $215 last month, and now dropping open the trapdoor on the latest buyers, Tesla will have to face more skepticism than ever.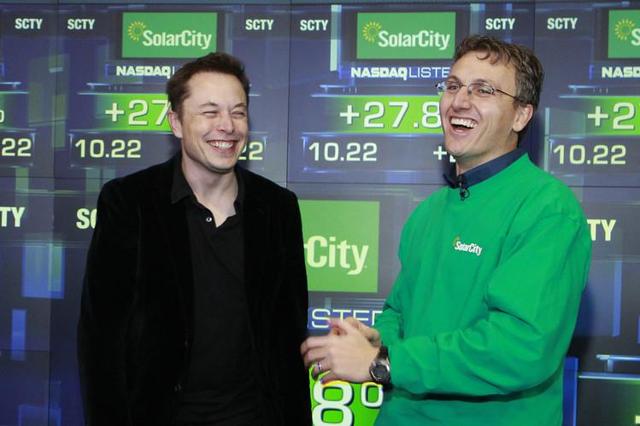 Click to enlarge
(The cousins share a laugh. Who are they laughing at today?)
Those who bought shares last month thought they were financing the Model 3, albeit while enriching Elon Musk in the process. They had no idea they were going to help fish SolarCity out of the toilet.
Memories are short on Wall Street, but not that short.
2. This deal is impossibly incestuous.
SolarCity's CEO, Lyndon Rive, is the cousin of Tesla's CEO, Elon Musk.
There are all sorts of tangled overlaps in ownership and control involving Tesla, SolarCity, and SpaceX. The Wall Street Journal recently ran a fascinating front page story about this.
It's difficult for me to understand how one could find a truly disinterested board, or committee, to pass judgment on this transaction.
This deal creates a big fat target for class action attorneys. And they are not a lovely bunch.
3. The deal damages the Tesla brand.
There are many investors with one foot in the TSLA camp and another in the SCTY camp. But there are many more who are focused solely on Tesla.
Having read thousands of comments at Seeking Alpha and at the Tesla owner forums, I am convinced there are many Tesla enthusiasts - loyal to both the car and the company - who are completely sold on the company's vision of an electric car future, but completely uninterested in SolarCity and its shady business model.
With this move, Musk and Tesla run the danger of undermining the loyalty of this large group of stakeholders.
4. Musk was already spread thin; now, it's crazy.
Does Elon Musk have Attention Deficit Disorder?
He has a Model S whose demand has flat-lined, necessitating the defibrillator paddles of a massive price cut. He has a Model X with a deeply flawed rollout and appallingly weak demand.
His company just announced the most impossibly ambitious acceleration of the Model 3 program imaginable. If you haven't read Steve Funk's superb piece detailing how impossible, you really should.
He has a Gigafactory to get up and running. He has massive production logistics to work out. He'll need billions more in capital.
One minute it's a second plant in China. Or Europe. Then, it's Gigafactory 2 in Shanghai. Or Germany.
It's exponential this. And off the hook that. And now he's going to take SolarCity under his wing as well?
5. This deal makes no business sense.
As Charley Grant and Spencer Jakab have written in the superb "Heard on the Street" column, "This deal defies common sense."
Perhaps there are some sound business reasons for this deal, but they elude me.
Tesla Energy? Please. Stationary battery storage is a commodity business, and margins will be razor-thin.
SolarCity, with its endless cash burn, is in desperate shape. Tesla, also limping, but flush with fresh cash, comes in for the rescue.
It reminds me of this photo from World War I; the soldiers, blinded by a poisonous gas attack, hold on to one another as they stumble in agony to a field hospital.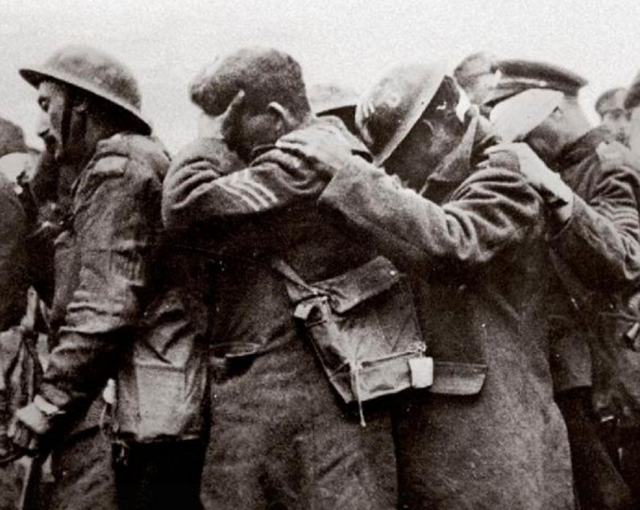 Click to enlarge
I'm confident Elon Musk cares... about Elon Musk.
Take offense if you wish, but after promising to be the last to sell his TSLA shares, Elon Musk just threw up a huge smokescreen of tax planning and charitable giving to trouser $150 million or so. That's net cash to Elon, my friends.
Elon is watching out for Elon. Not you.
6. Where are the adults?
A tweet conflating refundable deposits with $14 billion in revenue.
A tweet suggesting Keith Leech's reports to the NHTSA were "fraudulent".
A tweet insisting the NHTSA has closed the book on the Model S suspension issue.
A tweet attacking the Daily Kanban.
An utterly incestuous corporate tie-up.
A CEO out of control.
A Tesla board of directors in its customary position: languorous lassitude.
Disclosure: I am/we are short TSLA VIA LONG-DATED PUTS.
I wrote this article myself, and it expresses my own opinions. I am not receiving compensation for it (other than from Seeking Alpha). I have no business relationship with any company whose stock is mentioned in this article.