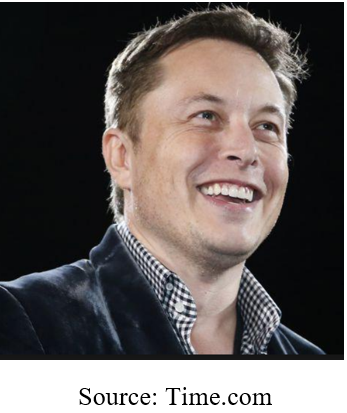 Just when things seem like they could not be busier for Elon Musk, he makes a move to consolidate two of his three business ventures into the ultimate alternative energy conglomeration. Tesla's (NASDAQ:TSLA) proposed acquisition of SolarCity (NASDAQ:SCTY) is a bold move for a pair of companies that continue to experience high cash burn and have yet to demonstrate consistent profitability. But for Elon Musk, the synergies between the two companies are ideal, and right now is the best time for a merger.
In an 8-K filing, Tesla proposes to acquire SolarCity in an all-stock deal. The details of the acquisition offer are:
... [an] exchange ratio of 0.122x to 0.131x shares of Tesla common stock for each share of SolarCity common stock. This proposal represents a value of $26.50 to $28.50 per share, or a premium of approximately 21% to 30% over the closing price of SolarCity's shares, based on today's closing price of SolarCity's shares and the 5-day volume weighted average price of Tesla shares.
Given that there are currently 98.3 million SolarCity shares outstanding, these shares will convert into roughly 12-12.9 million Tesla shares, depending on the final conversion rate.
The market has reacted strongly to the proposed acquisition, sending Tesla's shares down 11.5% in after-hours trading, while propping up SolarCity's shares by 15.5%. While Musk may be happy with this acquisition, Wall Street clearly is not.
The impetus for this acquisition by Tesla is laid out in a blog post on the company's website. The central argument for the acquisition is:
We would be the world's only vertically integrated energy company offering end-to-end clean energy products to our customers. This would start with the car that you drive and the energy that you use to charge it, and would extend to how everything else in your home or business is powered. With your Model S, Model X, or Model 3, your solar panel system, and your Powerwall all in place, you would be able to deploy and consume energy in the most efficient and sustainable way possible, lowering your costs and minimizing your dependence on fossil fuels and the grid.
The post goes on to note how Tesla's Powerwalls could be installed by SolarCity, and the combined companies could streamline expertise across both businesses. The post makes clear that Tesla sees the acquisition as a way to turn itself into the foremost sustainable energy company in the world.
Although Tesla tries to sell this deal as a win-win for both companies, this deal looks more like a bailout for SolarCity than a win for Tesla. SolarCity's business model is based on Power Purchase Agreements (PPAs) that have come under increasing scrutiny in recent years. These agreements have customers agree to lease rooftop solar systems on their houses from SolarCity, typically for 20 years, and then buy the electricity they produce for less than what they would have paid to their original utility companies. However, these leases have been heavily criticized for causing problems in housing sales, and new leasing agreements look increasingly problematic.
SolarCity faces serious financial difficulties and desperately needs to demonstrate profitability. Although the company brought in revenue of around $400 million last year, it ended the year with an overall operating loss of $648 million. While management has chalked this up to overaggressive growth, this has put it in a financial crunch. SolarCity has even had to resort to selling cash flows from the company's solar leases to improve its financial situation. Leery solar investors are concerned that SolarCity could go the way of SunEdison (OTCPK:SUNEQ) and potentially end up in bankruptcy proceedings. But with this acquisition offer on the table, SolarCity could get a second lease on life within Tesla.
Tesla's potential acquisition comes at the same time as it is working hard to ramp up production for the Model 3. After a successful $1.7 billion equity raise last month, the company has secured its financial position through the ramp-up period next year. Now is the time Tesla should be focusing on its core competency and working hard to deliver on the Model 3 by next year, not trying to aggressively expand further into the renewable energy markets.
But Elon Musk knows how to utilize Wall Street in a way no other businessman can. He believes building a vertically integrated renewable energy company is the best step forward to effectively deal with climate change and bring about a green energy future. He has already sold this vision to consumers and investors who continue to back him. At Tesla, this has translated into being able to easily tap the equity markets for additional capital twice in the past ten months to the tune of a little over $2.4 billion through secondary share offerings.
Tesla has the requisite cash and expertise to continue to scale up and bring in SolarCity. It will provide Tesla with more flexibility to be a sustainable energy company, not just a car company. Plus, this acquisition will help increase Tesla's energy unit and advance Musk's vision for a truly sustainable future. This is what Elon Musk believes is best, and he expects Wall Street to follow.
For Musk, this acquisition is a clear move to consolidate his business empire. When looking at Musk's holdings, he currently has a 22% stake in SolarCity and a 21% stake in Tesla. If the conversion goes through, it means Musk's 21.8 million shares of SolarCity will convert to between 2.65 to 2.85 million shares of Tesla. As Musk already owns 31.1 million shares of Tesla, he would own about 33 million shares after this transaction. The company's total share count would increase from 147.6 million to roughly 160 million shares. For Musk, he would still own nearly 21% of Tesla after the deal goes through.
But this deal will dilute current Tesla shareholders, and it is highly uncertain whether acquiring SolarCity will actually be beneficial in the long run. SolarCity has yet to demonstrate profitability, and its business model may be fatally flawed. While this acquisition could potentially create a massive sustainable energy conglomerate in the future, it will also increase Tesla's liabilities with an as-yet-unprofitable business. As both Tesla and SolarCity are in critical transition years, this ambitious deal appears to be ill-timed. However, Elon Musk is hoping his magic touch will overcome skeptics so that he can create the foremost renewable energy company in the world.
Disclosure: I/we have no positions in any stocks mentioned, and no plans to initiate any positions within the next 72 hours.
I wrote this article myself, and it expresses my own opinions. I am not receiving compensation for it (other than from Seeking Alpha). I have no business relationship with any company whose stock is mentioned in this article.