Click to enlarge
MACROECONOMIC NEWS
BRAZIL's annual inflation scored its lowest level in 12 months, climbing 0.4% MoM and 8.98% YoY in mid-June. On a monthly basis, June's IPCA was the lowest since October 2015, when it reached 0.66% MoM. Delving into specifics, housing & utilities prices were up 1.13% MoM-boosted by oil & energy prices (+0.95% MoM), followed by healthcare costs (+1.03% MOM) and personal spending prices (+0.89% MoM). Education (+0.06% MoM) and communications (+0.01% MoM) were the categories that expanded the least, whereas transport declined ‐0.69%. All in all, an easy comparison base and weak economic activity could have helped June's print. Ahead, slack in the labor market should aid consumer prices to decline throughout this year albeit at a slower pace than previously expected. Still, this reinforces market expectations that the start of an easing cycle will be delayed and that the Brazilian Central Bank, under Goldfajn's administration, will decide to keep the Selic rate unchanged at 14.25% in the next meeting.
BRAZIL's Finance Minister Henrique Meirelles told Globo News in an interview late Tuesday that the bankruptcy petition of mobile phone carrier Oi SA (NYSE:OIBR), the biggest ever in Brazil, poses no threat to the country's state banks or the wider financial system. The company is seeking protection from creditors on $19.2 billion in liabilities. Brazilian state banks account for about 17% of Oi's total debt. Meirelles said that banks can accommodate the exposure. Meanwhile, Aldo Mendes, director of monetary policy at the central bank, said the bankruptcy petition did not threaten Brazil's financial system. Under Brazilian law, the purposes of judicial reorganization are to allow for recovery of the company from its economic troubles. This is a court-supervised reorganization proceeding similar to Chapter 11, and essentially provides a limited stay against creditor actions while the debtor attempts to negotiate a restructuring plan, and most importantly-unlike bankruptcy-it allows the debtor to emerge from its troubles as a going concern.
CHILE Pension funds' AUM grew 1.7% MoM to US$163 billion. By funds, the most conservative one (NYSE:E) increased its stake by 100 bps to 18% of the total. On the other hand, the C fund recorded the highest decrease, dropping 87 bps to 36.2% of the AUM. Exposure to fixed income increased by 80 bps to 64.2% of total AUM. Exposure to local equities decreased, after four months of growth, by 40 bps to 7.6% of total AUM, accruing US$12.3 million.
MEXICO Afores' AUM fell in May 3.6% to a three-month low of US$146.6 billion. Only foreign equities boosted Afores' AUM. While the S&P 500 rose 1.5% MoM, the Dow Jones index climbed by 0.1% MoM. Meanwhile, domestic stocks declined 0.7% MoM. With regard to the Afores' allocation in foreign stocks versus domestic ones, the ratio was stable at 2.0x-P$351.6 billion versus P$177.6 billion.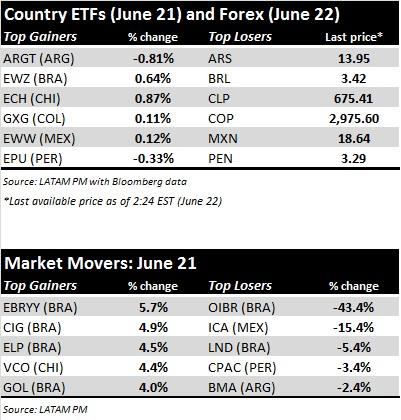 CORPORATE (ADRs) HIGHLIGHTS
ARGENTINA RyanAir (NASDAQ:RYAAY) will land in Argentina, seeking to capture an underserved, low-cost market which has recently benefited by Venezuela's economic crisis. Co-founder Declan Ryan assured the Irish airline would start operating in Argentina in 2017, under the Viva brand, which already operates in Mexico and Colombia. According to anonymous sources, RyanAir will enter Argentina via the acquisition of Andes Líneas Aéreas. Irelandia Aviation said that in order to start operations, RyanAir would need to invest $50 million.
BRAZIL's Embraer (NYSE:ERJ) named its new head of commercial aviation, elevating John Slattery, head of sales, after 5 years at the company. The former head of Embraer's airline business, Paulo Cesar Silva, was named this month to take over as chief executive when current CEO Frederico Curado departs after nearly a decade in charge. The ADR closed Tuesday's trading session at 21.45 (+2.1%).
BRAZIL' s Central bank director Aldo Mendes said that Oi's bankruptcy petition, the biggest ever in Brazil, poses no threat to banks. The downgrade follows Oi´s filing for judicial recovery, the closest equivalent to chapter 11 in Brazil. On Tuesday, Moody's downgraded Oi to C/C.br. It follows Oi's filing for judicial recovery, the closest equivalent to chapter 11 in Brazil. The stock's ADR declined a rough 43.4% on Tuesday's trading session. Oi blamed Aurelius Capital Management and other hedge funds for its decision to seek protection from creditors.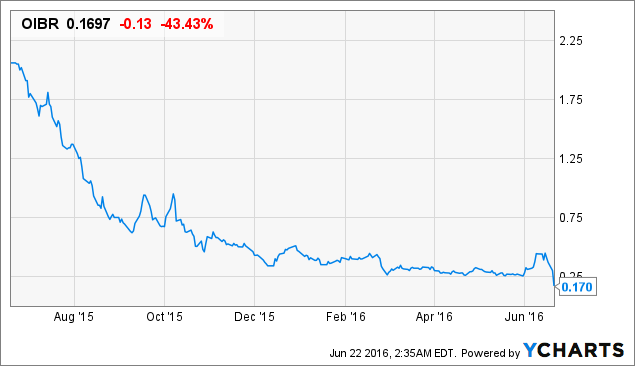 BRAZIL's GOL (NYSE:GOL) announced after Tuesday's closing bell (+4% during the session) its air traffic figures for May 2016. The report showed a decrease of 13.4% YoY in the number of seats and departures. The total volume of departures fell by 21.3% YoY and the total number of seats available declined by 21.2%. YTD, both figures decreased by 13.4%. Domestic demand fell by 7.7% YoY and 8.8% YTD. Load factors stood at 75.8% and 76.8%, respectively. International demand fell by 8.8% YoY and 8.4% YTD, respectively, while the load factor increased to 67.6% (+0.3pp).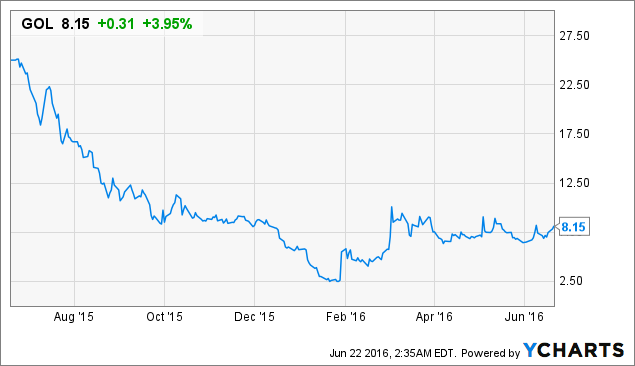 BRAZIL's Itau Unibanco ( ITUB) fell 0.6% to $8.59 on Tuesday, as most Brazilian ADRs declined in the session, led by phone carrier Oi bankruptcy filing. The bankruptcy is the largest on record in Brazil. Oi is the South American country's fourth-biggest wireless company and filed bankruptcy protection after it failed to reach a deal with its creditors on $19.2 billion in debt.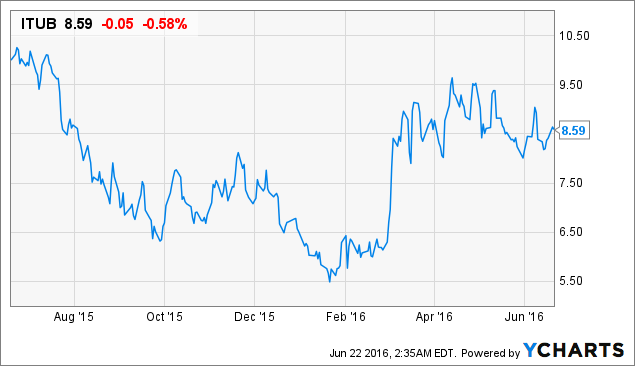 Disclosure: I/we have no positions in any stocks mentioned, and no plans to initiate any positions within the next 72 hours.
I wrote this article myself, and it expresses my own opinions. I am not receiving compensation for it (other than from Seeking Alpha). I have no business relationship with any company whose stock is mentioned in this article.
Editor's Note: This article covers one or more stocks trading at less than $1 per share and/or with less than a $100 million market cap. Please be aware of the risks associated with these stocks.