Stocks were up slightly on a fairly quiet session Tuesday. Markets tried to rally to start the day, but dipped into the red during mid-session as the market digested Yellen's commentary. By the end of the day, the S&P 500 (NYSEARCA:SPY) moved back into the green, closing 0.3% higher.
Of note, some risk assets did sell off pretty strongly on Tuesday. Biotech (NYSEARCA:XBI), one of my favorite canaries, is again indicating trouble: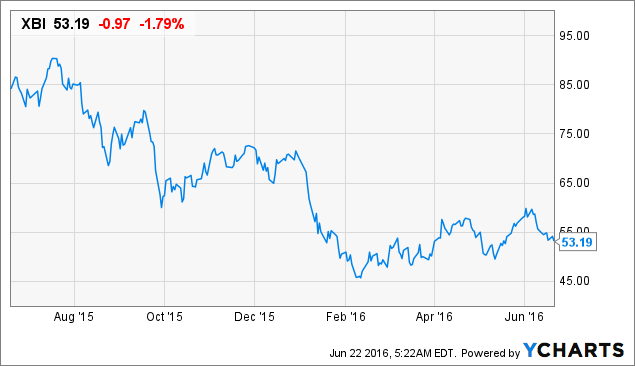 That's a chart primed for a breakdown. Leading the way lower was Valeant (NYSE:VRX), which made new 52-week lows. On a side note, I'm skeptical anyone is still going to take Ackman's new attacks on Herbalife (NYSE:HLF) seriously.
Back to the broad markets. Brexit remains the leading concern. After Monday's euphoric trade on the Brexit is dead idea, the tide has started to reverse. Polling continues to show a tight vote and the betting markets still have it at around 1 in 4 odds of passage. I expect a quiet day of trading as people wait for the risk event to settle before making bigger moves.
As for Yellen, her commentary yesterday indicated that she's still on board for more rate hikes later this year. While she acknowledged Brexit as a big risk, she downplayed other concerns. She reminded listeners that "Fed policy remains accommodative," and that the current target rate is so low that even a modest increase would remain stimulative for the economy.
The low jobs number, as I figured it would be, was discounted as being transitory. The Fed's Monetary Policy Report, released along with Yellen's testimony, indicated that despite mixed signals from the labor market, the overall economy continues to strengthen.
Make no mistake, the Fed is still leaning toward more rate hikes. We're setting the stage for a massive reversal in bonds (NYSEARCA:TLT) and interest-rate sensitive stocks such as banks assuming that Brexit does indeed fail.
In particular, I'm skeptical of oil (NYSEARCA:USO) back at $50 and gold (NYSEARCA:GLD) at $1,270. Once Brexit recedes and Fed hike chatter returns to center stage, there's a good chance we'll be looking at new highs for the dollar (NYSEARCA:UUP) and more selling for the commodities.
What's The Real Reason For The Tesla/SolarCity Deal?
Tesla (NASDAQ:TSLA) shareholders were certainly shocked last evening as shares plunged 13 percent after hours. The stock crumbled on news that Musk is using his cashed-up Tesla vehicle to bailout his failing solar energy firm, SolarCity (NASDAQ:SCTY). Following disastrous quarterly earnings and spiraling losses and debtload, it was becoming increasingly unclear how SolarCity could continue as a standalone entity.
In an all-stock deal, Tesla will offer to acquire all the outstanding shares of SolarCity in a deal that was in theory worth about $27/share. Though, by the time the market is done pricing in the effect on Tesla's stock, the actual value to SolarCity holders will probably be at a significant discount from there.
Make no mistake, there are - at best - limited synergies between the firms. We have a century of experience with the automotive industry, and there's virtually no record of automotive firms engaging in this sort of non-core expansion. Automotive companies use lots of energy, yes, but that doesn't mean that they've decided to become energy firms. You don't see companies such as Ford (NYSE:F) running oil refineries or chains of gas stations all that frequently. The direct case for Tesla taking a larger role in the electricity business is dubious.
Reuters reported Musk's supposed justification for the deal as follows:
Musk said Tesla did not know how many of its customers have solar panels, but guessed that most of them were likely interested in solar. In a blog, Tesla described the deal as a way to expand both companies' markets.
This is the same sort of big picture thinking that characterizes geniuses, but fails to make much business sense. Yes, your customers may be interested in solar. Or they may not. It makes sense in Musk's head that most of his customers want all of his products - he's imagining a future that he's designed after all. But in reality, companies have to make the products that consumers demand.
SolarCity has been characterized by more failure than success over the years. The company has generated a prodigious string of losses, and 2016's results show the trajectory getting markedly worse. There is a real chance of SolarCity failing over the next 12-18 months if it didn't receive support from a much stronger financial backer.
By throwing Tesla's shareholders under the bus, Musk has ensured SolarCity's immediate survival, assuming the deal is approved. However, with the changes in utility regulations and the not-too-bright solar loans SolarCity has engaged in, it seems the company will remain deeply unprofitable for the foreseeable future.
With its large debtload and need for more cash, SolarCity will weaken Tesla's financial situation. Tesla itself needs plenty of cash to get through its production ramp-up; taking on another bleeding enterprise is hardly what it needs at this point.
The market's initial reaction has been sharply negative; Tesla lost more in market cap than it will be paying for SolarCity. Essentially, this means that the market is pricing SolarCity as if it has negative value when merged into Tesla. That's probably a fair assessment.
One caveat; Musk arguably has too many irons in the fire. By getting SolarCity out of the emergency room, he can spend more time focusing on getting Tesla back on track. Also, had SolarCity gone bankrupt on its own, it would have reflected poorly on the Musk brand as a whole. By allowing SolarCity to be wound down gradually inside of Tesla, it allows Musk to keep up his reputation and raise more funds (his most important mission at this point) for Tesla. So ultimately, a few billion dollars of dilution to the Tesla mothership might actually be a good deal as long as Musk can maintain his overall brand equity.
Watching Musk's meteoric rise and now seeming fall, I'm reminded of Nikola Tesla. Agreed by many to be a genius and superior inventor to Thomas Edison, despite that, Tesla died penniless and indebted. In the end, superior business skills rather than engineering ability carried the day. That's why Edison's General Electric (NYSE:GE) became one of the nation's leading blue chip companies and Tesla's inventions didn't spawn a powerful competitor.
The people defending this Musk deal keep saying that it is pioneering or innovative or whatnot. That may all be true, but the more likely explanation is that the deal doesn't make sense. Companies with strong oversight from traditional CFOs aren't going to take the sorts of gambles that Musk is running. The potential related party shenanigans on this alone are jaw-dropping. By the time you reach a company of Tesla's size, general business code dictates that one shouldn't be making multi-billion dollars to take over firms run by related parties on an unsupported hunch.
Disclosure: I am/we are short XBI.
I wrote this article myself, and it expresses my own opinions. I am not receiving compensation for it (other than from Seeking Alpha). I have no business relationship with any company whose stock is mentioned in this article.