Alnylam (NASDAQ:ALNY) is a development-stage biotechnology company specializing in RNA interference, or RNAi, based therapies. It cannot sell any drugs until it gets FDA approval, so all of its market capitalization at this time is based on investor assessments of future profits from its pipeline. With no solid foundation in profits or even revenue, the stock price is volatile. Its 52-week high of $140.00 was reached on June 23, 2015. The 52-week low of $49.96 was on May 12, 2016. It closed on June 20, 2016 at $56.64, giving it a mid-cap market capitalization of about $4.8 billion.
Using a rule-of-thumb P/E of 20, the current market cap implies investors see Alnylam as the equivalent of a more conventional company generating earning of $250 million per year or $62.5 million per quarter. Fortunately, in clinical-stage pharma companies we can look at clinical data and project the probability of gaining FDA (and European) approvals. We can also estimate the number of patients who could be treated and how much payers might bear for treatment. This article will not go into that level of detail, but will give an overview of the pipeline.
RNAi
RNA interference is a method of silencing genes within cells. The therapies consist of RNA designed to interfere with the natural messenger RNA that is generated from DNA and acts as a template for constructing proteins. If a disease results from unwanted production of a protein, it is possible to treat it with RNAi.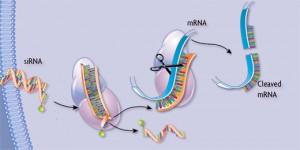 For more details on RNAi see the Alnylam RNAi page.
Pipeline Overview
The first thing to notice about Alynylam's pipeline, aside from most of it being in the preclinical stage or in Phase 1, is its breadth. Including known preclinical candidates, there are 18 named therapies in the program, 10 in genetic medicines, 5 in cardio-metabolic diseases, and 3 in infectious diseases. I will focus on the three most advanced therapies, with some notes on therapies that have made it to Phase 1 or 2.
Here is a simplified pipeline diagram, showing only programs that have initiated clinical trials:

Patisiran and Revusiran
The first may be the completion of the Apollo Phase 3 trial of Patisiran for TTR-mediated amyloidosis (ATTR amyloidosis) with polyneuropathy. Apollo completed enrollment in February 2016. Results are now expected in mid-2017. Phase 2 results released in April showed Patisiran halts polyneuropathy progression, but that is a summary of complex results, which are reported in the Alnylam Patisiran Phase 2 OLE Study press release.
Since Patisiran could be commercial in 2018 if results are positive, it could be expected to represent a considerable % of Alnylam's market capitalization. ATTR is a very rare disease, so getting substantial revenue from the therapy will depend on getting premium pricing. However, it does occur in ethnic clusters, so the patients may be relatively easy to identify.
Currently Revusiran for Familial Amyloidosis is in the ongoing Endeavor Phase 3 trial, with enrollment expected to complete in late 2016. Topline data should be available in mid-2018. This differs from the Patisiran Apollo Phase 3 trial in that the target diseases for Revusiran is FAC (C as in cardiomyopathy), as contrasted to Patisiran treating FAP (P as in polyneuropathy).
Thus even for the Phase 3 trial of Endeavor, at best commercialization will start in 2019. That is far beyond most investors' investment horizon.
Fitusiran
Fituseran for Hemophilia is scheduled to start a Phase 3 study any time now (in May the timeline was described as "mid-2016'). This is based on Phase 1 data released in December 2105 showing AT (antithrombin) was lowered by up to 88% in patients and "was associated with statistically significant and clinically meaningful increases in thrombin generation and, in an exploratory post-hoc analysis, was associated with statistically significant decreases in bleeding frequency."
Hemophilia therapies are a very competitive field, with Biogen's (NASDAQ:BIIB) relatively new, long-acting drugs Alprolix and Eloctate generated a total of $183 million is sales in Q1 2016. Biogen plans to spin off its hemophilia business, which includes a pipeline of potential therapies. Given the large number of companies with therapies under development, and the relatively small number of hemophilia patients, some of the R&D dollars are going to go down the drain. But if Fitusiran works, it could be disruptive, until something better comes along.
Genzyme is a partner for commercialization of Fitusiran outside North America and Europe.
ALN-CC5
ALN-CC5 additional Phase 1 data was reported on June 11. Here is a summary from Alnylam's press announcement:
"Part C evaluated the tolerability and clinical activity of ALN-CC5 in six patients with paroxysmal nocturnal hemoglobinuria (PNH), a rare hematologic disease where acquired mutations in the PIG-A gene lead to complement-mediated destruction of red blood cells (NYSE:RBC). In this study, ALN-CC5 was evaluated as a monotherapy or as an adjunct to eculizumab, an approved anti-C5 monoclonal antibody indicated for the treatment of PNH. Preliminary results demonstrate that ALN-CC5 achieved clamped knockdown of serum C5 and lowering of lactate dehydrogenase (LDH) - a biomarker of RBC hemolysis - in patients with PNH, and support further development of ALN-CC5 to potentially reduce the dose and frequency of eculizumab for PNH patients, and also to potentially improve disease control in patients with an inadequate response to eculizumab. As previously guided, the Company plans to initiate a Phase 2 trial by late 2016."
Further, "results provide preliminary exploratory evidence that inhibition of hepatic C5 synthesis by ALN-CC5 has the potential to reduce the dose and frequency of eculizumab."
Eculizumab, which is an antibody available commercially as Soliris from Alexion (NASDAQ:ALXN), had sales of $665 million in Q1 2016. It is also approved to treat AHUS.
Phase 1 data for 6 patients is a long way from FDA approval even for an orphan disease. But it helps confirm the idea of the potential commercial value of the RNAi platform.
ALN-AS1
ALN-AS1 for Acute Hepatic Porphyrias reported positive Phase 1 results in September 2015. For Asymptomatic high excreter patients with Acute Intermittent Porphyria, ALN-AS1 achieved up to 82% lowering of Aminolevulinic Acid and up to 93% lowering of Porphobilinogen, the toxic heme synthesis intermediates that mediate the disease.
A Phase 1b study is underway, so it is a long timeline to commercialization. The disease affects perhaps 1 in 10,000 people, so again the number of patients to be treated is not high.
ALN-PCSsc
ALN-PCSsc is partnered with The Medicines Company (NASDAQ:MDCO), which continued enrollment in a Phase 2 trial. ALN-PCSsc targets PCSK9 to treat hypercholesterolemia (high cholesterol). Results may support quarterly dosing. Initial Phase 2 ORION-1 data could be available in late 2016, with a Phase 3 start possible in 2017.
You probably know that PCSK9 targeted cholesterol drugs were supposed to generate a lot of revenue starting in late 2015, and have been a commercial failure so far. The drugs are effective, but payers have balked at the prices for treatment. So how much revenue this class of drugs can generate is now a matter of speculation. There are reasons to believe that an RNAi therapy could offer superior results to the current antibody-based therapies. If it passes its trials, ALN-PCSsc could scoop up this market if priced competitively. With commercialization unlikely before 2019, by then we should certainly know what the market value of such a therapy would be.
ALN-TTRsc02
ALN-TTRsc02 for TTR-Mediated Amyloidosis started Phase 1 trials this month. This one is specifically targeting the transthyretin version of the disease. It is hoped that it will provide relief with just 4 doses per year.
ALN-GO1
A Phase 1 study for ALN-GO1 for PH1 (primary hyperoxaluria) was started in Q1.
Cash
At the end of Q1 2016 Alnylam had $1.21 billion in cash. Operating expenses in the quarter were $117 million on a GAAP basis. It would appear that cash is sufficient until about middle of 2018, by which time, if the data is positive, Patisiran could start generating revenue.
Given the size of Alnylam's R&D budget, and the cost of moving Phase 1 therapies to more advanced trials, I would expect the company to run at a deficit even with Patisiran generating revenue. If I am right at some point more cash will have to be raised through a dilutive stock offering or by adding debt.
Who should invest in Alnylam?
Alnylam's market capitalization of near $5.0 billion would indicate that investors believe that successful commercialization of therapies will generate strong revenue and profits. Since the earliest likely commercial sales are in 2018, and revenues may take years to ramp to a level that covers operating costs, this indicates a great deal of confidence about the pricing of therapies and number of patients to be treated. Moreover, it indicates confidence that Alnylam's earlier-state therapies will also progress towards FDA approval and commercialization, at least with more hits than misses.
I think the best way to think about Alnylam is not on the typical therapy-by-therapy basis. Enough data is in to show that RNAi therapies can work and can be safe. It is possible they may replace antibodies as therapies for many diseases. While revenue and profits can come from rare, orphan diseases, the big money would come with commercialization for diseases that treat larger populations of patients.
Thus investing in Alnylam is an investment in the future of RNAi therapy. That has its risks. If Alnylam can do RNAi, then other companies can, too. Other companies currently testing RNAi therapies include Merck (NYSE:MRK), Ionis Pharmaceuticals (NASDAQ:IONS), Arrowhead (NASDAQ:ARWR), Dicerna (NASDAQ:DRNA) and Arbutus Biopharm (NASDAQ:ABUS) (formerly Tekmira).
So investors have a choice. It is still early to invest in Alnylam. If you have a time horizon of greater than 3 years, it could work out extremely well. There could be price swoons meanwhile, even lower than we are now, if Phase 3 result come in negative, or even if earlier stage results are disappointing. I think it is more likely that the stock will turn significantly upward when there are positive Phase 3 readouts.
It might also turn out that some other company or companies will come to dominate the RNAi space rather than Alnylam. Fortunately, it is a big space that could address many human diseases. I would expect that there may be 2 or 3 large cap companies focused on RNAi therapies a decade from now. The chances are very good Alnylam will be one, if not the leader.
If you want a short-term prediction, you need to go elsewhere. Development-stage biotech stocks have been extremely volatile for about 2 years now. I try to look past volatility, further into the future.
Some investors are scared of companies with orphan drug therapies because of talk about pricing reform. I believe that since Congress passed the orphan drug law that encourages high prices, and change of the law will be difficult, and is not likely to kill the profitability of developing effective orphan drugs.
I first bought some ALNY in October 2015. It currently represents approximately 1% of my portfolio, which is a typical small, initial position for me. I will be watching for news that is not reflected in the stock price, as well as stock movements that go beyond normal volatility but are not based on new evidence about the value of the pipeline. But generally I would say I believe that for long term investors, the current price is a good place to buy in. Certainly better than buying in at the 52-week high of about $140 from one-year back. The data is better now than it was a year ago. It is now all about patience.
Disclosure: I am/we are long ALNY, BIIB.
I wrote this article myself, and it expresses my own opinions. I am not receiving compensation for it (other than from Seeking Alpha). I have no business relationship with any company whose stock is mentioned in this article.