Introduction
On May 27th, Philips (NYSE:PHG)(OTCPK:PHGFF) successfully spun off its lighting business. 37.5 million shares were offered in the IPO at an initial trading price of €20. In the first day, shares surged 10% to €22. Since then, prices have retreated somewhat to current levels around €21,50.

Light
Philips Lighting develops, produces and distributes light products. This ranges from old-fashioned light bulbs to the more modern HID/CFL/LED-lamps and even entire light systems. Philips was actually founded as a lighting company, and achieved its early successes in that form. Though only a division of the old Philips, LIGHT will remain a global player. The group obtains revenues in 180 countries through more than 70 sales offices in Europe, the Americas, Growth Markets and China. The group is divided into four business segments: Lamps, LED, Professional and Home. Most of these names are rather explanatory, only professional might require some explanation: this division provides light management systems, but also remote assistance and light design. Figure 1 provides the revenue breakdown for these categories.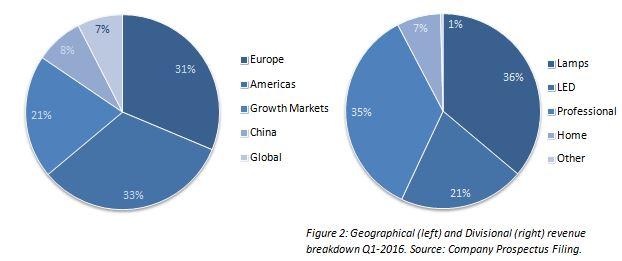 Although LED-lights have been introduced for quite some time, the old-fashioned type of light bulb still makes up for 36% of revenues. However, production, revenues (and, as a result, relative revenue share) are declining rapidly. On the other side of the spectrum, the LED department is growing rapidly. As expected, growth must geographically originate from emerging (growth) markets and - to a lesser extent - China. In developing markets, the volume of total lamps demanded is expected to decline in the near and mid-term future.
Old vs. New lamps
The transformation story of this company is a tale of old vs. new lamps. Generally spoken, LED lighting is expected to replace conventional lighting. For Philips, this is both good and bad news. Due to build (and aggravated by technological progress), the life expectancy of a LED lamp is significantly higher than that of a conventional light bulb.
This causes a decline in total demand for light units. On the other hand, the fraction of LED-lamps compared to total demand will grow drastically (BCG expects a 30% CAGR until 2020) . As LEDs can be sold at a higher margin, this provides an important source of compensation. IN accordance with many types of transformation, it takes a while before the old market is really gone. This also holds for conventional lamps, which will stay a big market in the foreseeable future. During that time, Philips can use the high cash flows it generates to fund the development in its growth markets.
Strengths
Aside from its attractive price, there are a couple of elements that make this spin-off a good opportunity. First, and very importantly, is the approach adopted by management. This approach is a conservative one, aimed at long-term results instead of short term peak performance. For example, given a 13% estimated decline for the conventional light bulb market, management increased this benchmark, assuming a 20% decline. In addition to its conservative forecasting, management is committed to keep the other business divisions leading and innovative. Consequently, it will keep investing heavily in product development and expansion. Second, the group has a market leading position in all of its segments. By continuously improving both the manufacturing footprint and cost structure, Philips is able to retain its cost leadership status, especially in conventional lighting. As the total market volume in this segment declines, smaller players start exiting the market. As a cost leader, Philips might be able to capture this market share, increasing cash flows. Third, aside from cost-leadership, the high spending on innovation has led to over 14,000 patents and 600 licenses. This means the company has a strong foundation to keep its leadership position. A nice addition in this context is that Philips Lighting will be able to make use of the Philips brand, which has high value.
Risks & Competition
There are several risks that Philips has to deal with in order for the thesis to remain compelling. Most importantly, the company has to constantly monitor the pace of transformation with respect to light bulbs. If there is any mismatch in anticipated versus actual shifts, there might arise a funding gap. To that extent I consider management's conservatism not only appealing, but also necessary. Another risk is the constant price pressure and its influence on newer generation light solutions. Though the company has an innovative advantage, technology is likely to bring margins down in the mid/long run, also for LED-lamps. If this happens quicker than anticipated, the effect on earnings could be significant.
Due to its strong market position, competitive threats are moderate at best. In fact, Philips Lighting competes with organizations set up like its former self, i.e. part of a larger conglomerate (like GE). As a stand-alone entity, specific strategy and cost considerations will likely have a higher priority within Philips, while the pressure of a public shareholder base adds to this - forced - focus. As a result, it is unlikely that Philips will lose its leadership position anytime soon.
Dividend Policy
Philips Lighting operates high cash flow businesses. It is therefore well suited to return some of that cash in the form of dividends. Philips is currently targeting to pay out between 40 and 50% of net income. Unlike US companies, European dividend distributions are often based on a target payout ratio. However, more often than not, companies are willing to absorb a 'bad' year by increasing the payout ratio temporarily. Consequently, if long term earnings trends are positive, dividend growth will follow along. With a growing world population and increased demand in emerging markets to come, all elements for this positive long term growth are in place.
Conclusion
As a separate entity, Philips Lighting is a leading market player in an industry with long term growing indicators. The flip side seems to be the short-term challenge of transformation. This is reflected in the multiple, but actual earnings impact will be mild. Therefore, the company is a good candidate as a long term investment. Regarding the timing of entry: Philips will start paying a dividend in 2017. By that time, income investors will have likely driven up the price. As this is not (yet) the case, a patient investor can take advantage by getting in early.
Disclosure: I/we have no positions in any stocks mentioned, and no plans to initiate any positions within the next 72 hours.
I wrote this article myself, and it expresses my own opinions. I am not receiving compensation for it (other than from Seeking Alpha). I have no business relationship with any company whose stock is mentioned in this article.
Editor's Note: This article discusses one or more securities that do not trade on a major U.S. exchange. Please be aware of the risks associated with these stocks.