Alaska Air Group (NYSE:ALK) flies below the radar. The regional carrier doesn't get the attention of many of its contemporaries. Yet excellent management, strong operating results, and sound financials shine consistently.
Alaska's Virgin America (NASDAQ:VA) acquisition offers the company the opportunity to establish industry leadership up-and-down the Pacific seaboard; including the gates and routes to transport west coast passengers to most all major U.S. destinations.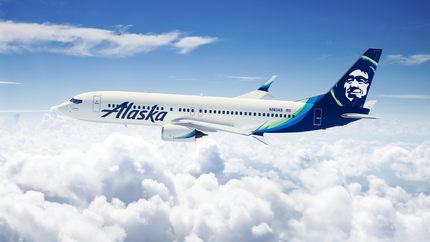 Alaska Air Group figures and presentation materials found in this article were drawn from the company's most recent 10-Q, the 2015 10-K, quarterly results, and the "Alaska Acquires Virgin America Investor Deck" presentation.
Tip-Top Operations
Safe operations, low expenses, and superior customer service are hallmarks of the Alaska Air Group organization.
Expenses
Alaska Air is one of the lowest-cost operators in the business. The company flies only two aircraft, the Boeing 737 and Bombardier Q400. In addition, ALK owns one of the newest fleets in the business.
Over the past 3 years, CASM (Cost per Average Seat Mile) ex-fuel has dropped.

Click to enlarge
1Q 2016 v 1Q 2015 CASM x fuel showed a 1.2% decline.
A Few Words About Fuel
Alaska Air management takes a simple approach to hedging fuel costs. Effectively, the business buys forward calls above the market. If fuel prices remain low, the calls expire worthless; it's viewed as an "insurance policy." If fuel prices rise above the strike, the company offsets higher fuel expense with in-the-money call option income.
Customer Service
For the past 9 consecutive years, Alaska Airlines has won the best-in-class J.D. Power customer service award. 2016 results are found below. This is no small accomplishment.

Click to enlarge
A growing Alaska Air loyalty program reinforces the emphasis on superior customer service.
Please note Southwest Airlines Co (NYSE:LUV) isn't included in the aforementioned ratings. J.D. Powers classifies SWA within the "Low-Cost Carrier" group.
For your info and review, I've included these 2016 results.

Click to enlarge
Interestingly enough, despite J.D. Powers categorizing SWA within the low-cost carrier group, Southwest's CASM x fuel has not been lower than Alaska Air Group.

Click to enlarge
Southwest Airlines data drawn from its 1Q 2016 quarterly report.
Alphabet Soup: Monitor Declining PRASM
Airlines measure operations via an alphabet soup of acronyms.
2015 year-over-year and 1Q 2016 quarter-over-quarter ASM (Average Seat Miles, or "capacity") has risen faster than RPM (Revenue Passenger Miles, or "traffic"). Therefore, "load factors" have eased slightly.
Indeed, contributing to the figures we find Alaska Air has expanded its footprint by adding new routes and expanding capacity. In addition, the company continues to battle (successfully I opine) competitor Delta Airlines (NYSE:DAL) in its own backyard - plenty of pushing and shoving in Alaska's hometown Seattle hub.
Through it all, the FY 2015 load factor remained a strong 84%.
Not quite as easily explained away, PRASM (Passenger Revenue per Average Seat Mile) has not been good. Yet a look behind the raw numbers is still required. PRASM fell 5.8% in 2015 versus 2014, and 7.7% in 1Q 2016 versus 1Q 2015. There's no pleasant way to spin those numbers.
The figures reflect a combination of a push into new markets, resultant lower fares to attract business to such markets, and a recent industry inclination to add capacity.
The latter is the most worrisome.
In years past, weaker sisters in a less-consolidated industry showed a penchant for adding flights and seating capacity just before the traditionally cyclical airline business peaked.
I am confident Alaska Air Group management will not fall into that trap; however, a more-consolidated industry's ability to exhibit operational discipline and pricing restraint remains untested.
Financial Excellence
Alaska Air runs a sound financial franchise. This has been an historical, not recent, occurrence.
Balance Sheet
The balance sheet is strong.
Debt-to-Cap is 27%; low for airlines and low for industrial corporations
Current Ratio is 0.93x; plus/minus 1.0x is good
Net Debt is +$640 million (meaning cash and marketable investments exceed total debt); superior marker
Investors may note only Alaska and Southwest Airlines own investment-grade credit ratings.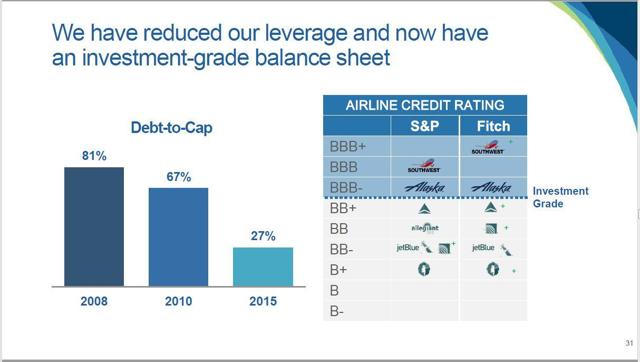 Click to enlarge
Profits and Cash Flow
The company largely converts its profits into cash. When evaluating an industrial stock, premier businesses generate operating cash flow on par with net income after tax.

Click to enlarge
Clearly, we see Alaska Air operating cash flow not only is on par, but eclipses profit. Free cash flow is likewise robust.
Furthermore, ALK management reports "clean" income statements. This means there are few, if any, adjustments between GAAP earnings and operating earnings. Adjustments taken are straightforward.
For instance, Alaska Air identifies mark-to-market fuel hedges. These are not included in adjusted, or operating income.

Click to enlarge
Return-on-Invested-Capital
Well-run industrial corporations provide investors return-on-invested capital above cost-of-capital. Alaska Airlines' management was one of the first major airlines to track this metric closely.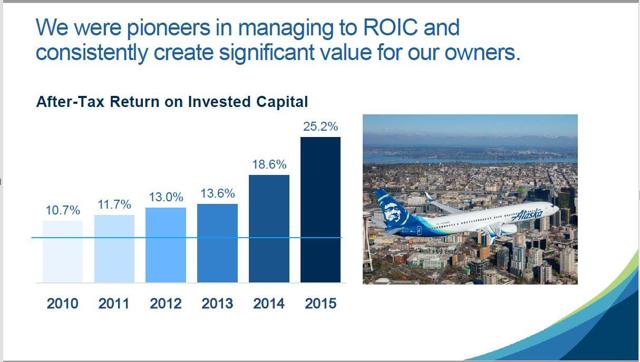 Click to enlarge
Alaska Air reported 1Q 2015 RoIC of 25.6%. Currently, the company has a 7.5% WACC. Therefore, management creates outstanding shareholder value.
Revenue Growth
Healthy companies exhibit growth. Since 2013, ALK has grown the top-line steadily.

Click to enlarge
First quarter 2016 revenues improved 6% versus 1Q 2015.
Dividend Growth
Since first declaring dividends in 2014, Alaska Air has ramped the dividend dramatically. Nonetheless, the payout percentage is low.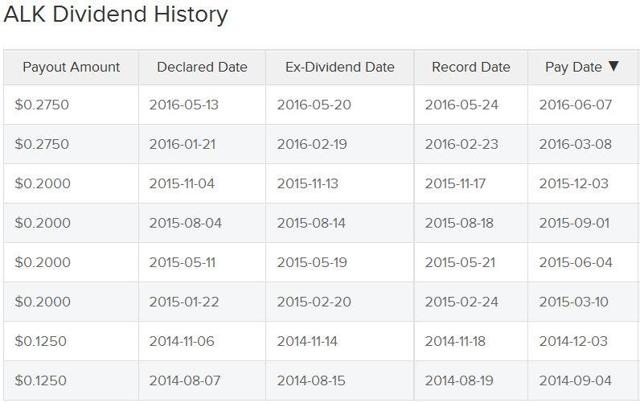 Click to enlarge
Share Repurchase
Management has returned capital to shareholders via an aggressive share repurchase plan, too. A F.A.S.T. graph illustrates recent declines in total shares outstanding.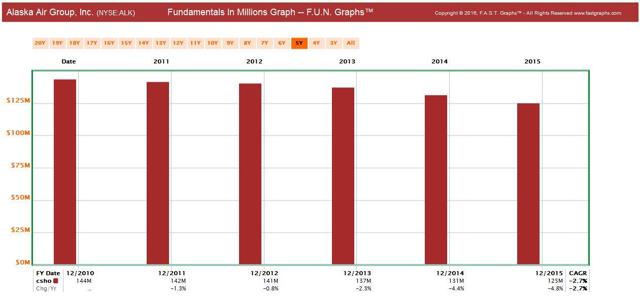 Click to enlarge
These shareholder-friendly actions have long been advocated by management. CEO Brad Tilden emphasizes shareholder return of capital is a stated, planned objective. I like that. Combined with clear financial metrics, and clear-speak conference calls, Alaska Air management get high marks from this investor.
Management makes a difference.
Pending Virgin America Acquisition
Some investors were spooked when Alaska Air Group announced the $4 billion acquisition of San Francisco-based Virgin America Airlines. All too often, industrial corporations make deals near cyclical market peaks, acquisition synergies evaporate, and corporate culture integration is overlooked.
I contend the ALK-VA deal will defy the naysayers.
Reasonable Deal Economics Don't Foul Net Margins
Alaska Air enjoys some of the strongest airline industry margins. A simple, "bolt-on" exercise, including modest net merger synergies, doesn't crater ALK net margins.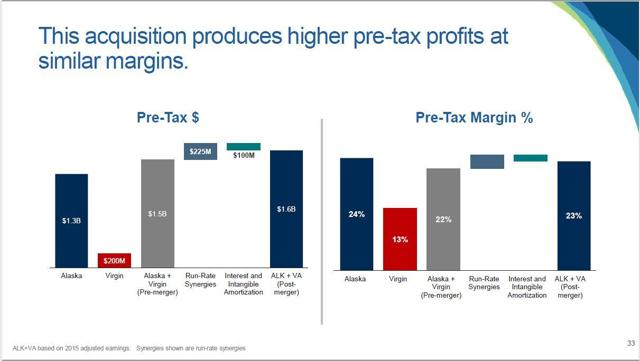 Click to enlarge
Debt Isn't a Problem
Recall Alaska Air net debt is currently positive. The Virgin America transaction entails $2.6 billion cash out, and Alaska Air assuming $1.4 billion debt. In the post-deal chart below, we see the combined company maintains a manageable debt-to-capital ratio. In addition, CEO Tilden stated his objective is to de-lever the business after the acquisition. Based upon Mr. Tilden's history of keeping promises, I accept his word on it.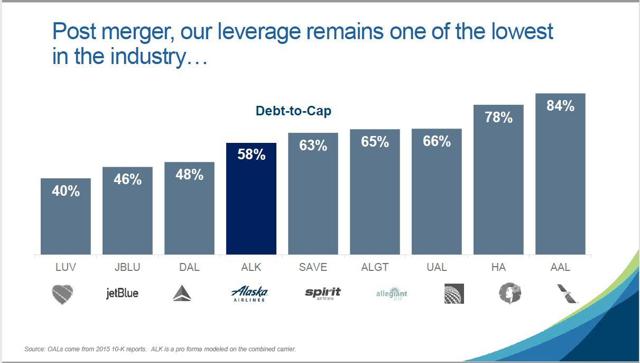 Click to enlarge
It Is Not A "Merger Of Equals"
Having the opportunity to speak with Alaska Air management, I asked if the merger was to be a "merger of equals," or an acquisition. Without stuttering, I was told it is the latter.
I believe this is absolutely the right approach.
Alaska Air and Virgin America do have different corporate cultures. Attempting to mold the two into one is likely messy and confusing. While taking an "acquisition" approach does not preclude Alaska management from keeping the brands separate for a period of time (which will happen, and I believe is proper), an acquisition approach sends a message to employees the Alaska "way" will prevail. This isn't harsh. It's realistic.
Merged companies have about 18 months to set corporate culture. After this period, it becomes very difficult to establish unity.
Weak or failed mergers are littered with management teams that never agreed upon a "way of doing business." Often, senior leadership endeavors to "combine best practices" of two differing organizations. It sounds laudable, but the theory and practice rarely gel.
However, investors should not underestimate both companies' commitment to operational excellence. The following presentation slide highlights the current industry standing of Alaska Air and Virgin America.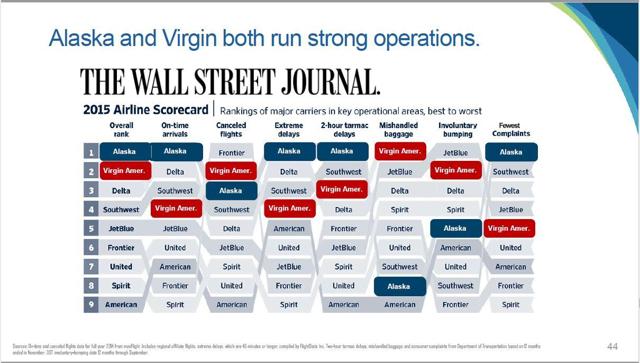 Click to enlarge
.....Which Brings Us to Valuation
I suggest ALK represents good value in a stock market reaching for new highs. Conversely, airline stocks have been crushed. Fears of energy price increases, airline seating overcapacity, price wars, and the tragic Orlando terrorist attack have all contributed to terrible price action.
Perhaps now is the time to buy.
For your consideration, following are several valuation methodologies.
Price-and-Earnings
A post-recession F.A.S.T. graph highlights how ALK price follows earnings.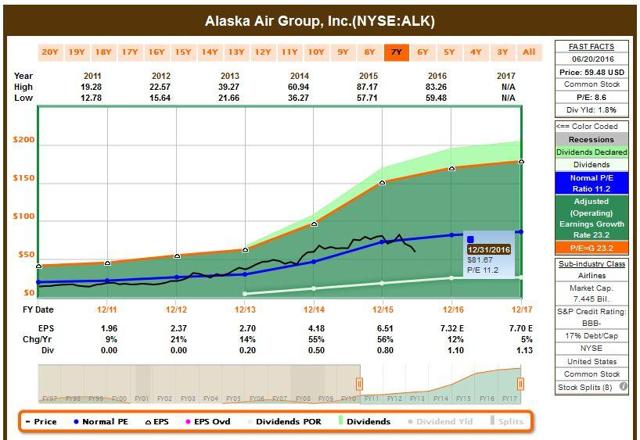 Click to enlarge
Based upon current 2016 EPS estimates and modest average 12.2x P/E, Alaska Air Group stock has ~$82 fair value.
Price-and-Cash Flow
Based upon the post-2010 normalized average price / cash flow multiple, ALK shares have ~$60 fair value estimate.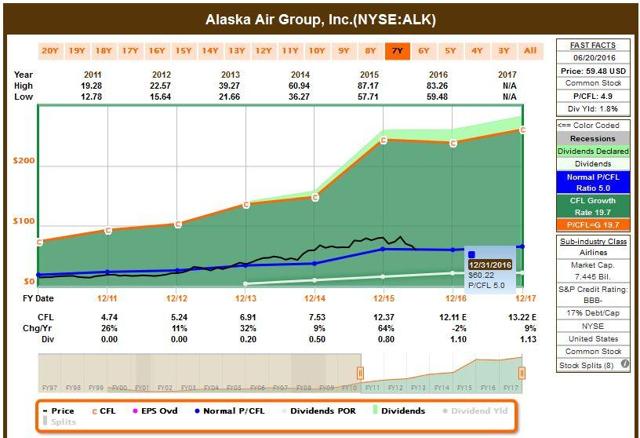 Click to enlarge This methodology suggests the shares trade at fair value. While the figures are accurate, I point out the 5x P/CF ratio is diminutive. In recent years, the average multiple has been rising.
Enterprise Value-to-EBITDAR
The Street often values airline stocks via EV/EBITDAR (the R is for Aircraft Rent). A 6x multiple is Alaska Air's historic marker for this valuation metric.
The recent share price downdraft lowered Alaska Air's Enterprise Value to $6.41 billion. Trailing twelve month EBITDAR is $1.79 billion; therefore the EV/EBITDAR multiple is only 3.6x.
Just a few months ago, the EV was $9.55 billion and stock traded at 5.9x EV/EBITDAR.
A 6x multiple on current ttm EBITDAR indicate ~$86 fair value estimate is appropriate for ALK shares.
Conclusion
I believe Alaska Air Group fulfills the major premises for a good investment: the company is well-managed, has a sound balance sheet, earns its profits in cash, and owns a strong franchise, and senior leadership is shareholder-friendly.
Primary risks to an investment thesis include the notoriously cyclical nature of the airline business, potential for escalating fuel expense that cannot be passed along to customers, and merger integration risk associated with the pending Virgin America Airline deal.
At a recent $59.48 bid, the shares appear discounted when compared to reasonable fair value estimates.
Please do you own careful due diligence before making any investment decision. This article is not a recommendation to buy or sell any stock. Good luck with all your 2016 investments.
Disclosure: I am/we are long ALK.
I wrote this article myself, and it expresses my own opinions. I am not receiving compensation for it (other than from Seeking Alpha). I have no business relationship with any company whose stock is mentioned in this article.