"Perseverance is the hard work you do after you get tired of doing the hard work you already did." - Newt Gingrinch

The market and the biotech sector got off to a strong start to the trading week on Monday as polling over the weekend in Britain showed a slight edge to the "remain" camp for this Thursday's vote on whether the Brits decide to stay in the EU or not.
These gains all dissipated and then some on Tuesday as high beta sectors like biotech and small caps were two of the worst performers of the market. Investors are taking no chances the Brexit vote will result in a "stay" result. If the verdict is "remain", expect these parts of the market to outperform the overall market on Thursday and Friday. If the vote goes the other way, all bets are off at least through this week as investors will probably sell first and sort things out over the weekend.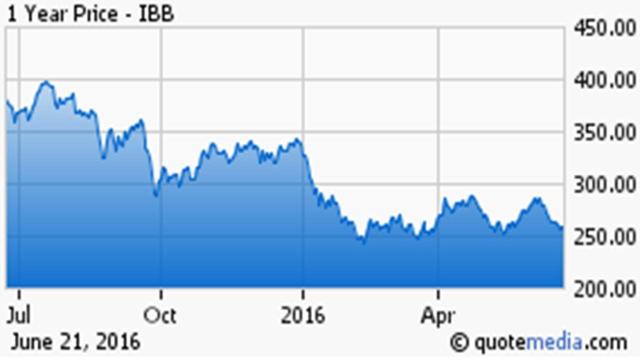 Click to enlarge
My hope is the U.K. does remain in the European Union as it means less disruption to the markets and we will not have to test the lows in the biotech sector yet again. However, given the anger in Britain of so many orders and regulations coming from Brussels these days, one can certainly understand the drive behind the "leave" faction.
Note: To get these Biotech Forum Daily Digests as soon as they are published, just click on my profile and hit the big orange "follow" button and choose the real-time alerts option.

OPKO Health (NYSEMKT:OPK) got some good news as the FDA decided to approve its compound RAYALDEE extended release capsules for the treatment of patients with secondary hyperparathyroidism in adults with stage 3 or 4 chronic kidney disease and serum. In March, the FDA had issued a complete response letter around concerns at the third party manufacturer OPKO was using to produce the drug. Evidently, the agency was impressed with the company's resubmitted NDA. I stated in April that this was likely to be a temporary setback and OPKO was up nicely in Tuesday trading as a result of this announcement.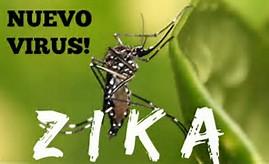 Zika has been in the news recently. The FDA just granted Hologic's (NASDAQ:HOLX) Aptima Zika virus emergency authorization last week to screen donated blood, adding another diagnostic option to test for the rapidly spreading mosquito-borne illness.
Monday, Inovio Pharmaceuticals (NYSEMKT:INO) was up better than five percent on the day as the FDA has approved the start of a Phase I clinical trial to evaluate its Zika DNA vaccine candidate in 40 healthy volunteers. The stock of Inovio has been a strong performer in the market since the firm was a Spotlight feature hear on the Biotech Forum Daily Digest in early April.
Israeli based microcap Rosetta Genomics (NASDAQ:ROSG) rallied more than 10% on Tuesday after announcing that the New York State Department of Health has conditionally approved the company's multiple fluorescence in situ hybridization tests for detection of amplifications or rearrangements of DNA in a range of hematologic cancers (lymphomas, leukemias, myelomas) to aid in the diagnosis or evaluation of prognosis/remission.
Fun fact: New York is the only state in the union that has its own unique approval process. In the other 49 states, once a product or service is approved for use by the FDA, then it is cleared for use in each state. And one wonders why taxes in New York are so high and business formation tepid.

Epizyme (NASDAQ:EPZM) has been the recipient of positive analyst accolades this week. On Monday, the company disclosed positive Phase 2 clinical trial results around its lead product candidate, orally administered tazemetostat, in heavily pre-treated patients with certain types of diffuse large B-cell lymphoma (DLBCL). Results showed a disease control rate as high as 60%. In addition, all the lymphoma cohorts have passed futility analyses by the Independent Data Monitoring Committee.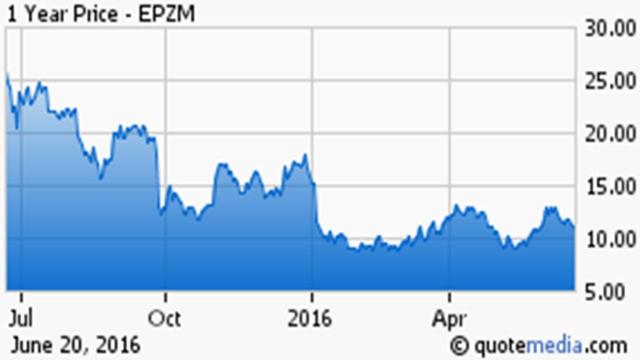 Click to enlarge
This news triggered reiteration of Buy ratings on the stock from RBC Capital, H.C. Wainwright and Cowen & Co. Wainwright was the most optimistic with a $25 price target. This positive development has to be welcome news to Epizyme's shareholders as the stock was hovering near 52-week lows to begin the week.
After no activity in over two months, there have been a couple of analyst ratings reiterated on GW Pharmaceuticals (GWPH) over the past two weeks. The company is a small cap concern developing novel therapeutics from proprietary cannabinoid product platform in a broad range of disease areas. Morgan Stanley on June 10th reissued their Buy rating and very optimistic $149 price target. Yesterday, Leerink Swann reaffirmed their "Outperform" rating with a slightly lesser price target of $130, which is still nearly 50% above the stock's current trading level.
Inovio Pharmaceuticals, in addition to some good news around its Zika vaccine program this week, also has received the positive nod of two analyst firms this week after more than a month of no activity from the analyst community.
Yesterday, Rodham & Renshaw reiterated their Buy rating and $17 price target as its analyst believes Inovio has the best chance to get the first Zika vaccine to market. Maxim Group also reissued its Buy rating and $14 price target after the FDA gave the green light to initiate the human study for Inovio's Zika virus vaccine.
Note: New analyst ratings are a great place to start due diligence, but nothing substitutes for deeper individual research in this very volatile sector of the market. Many of the small-cap names highlighted in the "Analyst Insight" will eventually appear in the "Spotlight" section, where we do deeper dives on this type of promising but speculative small-cap concern.

Today's Spotlight is on XBiotech (NASDAQ:XBIT), a small developmental concern focusing on antibodies and based in Austin, TX, that was suggested for further analysis by a Biotech Forum subscriber.
Company Overview:
XBiotech is a clinical-stage biopharmaceutical company that is focused on discovering and developing monoclonal antibodies for treating various diseases using its True Human technology platform. The company is a developer of biological therapies - including a pipeline of True Human antibodies. To support these programs, XBiotech has developed the manufacturing technology to enable production of biological drugs in a large facility in Austin. XBiotech came public in April of 2015 and has a current market capitalization of just over $500 million and a stock price of just over $16 a share.
Pipeline:
XBiotech's development of actual true human antibody therapeutics is potentially disruptive. For full details why, click here. The company has manufactured a wide assortment of antibodies using its technology platform aimed as various disease areas. As can be seen below, this biologic compounds are in different developmental stages of trial development.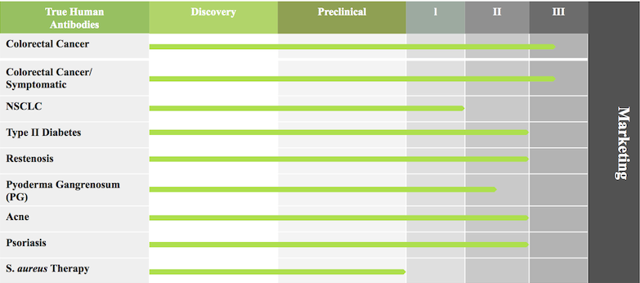 Click to enlarge
The most advance of which are in a couple of Phase III trials for colorectal cancer using its primary drug candidate "Xilonix". The five-year survival rate for patients diagnosed with advanced colorectal cancer is under 10%, and one in three patients isn't diagnosed until their cancer has advanced to stage four. The FDA fast tracked a Phase III global study for Xilonix to be completed by the end of 2016. The company also recently announced that it has seen positive preliminary data on overall survival in the Phase III trial for Colorectal Cancer in Europe. More details of this study will be presented at 18th European Society for Medical Oncology World Congress on Gastrointestinal Cancer later this month. The company has stated in this study among a patient population with advanced disease, Xilonix was able to control tumor related symptoms associated with morbidity and death. There was a 76% relative improvement in response rate occurred in patients treated with Xilonix as compared to placebo. If all goes well, this compound could be an approved oncology drug for patients with colorectal cancer, who failed standard therapy some time in 2017.
Results of the accelerated Assessment of Marketing Authorization Application for Xilonix in Europe should be disclosed some time in the third quarter and its manufacturing facility in Austin should open by the end of September as well. This facility should be able to produce nearly 900,000 units of drug per year for sale in the European Union and other markets around the world once completed. The company recently brought in senior executives from Amgen (NASDAQ:AMGN) and Biogen (NASDAQ:BIIB) to help in the commercialization process. Mid-stage trials are also ongoing for treatments for Type II diabetes, Restenosis, Acne and Psoriasis.
Balance Sheet & Analyst Support:
At the end of the first quarter, XBiotech had cash and cash equivalents of approximately $78.2 million and net loss carry forwards in excess of $140 million. Management has stated this is enough funding to deliver all major clinical and commercial milestones in its pipeline at the moment. Raising additional capital for the rollout of Xilonix seems a likely possibility, however.
For a decent sized developmental concern, XBiotech receives little analyst coverage perhaps as it is not near biotech hubs like San Francisco, Boston or San Diego. The only recent analyst commentary I could find is from Noble Financial that reiterated its Buy rating and $24 price target on XBIT on May 19th. The Chief Financial Officer that was just brought over from Amgen bought over $300,000 worth of shares in XBIT as well in May.
Outlook:
The company certainly has the multiple "shots on goal" I look for before making a small investment in a developmental concern in this sector. XBiotech also has several potentially positive catalysts coming up in over the next few months as well which hopefully will lead to its first approved product. The possibility of an additional capital raise and the lack of analyst coverage are the two things preventing me from an enthusiastic buy rating. However, XBiotech does seem to warrant some optimism and I think I will pick up a few shares, and the company seems like a worthy small investment within a well-diversified biotech portfolio at the moment.

Thank You & Happy Hunting
Bret Jensen
Founder, Biotech Forum
Disclosure: I am/we are long AMGN, BIIB, INO, OPK.
I wrote this article myself, and it expresses my own opinions. I am not receiving compensation for it (other than from Seeking Alpha). I have no business relationship with any company whose stock is mentioned in this article.
Editor's Note: This article covers one or more stocks trading at less than $1 per share and/or with less than a $100 million market cap. Please be aware of the risks associated with these stocks.