We are used to seeing advertising everywhere in the real world. As we drive, we see ads on billboards, trucks, buses, and some cars. There are real estate signs on every property that is for sale or rent. Businesses have signs and promotions on their buildings and properties. We even see small planes with advertising banners as we sit on the beach. Since we are used to seeing this is the real world, I think that it makes sense for Facebook (NASDAQ:FB) to implement ads within Oculus Rift's virtual reality apps.
Incorporating ads into Oculus Rift's virtual reality apps seems natural to me. Advertising is Facebook's expertise as a business. Advertising within virtual reality apps will be a larger source of revenue growth than from the sales of the Oculus headsets in my opinion. You may buy a VR headset only once, but advertising will keep coming to you with every use of the device's apps.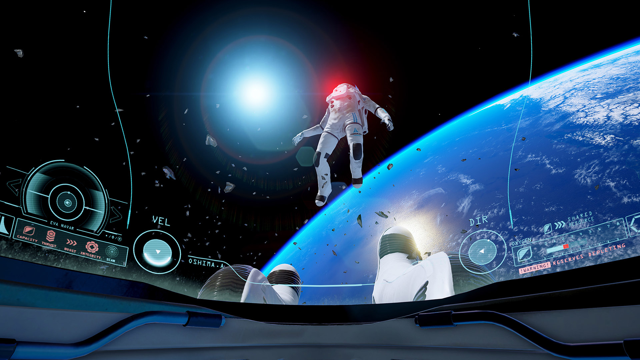 Image source: theriftarcade.com
Facebook is already incorporating 360-degree ads within its newsfeed. This could provide a preview of how ads may work within Oculus apps. Ads within Oculus apps could have multiple dimensions. For example, viewers may initially see billboards in the background or advertising on certain objects. Users could then 'activate' the objects to show more advertising details. Once the ads are activated, they could be displayed as 360-degree ads.
Suppose a user was playing virtual reality baseball. There could be advertising on the bat and advertising throughout the stadium in a similar way it is displayed in actual stadiums. If the user chooses to activate the ads, more info could be displayed, perhaps incorporating a 360-degree virtual reality ad that can be deactivated after viewing.
You could easily imagine a virtual reality race car driving game with ads on cars and the surrounding scenery. Advertising is already on actual race cars and throughout actual racing venues. So, it would be natural to incorporate ads within games and other apps.
Users could take a virtual reality vacation to a tropical island. There could be ads embedded in that scene for real vacation-related products/services. The initial ads could be subtle such as a plane with an ad banner flying by. Users can activate the ads to get more information and a 360-degree tour of an actual resort, hotel, restaurant, etc.
The ads could be targeted to the users based on their interests according to their Facebook/Instagram interests and according to information in their computer's cookies file. The ads could also be related to the games or apps that the users participate in.
The ability to opt out of ads could be made available for a monthly fee. This would keep revenue coming in, while offering premium users an ad-free experience.
Some investors have dismissed Facebook's move into virtual reality as a distraction that won't lead to material growth for the company. However, I disagree with that viewpoint. Although there are kinks to be ironed out with the technology and many more apps to develop, I think that the Oculus Rift will produce significant revenue for Facebook over the long-term. I don't expect this to be immediate. Significant revenue might not be produced from Oculus until five or ten years down the road.
Currently, Oculus is primarily for gaming. However, more apps are likely to be developed over the long-term. Facebook tends to ease into monetization of its businesses after careful thought. This is evident with Facebook and Instagram. It is evident with WhatsApp since the company is waiting for the user count to grow before monetizing. The cautious movement into monetization is also likely to happen with Oculus. Facebook will probably wait for more apps to be developed and the technology to be refined before adding advertising to Oculus apps.
Although significant advertising dollars from the Oculus Rift are likely to be many years into the future, the technology represents a strong future source of revenue. It is good to know that Facebook has something strong in the pipeline for future years.
Disclosure: I am/we are long FB.
I wrote this article myself, and it expresses my own opinions. I am not receiving compensation for it (other than from Seeking Alpha). I have no business relationship with any company whose stock is mentioned in this article.
Additional disclosure: If you like my analysis click on FOLLOW at the top of the article near my name. This will allow my articles to appear on your homepage as they are published.