Background
Gogo (NASDAQ:GOGO) made headlines on June 3, plummeting 16% on news that competitor ViaSat (NASDAQ:VSAT) won a contract to equip American Airlines' (NASDAQ:AAL) new fleet of Boeing 737 MAX aircraft. Clearly the stock market views ViaSat's success as a major threat to Gogo. This first part of this two article series will outline the airline connectivity services industry as well as place Gogo and ViaSat in the competitive landscape. The second part will compare the technological capabilities of ViaSat's and Gogo's products.
Investment Thesis
ViaSat's winning of the American Airlines contract marks the escalation of competition within the aircraft connectivity space. Increased competition will pressure all industry players to constantly innovate to either achieve or maintain product superiority. It will also lead to pricing pressures, reducing margins across the industry. Therefore, prospects for any one company in the space are treacherous going forward.
However, Gogo has spent almost a decade in the space building up a dominant market share and is therefore at a strategic advantage compared to its peers going forward. The sharp sell-off last week, in conjunction with the rapidly progressing rollout of 2Ku, has put shares of Gogo on sale.
Gogo Company Profile
With a market cap of ~$700 million and annual sales of $527 million, Gogo is the #1 global provider of commercial airline broadband connectivity equipment and services. The company has captured a 51% market share of North American connected aircraft to date. In total, Gogo has won contracts with 14 commercial airlines and has equipped 6x more aircraft than the closest competitor, which is currently Panasonic.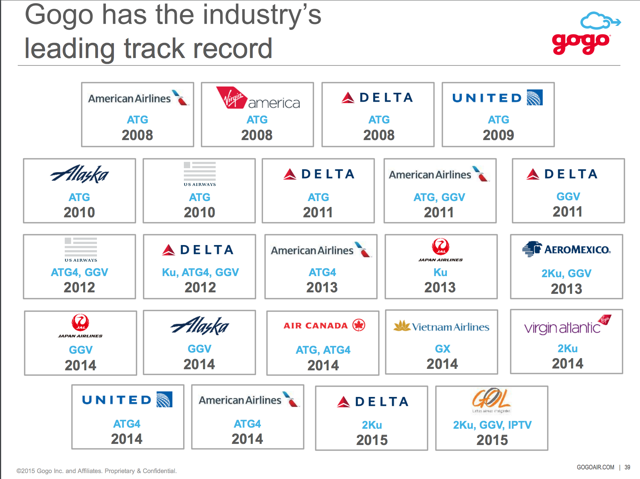 Click to enlargeImage : Contracts awarded to Gogo by major airlines since 2008. (Source: Analyst Presentation)
Gogo derives its revenue both from hardware sales and by charging passengers for Wi-Fi, although the company allows airlines to keep a percentage of this fee. Last year, 83% of Gogo's revenues came from services, with the extra 17% coming from product sales.
Leadership Profile:
Michael Small, President and CEO- 30 years experience in the communications industry. Former CEO, Centennial Communications Corporation.
Anand Chari, CTO- 20 years experience in wireless communications and telecom. Computer engineering background.
ViaSat Company Profile
ViaSat is the far larger of the two competitors, with a market cap of $3.55 billion and annual sales of $1.41 billion. ViaSat's revenue sources are diversified across maritime, defense, and satellite services, although the company has been charging into the aircraft connectivity space recently. Unlike Gogo, ViaSat manufactures and operates its own satellites. ViaSat's in-flight connectivity service goes under the name "Exede In The Air" and is currently featured on JetBlue flights.
CEO, Mark Dankberg, has made it clear that he intends to put ViaSat on the map in the airline connectivity space. In the most recent earnings call he stated in reference to the ViaSat-1 satellite services segment, "we'd like to find business strategies that are disruptive…bringing value propositions to market that are fundamentally different than those that currently exist". Regardless of the effect on ViaSat, the company's pursuit of the 'industry maverick' strategy constantly threatens other operators in the space.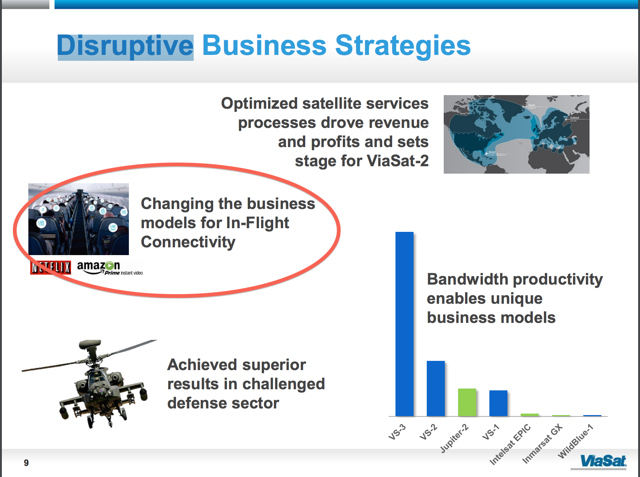 Click to enlargeFigure : ViaSat management is fond of the term "disruptive", especially in reference to the in-flight connectivity space. (Source: Investor Presentation)
Leadership Profile:
Mark Dankberg, CEO- Co-founder of ViaSat, 1986. Background in mechanical and electrical engineering.
Industry Dynamics
While Gogo is the definitive industry leader in terms of market penetration, even the 9,600 aircraft which it services represent only 20% of all commercial and business aircraft, globally. With in-flight connectivity quickly becoming the norm, it's fair to say the market has room to grow. Gogo management -- perhaps optimistically -- projects that total industry revenue will reach $30 billion, a number which dwarfs the company's current ~$500 million in annual sales.
In the commercial space alone exist approximately 20k aircraft around the world, with 6,200 of them in North America. Gogo has already equipped approximately half of them (~2,500) with broadband connectivity. For this reason, a lot of future industry growth is projected to come from the relatively untapped international market.
With the next generation of in-flight Wi-Fi to rely on satellite services, it is worth classifying Gogo and ViaSat in terms of vertical integration. Gogo does not own or operate its own satellites and must contract with third parties to gain access to satellite networks. ViaSat, contrarily, does not have this problem as it is primarily a satellite services company. Gogo's current largest satellite providers are Intelsat (NYSE:I) and SES (EPA: SESG). The company's reliance on third-party satellites should not be a major risk going forward, because satellite services are competitive and thus fairly commoditized. Large domestic satellite names include Nokia (NYSE:NOK), Motorola (NYSE:MSI), and EchoStar (NASDAQ:SATS).
Cost and Value Proposition
Gogo 2Ku hardware will cost a little under $500k per aircraft. The product's value proposition to airlines has a few parts;
The new generation of fliers values in-flight connectivity highly and airlines without it will lose customers
By retaining a portion of the Wi-Fi service fee, airlines can recoup investment on hardware-monthly revenue per aircraft is now ~$11k and has been steadily increasing
Hardware also enables real-time engine diagnostics, weather, and other services allowing airlines to save fuel and further recoup investment
Note that ViaSat has not yet made pricing details on its in-flight connectivity hardware public. As alluded to above, the entrance of ViaSat into the industry is expected to put pricing pressures on Gogo. However, for the past five years, Gogo has demonstrated ability to gradually reduce costs, resulting in steadily increasing gross and operating margins. In addition, 2Ku's greater capabilities are expected to increase average revenue per plane, which should help to offset effects of pricing pressure.
Significance of American Airlines Loss
American Airlines is the third largest domestic airline by fleet size (excluding contract carriers) and currently operates with a fleet size of 627 aircraft plus 592 aircraft on order. The loss of American's contract to equip 100 new 737 MAX jets at the ~$500k per aircraft hardware rate represents between $50 million in lost potential revenue in the near term; a meaningful loss considering that Gogo produced $500 million in revenues last year, even though the missed revenue would have been spread across 2-3 financial years.
On the larger scale going forward, however, Gogo already has 1000 aircraft contracted to adopt 2Ku. This represents upwards of $500 million in revenues.
Disclosure: I/we have no positions in any stocks mentioned, but may initiate a long position in GOGO over the next 72 hours.
I wrote this article myself, and it expresses my own opinions. I am not receiving compensation for it (other than from Seeking Alpha). I have no business relationship with any company whose stock is mentioned in this article.