On Monday this week, Jefferies resumed its coverage on Chesapeake Energy (NYSE:CHK) with an underperform rating and gave the stock a price target of $3. Currently, Chesapeake trades at around $4.60 a share, which means that Jefferies expects a 35% downside. Jefferies believes that Chesapeake is still in a sticky spot despite the recent improvements made by the company.
The analyst firm, in its downgrade note, said that "overall obligations remain very high, volumes are declining, asset quality looks sub-par and significant further equityholder dilution is likely." Now, Jefferies is right about the equity dilution part as Chesapeake has been using debt-equity swaps to reduce the debt.
However, I think that Jefferies is wrong on other counts as Chesapeake has a strong asset quality and can maintain its volumes despite the aggressive asset sales that it has taken to reduce the debt. As such, in this article, I will counter the points put up by Jefferies in its downgrade note as I believe that Chesapeake Energy is set for upside.
Well-prepared to meet obligations
The first point offered by Jefferies is that Chesapeake's obligations remain very high. While this is true, investors should not be forgetting the fact that Chesapeake is well-prepared to meet its upcoming obligations. Let me explain how.
According to Chesapeake Energy's latest 10-Q, the company has to satisfy debt obligations worth $1.625 billion by the end of next year. This includes $344 million maturing in January 2017, $902 million maturing in May 2017, and $379 million maturing in August 2017. Apart from these maturities next year, Chesapeake also has to meet $878 million worth of maturities in 2018 as well.
Thus, it is evident that Chesapeake needs to repay a lot of principal debt in the next two years, which might seem difficult at present considering the fact that it had only $16 million of cash on its balance sheet at the end of the last quarter. But, this cash position does not reflect the amount that Chesapeake is still to receive from the asset sales that it had executed last year. According to fellow writer Callum Turcan of Seeking Alpha:
"At the end of 2015, roughly $135 million of its $700 million in planned sales at that point in time had closed. During Q1 2016, an additional $71 million worth of proceeds were added to Chesapeake's balance sheet.

With $1.2 billion in gross proceeds expected after its latest update, which will be reduced by ~$250 million as Chesapeake repurchases VPPs (volumetric production payments) at favorable prices, Chesapeake has yet to receive the remaining ~$1 billion in cash from its divestitures. By the third quarter of this year, all of its current deals should close."
Thus, once Chesapeake receives this money, it will be able to satisfy a large portion of its debt that's maturing next year. On the other hand, Chesapeake has also reduced the scale of its capital expenditure for 2016 by a huge margin. The company's capex this year will come in the range of $1.3 billion to $1.8 billion, down from $3.6 billion last year. This means that Chesapeake will save between $1.8 and $2.3 billion in capital expenses in 2016, which will act as a cushion for its cash flow.
Thus, by saving this much money, Chesapeake will be able to further improve its liquidity profile by a huge margin, which will allow it to satisfy the debt maturities next year. Additionally, Chesapeake plans to sell assets worth $1.2 billion to $1.7 billion this year, of which it has already closed sales worth $1.2 billion. This indicates that Chesapeake could sell another $500 million worth of assets going forward this year.
Hence, the points discussed above clearly indicate that Chesapeake Energy will be able to muster enough liquidity by the time its debt obligations arrive on the back of further asset sales, lower capital expenses, and amount still to be received from earlier sales.
A look at volumes and asset quality
Jefferies has pointed out that Chesapeake Energy will suffer on account of weak production volumes and a sub-par asset quality. However, a closer look at the company's assets will indicate otherwise.
Despite its aggressive divestitures as discussed above, Chesapeake's production this year could either remain flat or might go down by 5% as compared to last year. Thus, despite selling assets worth $1.2 billion-$1.7 billion this year, Chesapeake's production will not go down by much, which is why investors should not be paying much attention to Jefferies' point that the company's performance will suffer on account of a volume decline.
Now, the reason why Chesapeake will be able to keep its volumes in such excellent shape this year despite the asset sales is because the existing assets are highly-productive. Considering that Chesapeake has acreage in areas such as the Eagle Ford and Haynesville, and is adopting moves to increase the productivity at low costs, its minimal production decline this year does not come across as a surprise.
For instance, Chesapeake has managed to increase its initial production rates in the Haynesville wells by 63% this year, while at the same time, it has reduced costs related to well completions by 23%. This clearly indicates that Chesapeake does not have sub-par assets since it is being able to increase production and reduce costs concurrently just by increasing the length of the laterals used at its Haynesville wells.
As compared to a lateral length of 6,000 feet that was used last year, Chesapeake is now using a lateral length of 8,000 feet this year at Haynesville. By using a longer length lateral, Chesapeake has been able to deploy more stages. As a result, the company has been able to place more stages in the high pressure area where productivity is higher at identical costs. The following chart clearly shows how longer lengths and more stages lead to increased productivity.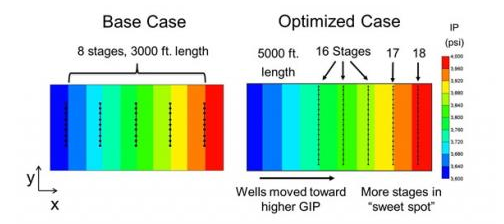 Conclusion
In light of the points discussed above, I think that investors should not be paying much attention toward Jefferies' coverage of Chesapeake Energy. The company's assets are certainly not sub-par, while it is on track to generate enough liquidity to meet its obligations going forward. Thus, investors should not panic and expect a downside at Chesapeake Energy since it is on track to get better in the long run.
Disclosure: I/we have no positions in any stocks mentioned, and no plans to initiate any positions within the next 72 hours.
I wrote this article myself, and it expresses my own opinions. I am not receiving compensation for it (other than from Seeking Alpha). I have no business relationship with any company whose stock is mentioned in this article.