By Scott Tzu
By now, everybody knows that Tesla (NASDAQ:TSLA) has made a bid to acquire SolarCity (NASDAQ:SCTY) between $26.50 and $28.50 a share. This has been the talk of the financial media, as well as social media, over the last 24 hours. Most analysts find themselves bewildered, trying to figure out exactly what Elon Musk is up to. Trip Chowdhry has been the only analyst who has come out right off the bat with positive remarks, claiming that although the deal looks crazy from the outside, from the inside, it "may make a lot of sense."
To us, there are two other theories that actually "make a lot of sense" more than Tesla moving forward with this acquisition. We wanted to share them, and get reader feedback.
Musk himself defended his position, claiming that SolarCity is closer to being cash flow positive than most people think and that Tesla as an acquirer would reduce the company's COGS greatly.
We have yet to hear from the relatively well-known Tesla advocates like Adam Jonas and Goldman Sachs.
Before the facts start to settle, we wanted to share our two "wildcard" scenarios on what this bid may or may not actually mean. Tesla's stock sold off hard in after hours trading last night and continues to sell off this morning. The reasoning for this is simply because this acquisition doesn't make sense. You have two giant cash-burning companies that are under constant scrutiny for not being profitable, and merging them together seems to only amplify their problems instead of solving them with synergies.
When the announcement was made yesterday, Thom stated to me that he thought this was simply a tactic being used by Musk to try and "get some of the short interest out of SolarCity." We tossed around the idea for a little bit at the office and, as things tend to do, it started to make a little bit more sense at the bar later on in the evening.
There has been a vocal onslaught, led by Jim Chanos, on both SolarCity and Tesla and either company's ability to turn a profit in the future:
In October, Chanos questioned the firm's ability to ramp up production and fulfill orders. The production worries, combined with the company's diminishing technological advantage over other automakers, convinced Chanos that Tesla couldn't justify its high-flying stock price.

Chanos followed those comments up with a mention at last week's Sohn Investment Conference that "a flood of people" had left Tesla in the past few years, and departures by senior management usually spell trouble.

It was reported Wednesday that two of Tesla's top engineers would leave the company; that same day Musk announced he wanted to ramp up production from 50,000 vehicles a year to 500,000 by 2018, two years ahead of his original plan.
This has led to a large short position in both companies. SolarCity had the larger short position of the two, with about 40% of the float and 26.5% of all outstanding shares held short heading into yesterday's announcement.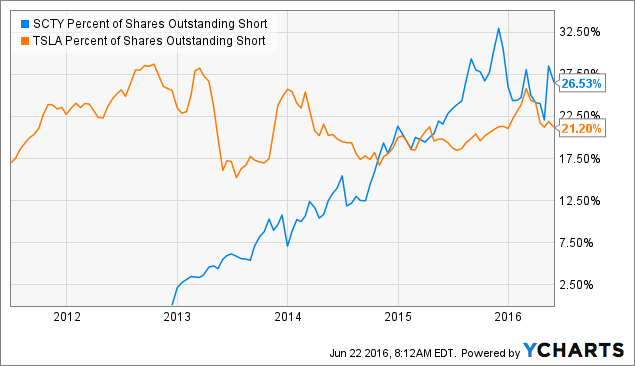 We asked ourselves yesterday whether or not it was possible that Musk is simply trying to bring some pain to short-sellers and potentially make a statement that short-sellers in either one of his companies should not get comfortable one way or another?
In other words, could he be expecting that this merger doesn't go through?
This made even more sense when it was reported last night that Musk would not be voting on the deal to close:
In an attempt to ameliorate the obvious conflict of interest, Musk - who described the deal as a "no-brainer" in a conference call that suffered from repeated technical glitches Tuesday - has also recused himself from board discussions on the deal for both companies, and won't take part in shareholder votes planned for each.

"It is a conflict of interest, but a conflict is not the same as 'self-dealing,' which is where you get into trouble," said Stephen Diamond, a law professor at Santa Clara University who specializes in corporate governance.

Self-dealing refers to an executive making moves for personal gain rather than in the best interests of the company. Diamond noted that the recusal of board members with potential conflicts and the opportunity for unconflicted investors to weigh in should help bury any accusations of such motive.

The deal will be subject to a vote by Tesla and SolarCity shareholders; Tesla confirmed Tuesday that the vote by Tesla shareholders was a required move.
While one would obviously expect him to vote for the deal if he was voting, the absence of his vote makes it a lot easier for either company to come out and say that perhaps it was a mistake to try and get done in the first place. In the event of that, Tesla's shares will likely rise back over $200 again and SolarCity will have dealt some temporary pain to shorts who had to cover on the announcement.
Could this all just be a strategic move to fend off short sellers?
We already know Musk has a distaste for them, blaming them for the recent "suspension-gate" and publicly warning shorts in his companies.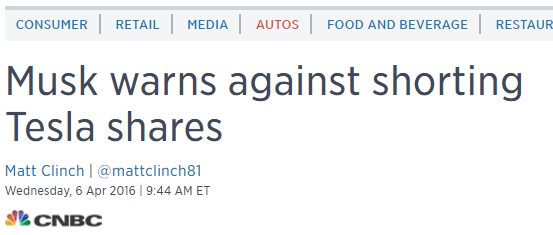 There is also an additional theory that runs parallel to this one.
Musk could be trying to test the waters for another set of potential acquirers for SolarCity. We don't know who would want to acquire SCTY with its current financial position, but we have seen worse deals get done in our time. Could it be that Musk is simply trying to make a underhanded bid for the company at prices that are 60% to 70% off its highs as simply a way to incite a bidding war?
If we were SCTY's shareholders, we would be selling our shares into the pump this morning. If we were still short Tesla, we would likely be taking some off the table here and letting some ride in the event that the deal does go through over the course of the long term.
Make no mistake about it, if this deal is to go through, Tesla will be a behemoth on incredibly unstable footing that needs an extraordinary amount of cash to continue operating, likely somewhere near $1 billion per quarter between the two companies. It is only easy to fund that type of cash burn with decent raises for so long, until the terms and conditions of financings turn against the company and it enters into some type of downward spiral catalyzed by dilution.
The thinking behind moving SCTY and TSLA forward doesn't include any type of contingency plan for a recession. We anticipate this being a problem moving forward.
Musk is not your standard businessman, we will give him that. While we don't agree with him on the future of either of these two companies, nor do we agree with him that building two highly cash-burning companies is "building an empire." We do think there may be other tactics at play here, and the "wildcard" scenarios of this deal not getting done on purpose or the deal being done to insight other bids for SCTY actually seem to us to be the two most reasonable scenarios going forward.
Disclosure: I/we have no positions in any stocks mentioned, and no plans to initiate any positions within the next 72 hours.
I wrote this article myself, and it expresses my own opinions. I am not receiving compensation for it (other than from Seeking Alpha). I have no business relationship with any company whose stock is mentioned in this article.