The market was expecting, and had already priced, a very large drop in stocks not only in crude oil, but in gasoline and distillates. This was based on yesterday's API data. Instead, the EIA numbers show a rather small decline in crude oil stocks that was completely offset by builds in gasoline and distillate inventories. However, the discrepancy against expectations was driven by a very large weekly increase in imports (817,000 bpd). Over the long term, this week's changes will turn out to be positive for the crude oil market as domestic production declined significantly.
Crude oil prices (NYSEARCA: USO) dropped by about $1.00 per barrel after the report given that the API numbers were already priced in.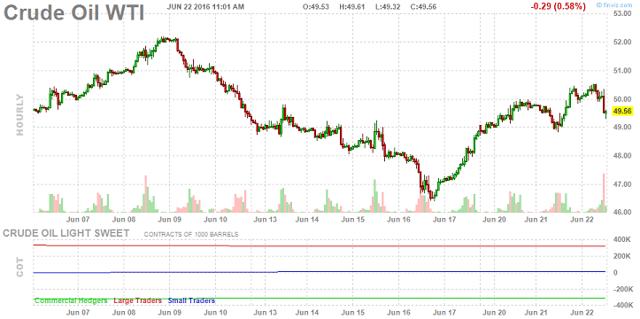 Click to enlarge
Source: Finviz.com
Stocks:
* Crude oil inventories decreased by 900,000 barrels.
* Gasoline inventories increased by 600,000 barrels.
* Distillate inventories increased by 200,000 barrels.
As mentioned, the decrease in crude oil stocks was offset by an increase in gasoline and distillate inventories. The numbers look particularly bearish, especially as compared against yesterday's API data (crude oil -5.2 million barrels, gasoline -1.47 million barrels, distillates -1.699 million barrels). However, this week changes in stocks follow a very large increase in imports.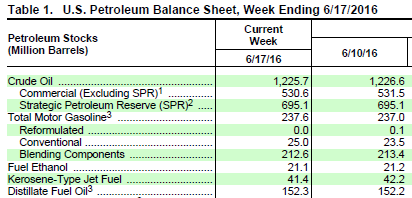 Source: EIA
Production and Refinery Utilization:
* Domestic production decreased by 39,000 barrels per day. This is a very large decrease and was driven almost entirely by a decline in production in the Lower 48. To put it into context, this is the largest decrease in domestic production in seven weeks and the second largest in 19 weeks.
* Production in the Contiguous United States (excluding Alaska) decreased by 34,000 barrels per day which is also a very large decrease. For weekly reports, we give more credit to declines in production in the Lower 48 than in Alaska, since production in Alaska varies widely week over week.
* Imports increased by 817,000 barrels per day and probably account for most of the miss against expectations in terms of the weekly movement in crude oil stocks.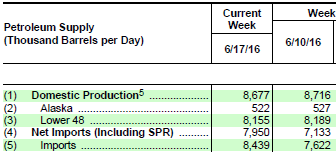 Source: EIA
* Refinery utilization increased by 110 basis points compared to last week. Utilization in the Gulf Coast (PADD 3) increased by 40 basis points. Although still low by 2014/2015 standards, this is more in line with seasonal patterns. We note, however, that this week's increase follows last week unexpected decline in utilization.

Source: EIA
Cushing, Oklahoma:
* Cushing, OK inventories decreased by 1.3 million barrels essentially reversing last week's build. We still believe that Cushing is essentially at maximum operating capacity.
* Gulf Coast inventories decreased by 1.2 million barrels. A small decrease following last week's 24 barrel decrease. By now we should be seeing larger drawdowns in anticipation of the driving season.

Source: EIA
Conclusion:
Despite weak inventory numbers, a large miss against expectations and rather temperate refinery utilization, we think that this week changes will be positive for crude oil markets over the long term, primarily because of a very large decline in domestic production. In the short term, we think that tomorrow's Brexit referendum and the resulting move in foreign currencies will be the main drivers of crude oil prices.
Disclosure: I/we have no positions in any stocks mentioned, and no plans to initiate any positions within the next 72 hours.
I wrote this article myself, and it expresses my own opinions. I am not receiving compensation for it (other than from Seeking Alpha). I have no business relationship with any company whose stock is mentioned in this article.