Not that we were every really all that interested in a company that incinerates cash at an amazing speed, but this Tesla (NASDAQ:TSLA) announcement about acquiring Solarcity (NASDAQ:SCTY) now makes Tesla in our opinion a company that we will never own.
The bottom line is this folks. If you don't think that management and the Board of Directors are truly working in the best interests of shareholders then you shouldn't own the company.
We think a look at what has happened at Freeport-McMoRan (NYSE:FCX) could be of some value for Tesla shareholders as it provides some perspective on what a questionable deal can turn into. We'll have more on why we believe this Tesla / Solarcity deal is questionable in a minute. As Elon Musk is doing with this SolarCity deal Freeport-McMoRan put a good spin on a deal that many shareholders cried foul over.
In the end the shareholders were right.
Freeport-McMoRan and McMoRan - A Deal That Proved To Be Truly Rotten
At the tail end of 2012 the heavyweight minerals producer Freeport-McMoRan announced that it was entering into the oil and gas business with not one but two acquisitions. The combined amount that Freeport McMoRan was paying was $9 billion, so these deals were not insignificant.
The companies acquired were both focused on offshore production in the Gulf of Mexico and their businesses had very little to do with the core operations at Freeport-McMoRan. That sounds a lot like Tesla and SolarCity which have some business overlapping, but aren't naturally related.
The first company being acquired was Plains Exploration which was fully arm's length with Freeport-McMoRan. The second company was not arm's length at all, it was McMoRan Exploration. McMoRan Exploration had been spun out of Freeport-McMoRan years earlier. We'll detail the ties between these two companies.
These acquisitions have turned out to be an absolute disaster for Freeport McMoRan with the collapse in oil and gas prices. The troubles with the McMoRan Exploration business are much deeper than just the commodity price.
McMoRan Exploration had spent the years prior to the purchase spending huge dollars trying to find huge oil and gas deposits at incredible drilling depths in the Gulf Of Mexico.
These ultra-deep (and ultra-expensive) wells were the obsession of McMoRan CEO Jim Bob Moffett who also happened to serve as Freeport McMoRan's Chairman. In addition to having Moffett in common, the two companies also shared six Board members in total.
What we need to mention is that these ultra-deep wells had strained the financial resources of McMoRan and the company's share price was crashing prior to the deal. Moffett and his crew had bet the company on the ultra-deep and had lost. McMoRan Exploration was very much in a situation similar to where SolarCity is today. The situation is a need for cash in the near future but no avenues to get it that aren't extremely dilutive.
The Freeport-McMoRan purchase was a very unsubtle lifeline that was thrown by a company that cost its own shareholders dearly to save McMoRan. That is our opinion of the deal and we weren't alone in that view. Consider these comments from the conference call that was hosted to celebrate the transaction:
"Congratulations on making one of the worst teleconferences I've ever heard to justify a deal," Evy Hambro, manager of BlackRock Inc.'s $12 billion World Mining Fund, told Freeport Chief Executive Officer Richard Adkerson on the company's conference call today. "I haven't heard anything on this call that in any way justifies why these companies should be put together."
Now just a couple of years out from the deal Freeport is actively trying to divest all of those oil and gas assets that it paid $9 billion for when oil prices were twice what they are today. You can bet that if Freeport is successful in selling these assets that they are going to incur a major loss from that purchase price.
Making things worse, Freeport has decided to defer any near term oil and gas drilling and is incurring idle rig costs tied to those drillships of $600 million in 2016 and another $400 million in 2017.
Imagine that, the company paid $9 billion for these assets so that McMoRan Exploration could be saved and now the company is paying $1 billion just so it can get out of having to drill wells.
This was a deal that was not done with the best interests of Freeport-McMoRan shareholders in mind and it has cost them dearly. We suspect the Tesla purchase of SolarCity could bring the same result given the dilution involved.
Is This The Bond Trading Price Of A Healthy Company?
If you want a true feel for the health of a company all you have to do is take a look at the price of the company's bonds. For SolarCity that reveals distress.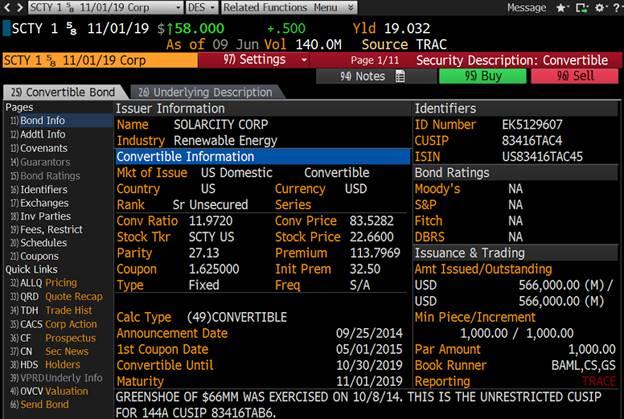 Source: Bloomberg
Just moments before this deal was announced Goldman Sachs noted that it believed the SolarCity was the worst positioned of all of its competitors. Goldman also noted the serious near-term financing issue that SolarCity has:
"SCTY is facing $1.5bn of pending debt maturities by the end of 2017 - the majority of which are shorter-term debt facilities that will likely need to be refinanced with longer-tenor debt or paid down via capital raised from cash equity monetization per recent actions."
SolarCity has bonds that are trading at 50 cents on the dollar and is in need of making a large debt repayment in the next 18 months. That is a very tight spot to be in, just like McMoRan Exploration was before Freeport-McMoRan rescued it.
On the surface this Tesla deal for SolarCity looks even more rotten than the McMoRan dealings.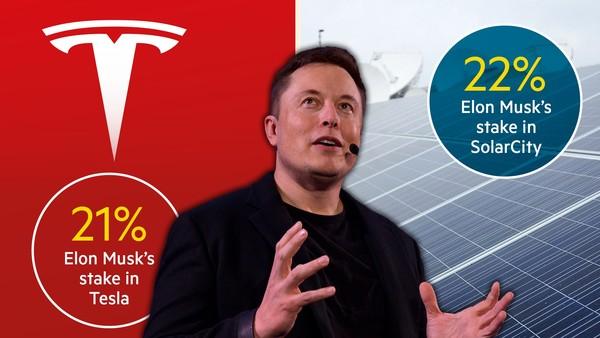 Source: FT.com
Musk is chairman of SolarCity and its largest shareholder controlling 22 percent of the company. He is also of course CEO and Chairman at Tesla where he owns 21% of the company.
The McMoRan situation had all kinds of cross-ownership where Freeport insiders had shares at risk if McMoRan Exploration went down the tubes. Musk doesn't just have a few shares on the line at SolarCity, he owns 22% of the company.
The facts here are as follows:
- SolarCity has funding problems that can't be disputed
- SolarCity's bond price is distressed
- SolarCity's stock price has crashed
- Tesla's whose Chairman and CEO owns 21% of SolarCity is coming to the rescue at a point in time where SolarCity has little negotiating power
This could very well turn out to be a great deal for Tesla in the long run. Our opinion is however that when something stinks this bad you should just stay away from it.
There is a lesson to be learned from the Freeport-McMoRan experience. That deal looked like a rescue of a distressed company rather than an opportunistic acquisition. This SolarCity deal looks exactly the same.
There is no reason ever to own companies where you aren't 100% certain that management and the Board of Directors have your best interests in mind. We don't think any objective person can say that there isn't a chance that Musk is looking after Musk with this deal.
There are plenty of fish in the sea, so find a few where you know management and the Board have your back.
The Superinvestor Bulletin is focused exclusively on the finding the highest conviction ideas of the world's greatest investors. Our latest comprehensive report is on a company that "Big Short" legend Michael Burry has 16% of his portfolio in. Click here to get started.
Thanks for reading. Use the follow button at the top of the article if you want to get all of our free content.

Disclosure: I/we have no positions in any stocks mentioned, and no plans to initiate any positions within the next 72 hours.
I wrote this article myself, and it expresses my own opinions. I am not receiving compensation for it (other than from Seeking Alpha). I have no business relationship with any company whose stock is mentioned in this article.