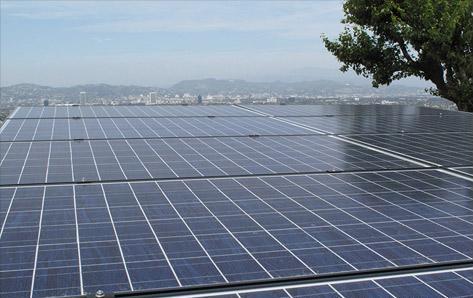 Following the announcement on Tuesday that Tesla ([TSLA) proposed to acquire SolarCity (NASDAQ:SCTY), we are withdrawing our one-year price target of $265 per share for Tesla. Our long thesis was based on the company meeting its aggressive production projections and the successful implementation of its direct-to-consumer retail model, as detailed here and here. While we remain optimistic that Tesla will be able to deliver 85,000-90,000 Model S and Model X vehicles in total for 2016 and the company will continue to improve its production capabilities, we believe an acquisition of SolarCity will significantly harm shareholder value.
Tesla's Board cited several benefits of the proposed combination including: (1) creating the world's only vertically integrated energy company, (2) offering a complete portfolio of end-to-end clean energy products, and (3) building upon a shared culture and vision of innovation and sustainability. However, in our view, these benefits come up far short of a compelling strategic rationale for paying over $5 billion (including debt) for a company facing serious cash burn and with operating losses expected to worsen over the next several years.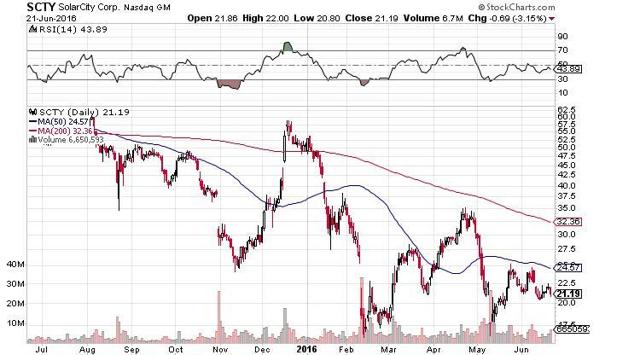 Click to enlarge
(StockCharts.com)
As a standalone, we believe the fair value of the common stock of SolarCity is $10-12, and the company will almost certainly need to raise additional capital at possibly unfavorable terms. With that being said, if Tesla and SolarCity move forward with this transaction as proposed, we believe TSLA's shareholders will experience a significant and permanent loss of capital. Our conviction that this acquisition is not in the best interests of Tesla shareholders is based on three main points.
Lack Of Meaningful Synergies From Combination Suggests SolarCity Will Continue To Endure Operating Losses As A Tesla Subsidiary
First, there appears to be a lack of both revenue-generating synergies and cost-saving synergies from the proposed combination. In the press release, Tesla's Board of Directors seems to suggest that there are cross-selling opportunities, when it states:
We would be able to expand our addressable market further than either company could do separately. Because of the shared ideals of the companies and our customers, those who are interested in buying Tesla vehicles or Powerwalls are naturally interested in going solar, and the reverse is true as well. When brought together by the high foot traffic that is drawn to Tesla's stores, everyone should benefit.
We agree that Tesla's stores and galleries are an attraction that drive high foot traffic, but we do not see the benefit to consumers of being able to also purchase solar panels at the same time as buying a new Tesla vehicle. In fact, SolarCity's existing network of sales and distribution channels is a key asset of the company, and we believe that the incremental purchases from selling through Tesla stores would be limited at best. This strategic rationale is reminiscent of the Sears (NASDAQ:SHLD) Board of Directors justification for acquiring Allstate Insurance and Coldwell Banker in the 1980s. Consumers would be drawn to the convenience of going to one shopping location to buy a home and insurance and equipping it with Sears furnishings and appliances. Unfortunately for Sears' shareholders, this diversification strategy failed to deliver. We expect a similar scenario to unfold at Tesla.
There also seems to be very limited cost-saving synergies. When it comes to installation costs and sales costs, there is not a capability or asset that Tesla will bring to the combined company that will provide additional reductions to SolarCity's best-in-class installation costs or sales costs that we are aware of nor will TSLA be able to speed up the process of reaching management's goal of cost reductions. In Q4 of 2015, SolarCity achieved a new low in cost per watt of $2.67 ($1.92 of installation costs, $0.54 of sales costs and $0.21 of G&A costs), which represents a year-over-year decline of 6%. Management has a goal of reducing installation costs to $1.50 through hardware price reductions and other cost-saving initiatives. With a path to achieving these savings, it's doubtful that Tesla's resources may allow for further efficiencies. In fact, any efforts may detract from Tesla's production ramp, product development and implementation of the direct-to-consumer retail model that are vital to TSLA's core business.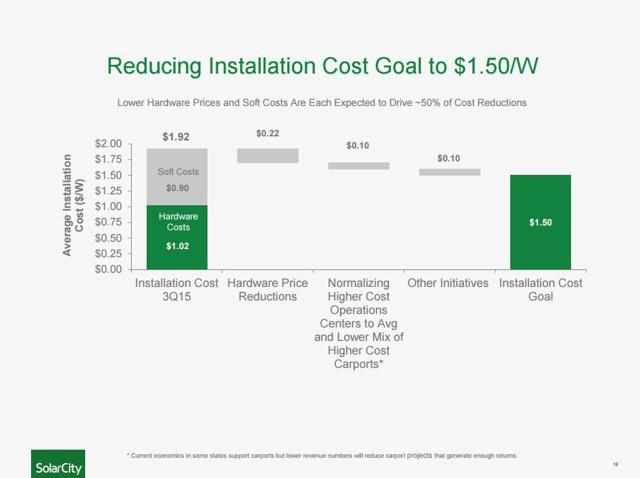 Click to enlarge
Source: SolarCity Investor Presentation, June 2016
Premium Valuation For SolarCity Is Not Warranted And In Our View Fair Value Is ~$10 To $12 Per Share
Secondly, the proposed valuation for SolarCity is unjustified based on even the most optimistic projections of top-line growth and profitability. With 98.3 million shares outstanding and a proposed acquisition price of between $26.50 and $28.50 per share, the implied value of the equity of SolarCity is between $2.6 billion and $2.8 billion. Additionally, the company has over $3 billion in debt on its balance sheet. At an enterprise value of over $5.5 billion, Tesla would be making a highly speculative acquisition.
SolarCity's operating loss has ballooned from $149.4 million in 2013 to $647.8 million in 2015. The company is on pace to exceed the significant loss reported in 2015. In Q1 of 2016, SolarCity's loss from operations was $213.5 million. Management cut guidance for Q2, and based on management's outlook, it appears as though the loss from operations for the quarter may narrow to ~$100 million. This operating performance still puts SolarCity on track to report a loss from operations of over $500 million for the full year. Looking at the top line, SolarCity reported $400 million in revenue in 2015 and may top $600 million 2016 with impressive growth in installed MW. However, with an EV-to-Revenue ratio of over 9X, the valuation appears unjustified as long as the company is unable to generate positive cash flow and create a path to breakeven. In our view, SolarCity has considerable downside as a standalone, and Tesla would be overpaying significantly at this proposed transaction price.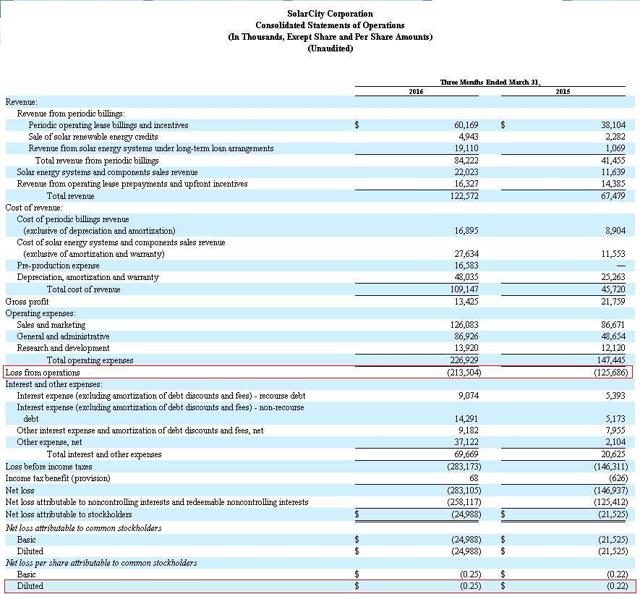 Click to enlarge
(Source: SolarCity SEC Filing, 10-Q, May 10, 2016)
Dilutive Transaction With No Real Long-Term Benefits For Tesla Shareholders Raises Red Flags
And finally, the dilution from this all-stock acquisition would not be insignificant. At an exchange ratio of 0.122x to 0.131x Tesla share for each SolarCity share, TSLA would issue ~12-13 million new shares and drive up the total shares outstanding to over 145 million. Furthermore, it is likely that the combined firm would need to raise greater amounts of capital in the future, and if SolarCity continues to experience a challenging operating performance as a subsidiary of Tesla, the terms of the new capital may be unfavorable for shareholders and create further dilution. In light of SolarCity's operating performance and outlook, we believe Tesla should walk away from this deal.
Conclusion
We believe that this proposed transaction, if consummated, would destroy significant value for Tesla shareholders. Not only will the impact of dilution substantially reduce investors' returns, but management is likely to lose focus on its core electric vehicle business that faces very high expectations and has an opportunity to achieve success on a large scale. To divert resources from the EV business to the integration and development of a solar business that has potentially insurmountable economic challenges is a high-risk strategic decision with a significant downside for Tesla shareholders. We believe the profitability challenges of SolarCity will persist and worsen over the next several quarters. With that being said, investors may want to take advantage of this opportunity and sell shares in SolarCity at a premium. As more details about the proposed acquisition become available, we will provide updates including a revised price target for Tesla based on the new strategic direction of a combined company.
Disclosure: I/we have no positions in any stocks mentioned, and no plans to initiate any positions within the next 72 hours.
I wrote this article myself, and it expresses my own opinions. I am not receiving compensation for it (other than from Seeking Alpha). I have no business relationship with any company whose stock is mentioned in this article.