I often get criticized when I come out with a bearish article surrounding Tesla Motors (NASDAQ:TSLA). I don't have anything against the company, and I am not involved in buying/shorting the stock. My skepticism surrounds a number of head scratching moves that the company continues to make, and the latest news just seems to continue that questionable pattern.
The big news this week surrounds Tesla's intent to purchase SolarCity (NASDAQ:SCTY), another firm in the Elon Musk conglomerate. While I have mixed feelings about whether or not a deal would actually work, it is the timing of the news that makes you scratch your head. Recently, Tesla just sold a bunch of stock, and this deal will be even more dilutive to shareholders if it passes. If you bought into the deal at $215, you aren't feeling great with shares currently under $200. Additionally, it was just a week ago that Kimbal Musk sold over $100,000 worth of Tesla stock. While that was a small portion of his holdings, the timing makes you wonder if something was known, as the SEC filing doesn't say this was a pre-arranged sale via a trading plan.
Also this week we had an interesting item pop up out of Denmark. As you can see in the table below from the EV consolidator page, a few dozen Model S CPO units appeared in a block. These were all 2015 model years, and all of them were very limited in mileage. This brings into question the license plate controversy from last year, and you wonder what happened here. If Tesla did something funky here in an effort to circumvent the Danish tax situation, investigators might want to take a look. I'll continue to watch the EV consolidator page to see if more of these pop up in the coming weeks.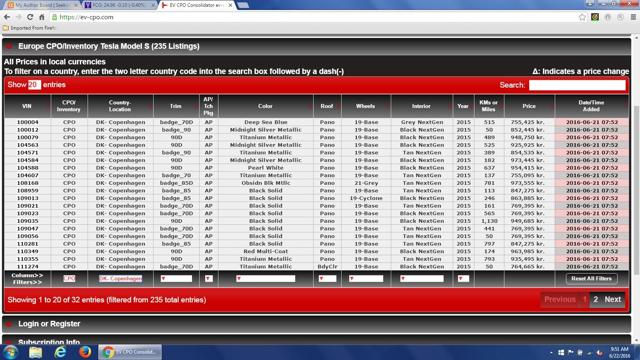 Click to enlarge
(Source: EV consolidator page)
The latest news just makes you scratch your head a bit more when it comes to Tesla and Elon Musk. Just in recent weeks, we had the suspension issue that has turned many heads, and now we have the questionable SolarCity deal and Danish CPOs. Additionally, as I pointed out in a prior article, Tesla couldn't even figure out delivery times on its own website. One page said August delivery for a Model X, while another page said June, and a certain seat configuration of the X wasn't supposedly available until late 2016 (yet still came up as June delivery on the order page!). In the end, investors rely heavily on trust, and many of the moves Tesla and Elon Musk make leave you scratching your head.
Disclosure: I/we have no positions in any stocks mentioned, and no plans to initiate any positions within the next 72 hours.
I wrote this article myself, and it expresses my own opinions. I am not receiving compensation for it (other than from Seeking Alpha). I have no business relationship with any company whose stock is mentioned in this article.
Additional disclosure: Investors are always reminded that before making any investment, you should do your own proper due diligence on any name directly or indirectly mentioned in this article. Investors should also consider seeking advice from a broker or financial adviser before making any investment decisions. Any material in this article should be considered general information, and not relied on as a formal investment recommendation.