My most notable investing blunder in quite some time came from VeriFone (NYSE:PAY). I turned bullish on the company ahead of its second quarter earnings report in June. Earlier in the month, I laid out why I was bullish on the stock, emboldened by management's guidance that came in well ahead of analysts' expectations when the company reported its first quarter results in March. But in Q2, management had to back off that guidance and lower the bar.
Analysts 1, Management 0.
Me, -1.
The stock is down an astounding 33% since it reported earnings on June 7th.
Rarely do I double-down on positions, but I came into the report with a cost basis in the mid-$26 range, with a small "starter" position. My plan was to either ride it higher and keep it as a small position, or add to it on a decline. Little did I know the decline would come in the form of smearing the stock price lower by over one-third.
I guess everyone's got a plan until they get punched in the mouth.
Mike Tyson 1, Me -2.
Despite all the negativity - and despite how much I simply want to rid this stock from my portfolio at the moment - there are some turning points surfacing for the company.
The first of which is Visa (NYSE:V) and MasterCard (NYSE:MA). When I was initially bullish on VeriFone, part of the thesis was that V and MA were working on updates to make the EMV integration process smoother.
Given that EMV adoption remained low (around 20% penetration in April) and with expectations for it to pick up considerably by year-end (to around 50% penetration, according to Visa), there seemed to be sizable upside in VeriFone.
VeriFone's lofty guidance seemed to verify this stance, and the stars were aligning. Only last quarter that thesis came unwound. Management said there's now a "bottleneck" in the EMV space, as retailers are struggling to get their terminals certified and activated.
On Monday, MasterCard announced a "new EMV chip terminal testing and certification program aimed at speeding [up] chip adoption by U.S. merchants," according to a Seeking Alpha news update.
This followed Visa's announcement from Thursday that it too will increase the integration of EMV across the U.S. The company will "block all counterfeit fraud chargebacks under $25, which brings a little bit of relief for merchants encountering issues in making the EMV transition."
Both of these moves should help push VeriFone's business along at a faster rate. At the very least, it should keep VeriFone from massively disappointing investors again. While this "bottleneck" issue may persist for one or two more quarters, it's somewhat comforting to know it's not likely to get worse.
Given that the stock is at multi-year lows and trades at less than 9 times forward earnings implies to me that there isn't likely much more downside left, assuming the story doesn't materially worsen from here.
Technically speaking, the stock looks so hideous it's attractive. Surprisingly, I'm serious. The daily chart shows some sort of bottoming here in the low-$18s, while the RSI shows a deeply oversold condition.
(click to enlarge) Compliments of StockCharts.com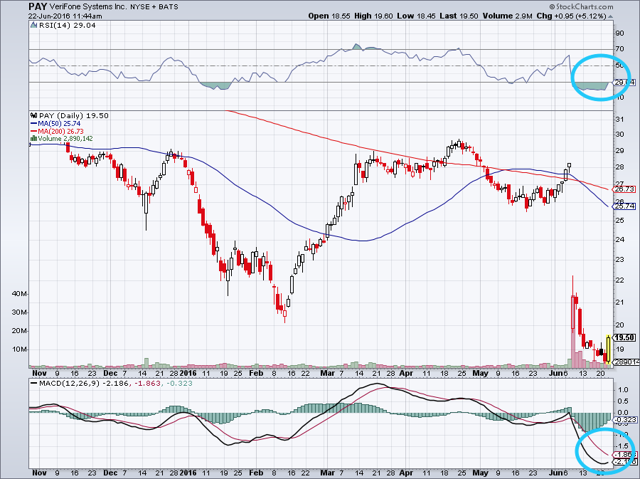 Click to enlarge
The weekly shows a longer-term picture with a similar conclusion: shares are oversold. In each of the previous five instances where the RSI reading approached current levels, shares of VeriFone embarked on rallies of more than 20%. The rallies didn't always hold and it didn't happen in a straight line. But it's encouraging to know that, technically speaking, a rally could be in the not-too-distant future.
Compliments of StockCharts.com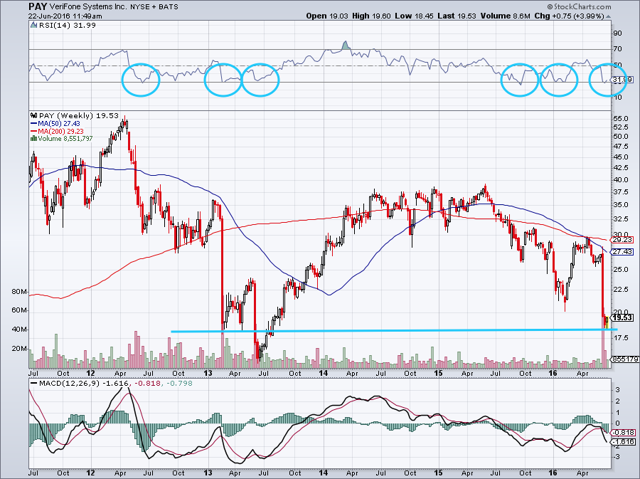 Click to enlarge
While the stock has been hammered and investors' spirits crushed, it's actually not a bad story. Hard to believe after looking at the carnage above, I'm sure, along with knowing that the quarter wasn't good and that the stock has been slammed.
But with all that being said, the EMV "bottleneck" isn't a missed revenue opportunity for VeriFone. Instead, it's a delayed revenue situation, as certification is taking too long. Hopefully Visa and MasterCard's updates will aid in that process. If so, and when combined the technicals, I believe shares have more upside than downside at this point.
Update: Shares are up more than 5% Wednesday after the company updated its change of control benefits as part of its new severance package for executives, effective Sept. 19th. In plain English, investors are speculating that this change may be coming as a result of a potential sale of the company.
Disclosure: I am/we are long V, MA, PAY.
I wrote this article myself, and it expresses my own opinions. I am not receiving compensation for it (other than from Seeking Alpha). I have no business relationship with any company whose stock is mentioned in this article.