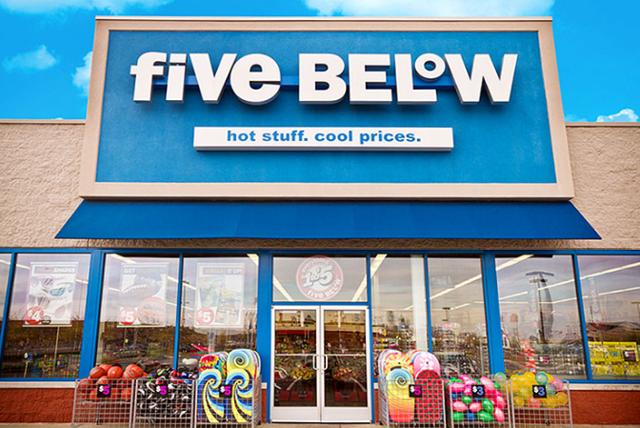 I've been a long time bull on off-price retailer Five Below (NASDAQ:FIVE) because I love the model and the success we've seen is tremendous. Store growth and comp sales growth have combined to create some very impressive results and with a long runway of growth still ahead of the company, I'll use this article to take a deeper look at FIVE's margin growth profile. Part of the reason why I'm bullish on FIVE is because it continues to see leverage on its costs so I'll take a look at where it has come from and where it is going.
I'll be using data from Morningstar throughout.
We'll begin by taking a look at the company's gross margins, which I've charted below for the past seven years.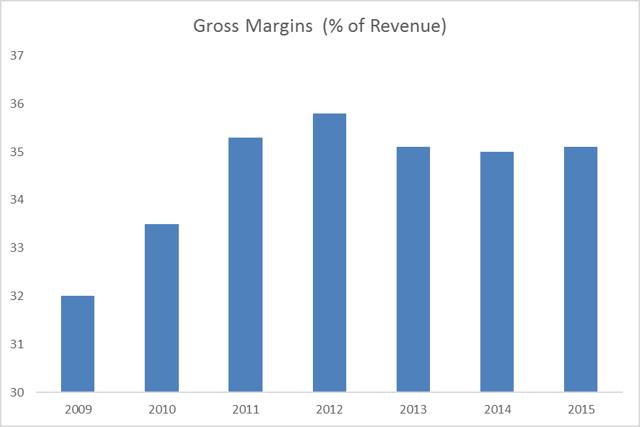 FIVE's gross margins rose very strongly in the 2009 to 2012 period but since that time, have remained rather flat in the 35% area. It isn't surprising that the overall level of gross margin is fairly low considering the model FIVE employs; low-priced, high volume consumables that are meant to attract repeat customers. That's totally fine to have a low level of gross margins as long as costs are low and while I'd certainly like to see gross margins move up over time, I think that is still a ways off.
FIVE is still very much in its growth phase and for a retailer, that includes things like building out the supply chain, negotiating more favorable terms with suppliers and seeing leverage on back office costs over time. FIVE hasn't hit the point where it has really begun to see those benefits accrue and as long as it is investing for the future, it won't. However, that means that there is long term upside to this gross margin number as some of the potential levers come into play so I'm certainly not worried about flat gross margins for a few years; FIVE just isn't there yet because it is still growing so rapidly.
That leads us to the other main component of operating margins and that is SG&A costs.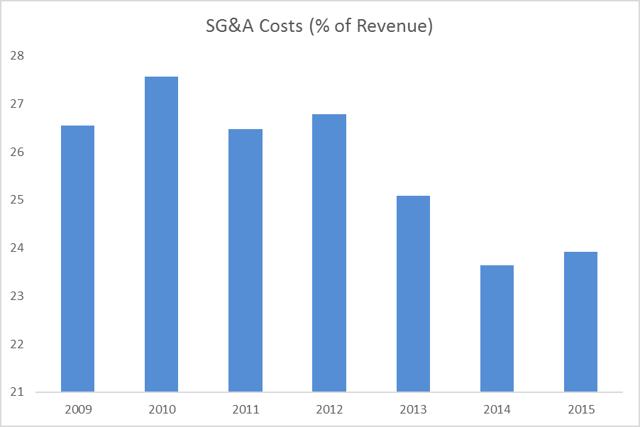 Here we actually do see some significant leverage at play as FIVE has done a really terrific job of controlling back office costs despite its rapidly growing store base. A retailer has a harder time leveraging SG&A costs because you still have to have people in the store so even a higher unit count can still see flat or rising SG&A costs. But FIVE runs a very lean support model and it shows here with SG&A coming in at just 24% last year.
Again, we should see some leverage here over time as FIVE sees less and less in the way of support costs but the opportunity here probably isn't quite as large as gross margins. FIVE will always see SG&A costs grow on an absolute basis as long as it is opening stores so the potential leverage here is probably a few hundred bps over time. However, a few hundred bps' worth of operating margin is very significant so it certainly should not be forgotten. The important thing is that FIVE has proven the ability to run a very lean model that is still amazingly successful and that should not change.
Finally, if we take the spread of these two numbers we get operating margins, which I've charted below for the same period.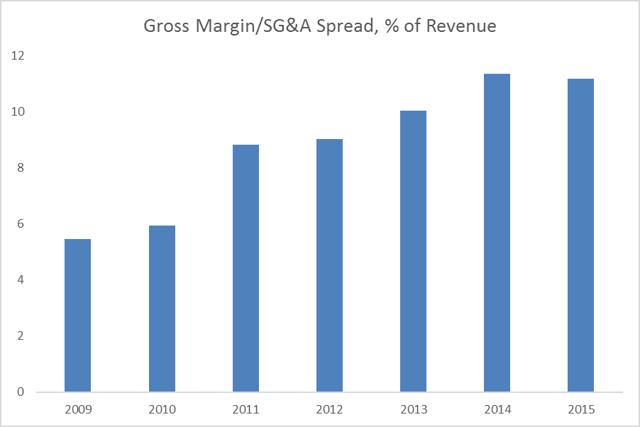 This is part of the reason why I'm so excited about FIVE; that margin growth is astounding. FIVE has gone from a business with mid-single digit margins to one that is in the low double-digits in the space of a few years and I honestly don't think it is close to done. FIVE is already very profitable for a retailer as double digit operating margins are fairly difficult to come by. But there is a lot left in this number and in a few years, I think this chart will look a lot different.
FIVE could carry on the way it is now with ~11% operating margins and make a lot of money each year. But its growth profile is so much more than that due to the levers I mentioned above. Gross margins should rise over time as fewer investments are made to fund future growth and as FIVE achieves more scale with its distribution network as it continues to add stores, we should see gross margins move up over time. The number one killer of gross margins for a retailer - discounting - is certainly not an issue for FIVE so the bias over time is up.
And on SG&A costs, continued leverage on its support expenses will drive that number lower over time as well and keep adding steadily to operating margins over time. SG&A costs will never seen massive declines because FIVE has to staff stores. But we've see the magic of leveraging fixed costs work for FIVE for several years now and there is no reason to think it won't continue. In addition, as FIVE continues to grow comp sales we know that leverage on store payroll costs will become greater and greater, providing another source of operating margin growth.
FIVE's ultimate, steady state operating margin level could easily be in the 15% to 17% range and while that is a few years off to be sure, that kind of margin growth will do wonders for FIVE's EPS growth. I love FIVE's revenue growth but I'm really enthralled by the margin growth potential and for that reason, I'm long FIVE.
Disclosure: I am/we are long FIVE.
I wrote this article myself, and it expresses my own opinions. I am not receiving compensation for it (other than from Seeking Alpha). I have no business relationship with any company whose stock is mentioned in this article.