Kellogg Company (NYSE:K) is a well-known company with a long history of operating success built on the back of a collection of great consumer brands. But you have to balance a company's business against its price. And on that score, Kellogg doesn't look like a very good deal today. Here's why.
You need the basics
Kellogg is probably best known as a cereal maker, but it also makes and sells a number of other products including chips and cookies. And, like so many other companies, Kellogg has operations around the world. At the end of the day, however, it sells many of the comfort foods that people buy in good times and bad. For example, you aren't likely to stop eating Special K because of a recession if that's the cereal you always eat. And if you like Keebler chocolate chip cookies, well, you're probably going to keep treating yourself to those cookies no matter what - they are a relatively small expense, after all.
So in many ways, you can look at Kellogg as one of the companies that is likely to hold up well in the worst of times. And that statement holds up to recent history. Between April 2007 and April 2009, the SPDR S&P 500 ETF (NYSEARCA:SPY) was down around 43% while Kellogg shares fell just 27% or so. Kellogg shares were, clearly, a relative safe haven, but... you still had to sit tight through a steep loss on an absolute basis. That's not easy to do when the rest of the world is cratering, even if you can take comfort in the fact that the company sells things that people will likely keep buying.
That's not cheap
So what does Kellogg look like today? Expensive. Investors are worried about the markets, but continue to invest - seeking out what they believe will hold up best in bad times with a focus on dividend-paying stocks. Kellogg shares have moved higher of late since it hits on both of these themes. To put some numbers on that, its shares are up around 7% this year compared to a gain of just 2.25% or so for SPY. The absolute numbers in this case are small, but the relative outperformance they represent is huge.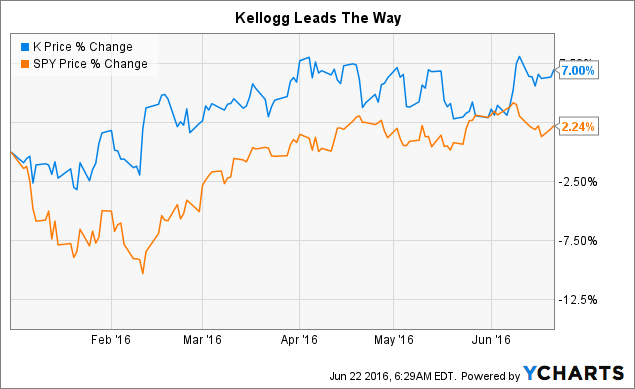 K data by YCharts
Meanwhile, the company's financial metrics are increasingly out of line with its own history. For example, price to book has recently been in the 13 area compared to a five-year average of around 8. Price to sales is 2 compared to an average of 1.5 over the past half decade. Price to cash flow is nearly 18, but it's close to 13.5, on average, when you look over the past five years. And the dividend yield of around 2.6% is below the 3% five-year average. That's a nearly 15% difference, even though the absolute numbers look fairly close. (For reference, the S&P is yielding around 2% or so.)
In other words, it's quite possible that Kellogg is more risky than investors might believe right now. That's not because of its business, but because of the valuation that investors are placing on the shares.
Step back and think about value
I'm not trying to suggest that Kellogg is a bad company or heading down the wrong path business wise. Nor am I suggesting that it is destined to get ripped apart by a bear market... but it is expensive today. It is, indeed, likely to be a relatively strong performer again, as it has been in the past. But that doesn't mean it's worth stepping in if you have cash.
Kellogg simply isn't a bargain at today's prices. If you are looking for a safe haven investment because you are worried about the stock market, even in the best case scenario, Kellogg will only provide relative safety. You'll still have to live through potentially deep losses if the markets head into a tailspin. And with the elevated prices that investors are paying today for Kellogg shares, this historical safe haven may not provide as much protection as hoped.
There's no rule that says you have to be 100% invested at all times. I admit that it's often hard to not invest (we can always convince ourselves that something, anything, is a great buy though it may not be). That's particularly true when you are trying to live off the income from your portfolio. But in today's market, doing nothing may be the best course of action. And Kellogg, if you take a moment to look at valuation, isn't a particularly good buy.
Disclosure: I/we have no positions in any stocks mentioned, and no plans to initiate any positions within the next 72 hours.
I wrote this article myself, and it expresses my own opinions. I am not receiving compensation for it (other than from Seeking Alpha). I have no business relationship with any company whose stock is mentioned in this article.