Silver Wheaton's (NYSE:SLW) shares have made a rapid recovery in the past one and a half months after posting weak results for the first quarter. The stock is up over 14% since it missed the bottom line estimate, which had triggered a slide in its stock price since it came as a surprise in light of a recovering precious metals environment.
Looking ahead, I believe that Silver Wheaton will be able to sustain this impressive momentum. This is because the prices of gold and silver are set to increase further in light of the recent developments regarding interest rates and global economic growth. So, in this article, we will take a closer look at how rising precious metal prices will impact Wheaton's performance.
Why gold and silver prices are important for Silver Wheaton
Silver Wheaton's performance is closely related to the price of both gold and silver. In fact, if we look at the gold and silver price trends, they closely match Silver Wheaton's stock price, revenue, and cash flow on a historical basis. This is seen in the chart given below: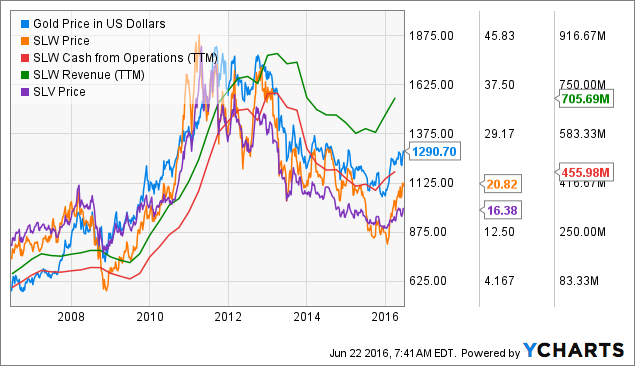 As evident from the chart above, the stock price of Silver Wheaton is virtually inseparable from the direction followed by the gold price and the price of the iShares Silver Trust ETF (NYSEARCA:SLV). Additionally, the revenue and cash flow of Silver Wheaton has also moved in tandem.
This remarkable correlation between precious metals prices and Silver Wheaton's performance is because the company's performance is almost entirely dependent on pricing due to the company's streaming business model. Wheaton enters into gold and silver streaming agreements with miners that produce silver as a by-product at fixed upfront fees and low costs for each ounce of silver or gold obtained.
This is the reason why the company has had a relatively fixed cost base over the years, as shown below: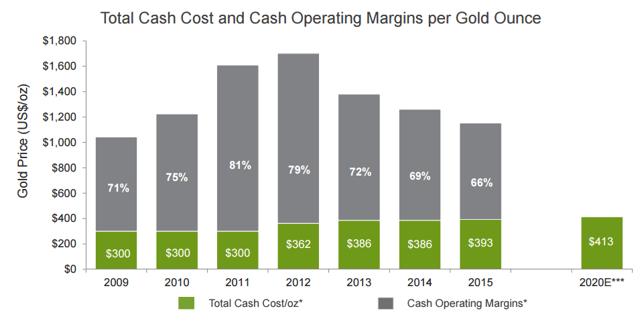 Click to enlarge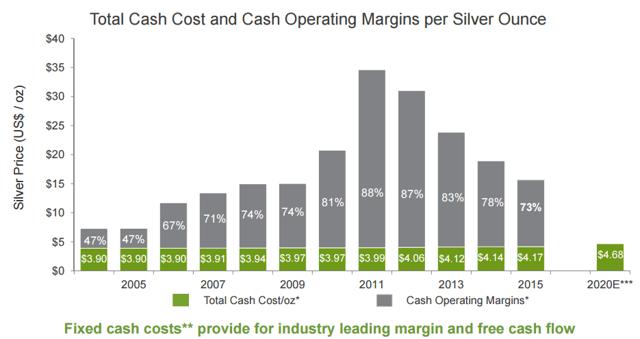 Click to enlarge
Source: Silver Wheaton
Due to its business model that has very predictable cash costs, Silver Wheaton's cash margins are eventually dependent on the prices of precious metals. This is evident from the charts above, as Wheaton's cash operating margins per ounce of gold and silver have soared when the price of the metals has been high in years such as 2011, 2012, and 2013. However, the gradual tapering of the prices of both commodities has hurt the company's performance in the last couple of years.
But, 2016 seems to be turning out differently for Silver Wheaton so far as the prices of both gold and silver have been making a comeback as the first chart given in the article shows. Currently, gold trades at $1,270 an ounce, while the price of silver is $17.36 an ounce. Both these prices are above last year's levels on an average, which means that Silver Wheaton's cash margin profile is on track to get better.
More importantly, investors should not rule out further improvements in Silver Wheaton's cash margins in the long run since the price of both these metals is set to increase after the Fed's latest interest rate decision.
Fed's interest rate indecision will lead to further improvement in precious metal prices
The Fed has remained repeatedly undecided as in what it is going to do with interest rates. After remarking last year that it will put into effect four quarter-point rate hikes this year, the Fed said in March that it sees only two rate hikes. Now, there might just be only one hike this year, according to the forecast of six Fed officials, or there might be none if some others are to be believed.
For instance, St. Louis Fed President Jim Bullard feels the need for just one interest rate hike until 2018. In fact, Fed officials have been repeatedly dialing back the federal funds rate hike in terms of both number of hikes and the size. As the Fed's plot chart given below shows, the Fed has been lowering its interest rate hike expectations year after year: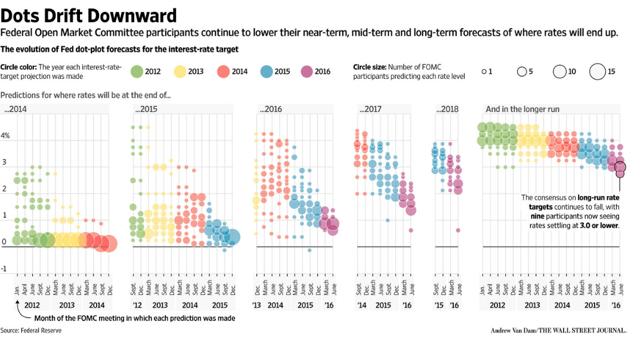 Click to enlarge
Source: WSJ
This lower Fed rate hike path is a result of weak job growth in the U.S. and artificially inflated unemployment numbers. For example, as compared to the expected addition of 164,000 jobs last month, job growth in the U.S. came in at a meager 38,000, leading to the weakest addition in six years.
Moreover, 458,000 people in the U.S. are no more looking actively for jobs, while there are some who have dropped out of the workforce. Therefore, the unemployment rate of 4.7% does not portray the correct picture either since its universe is small and does not include all the relevant samples. Throw in the fact that the Fed chairman herself says that the American economy is growing at a snail's pace, it is unlikely that a rate hike will happen soon.
This will prove to be a growth driver for the prices of precious metals as their demand spikes in times of weak economic growth owing to their safe haven nature. It has been historically seen that the price of both gold and silver rises when the federal funds rate is low. This is because investors do not have any incentive to invest in treasuries given the low yields that they offer. Instead, they invest in assets such as gold and silver that act as a hedge against end-market volatility.
This is the reason why a low federal funds rate leads to an increase in the price of gold and silver, and there is historical data to prove the same as given below: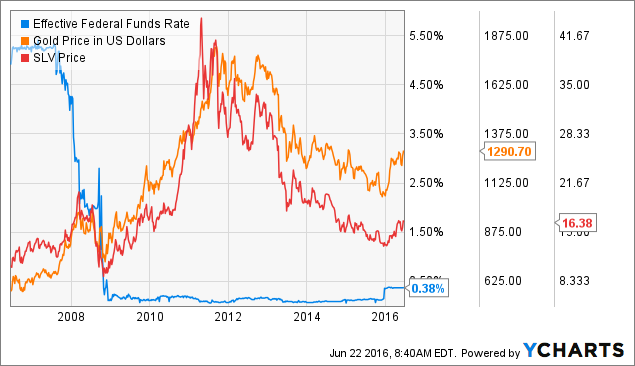 Hence, as the low interest rate environment is expected to continue, the newfound momentum in gold and silver prices will continue. This will act as a tailwind for Silver Wheaton going forward considering the points discussed in the first half of the article.
Conclusion
Silver Wheaton has been an outstanding performer on the stock market so far this year, and I am not surprised to see this. But, what is more important to note is that even after delivering 70% gains, Silver Wheaton can continue its rally as precious metals are expected to improve further. Thus, due to the reasons stated above, Silver Wheaton is still a good long-term bet.
Disclosure: I/we have no positions in any stocks mentioned, and no plans to initiate any positions within the next 72 hours.
I wrote this article myself, and it expresses my own opinions. I am not receiving compensation for it (other than from Seeking Alpha). I have no business relationship with any company whose stock is mentioned in this article.