Tomorrow, the UK's population is going to decide whether they want to stay in the EU or not. The media is all over it and politicians who are in favor of staying in the EU predict the end of the world in case of a BREXIT.
In this article, I want to show you a few leading indicators that are predicting stock and currency prices as well as the direction of the economy. In other words, this article is forward looking and not a review of coincident or lagging data.
All indicators are coming from the European Commission. The indicators are called European Sentiment Index. This is comparable to the PMI surveys as conducted by Markit and the ISM. The European Sentiment Index consists of a few components that predict certain fields of the UK economy. The breakdown and weighting are displayed below.
UK.ESI 100% (ESI Composite)
UK.INDU 30% (Industrial Sentiment)
UK.SERV 30% (Services Sentiment)
UK.CONS 20% (Consumer Sentiment)
UK.RETA 5% (Retail Sentiment)
UK.BUILD 5% (Building Sentiment)
Let's start with industrial and services sentiment. Both combined account for 60% of the ESI. Both indicators peaked in the fourth quarter of 2013 and stayed flat till the third quarter of 2014. Q3 of 2014 has also been the quarter where US growth peaked. After 2014, growth declined rapidly. Note that services are way more volatile and had both extremely strong and weak months since then.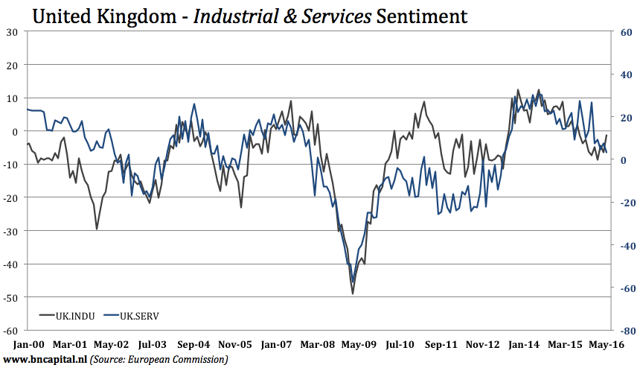 Click to enlarge
Consumer sentiment peaked in the second quarter of 2014 and has been in a clear downtrend since then. Retail sentiment follows the same pattern with much more volatility. Retail sentiment is back at 2011 while consumer sentiment is a bit more positive.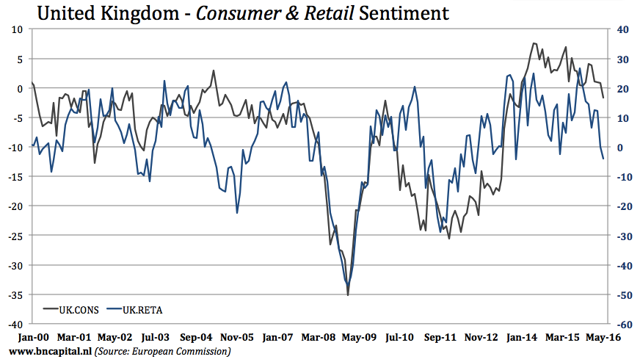 Click to enlarge
Building sentiment completely erased the bad prints of 2015 and 2016 and is headed for new highs. This is quite similar to the situation in Germany. Building sentiment is strong in both countries. The bad news is that building sentiment only accounts for 5% of the ESI. Nonetheless, building stocks get a lot more attractive in the UK.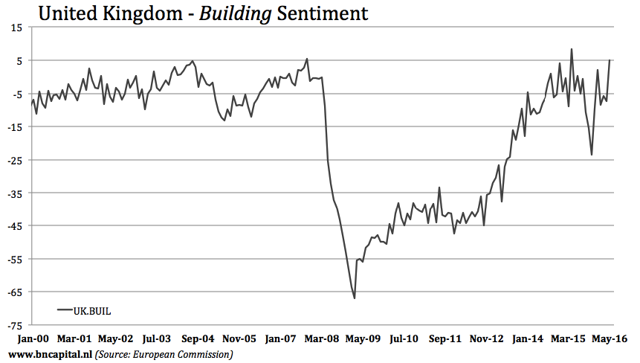 Click to enlarge
The British Pound has reflected economic sentiment very well. As you can see, the British currency has recovered from the lows really quick this month after the rapid decrease of BREXIT odds. This shows once again that the currency is following economic sentiment. Traders didn't expect a BREXIT and brought the currency back to levels where it follows the sentiment. If you are trading British stocks or currencies, only look at sentiment indicators. That is all that matters. BREXIT fears are just noise and volatility. The only thing you need to take care of therefore is: volatility. Assets will follow the growth trend but might be influenced heavily by short-term events like BREXIT rumors.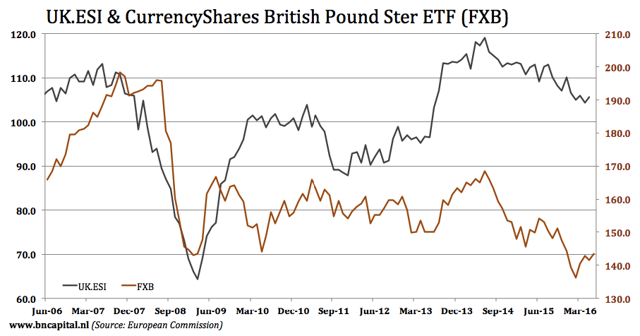 Click to enlarge
The same goes for stocks. Stocks were heavily undervalued for months and soared back to the downtrend average after BREXIT odds slumped. Note the huge correlation versus economic sentiment. This proves once again: leading indicators don't lie.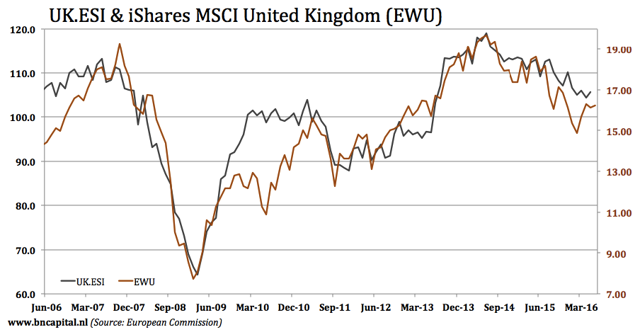 Click to enlarge
After reading this article, keep in mind that every single indicator I just showed you indicates the next moves for underlying assets. In case of UK.SERV, we are talking about services stocks. In case of UK.BUILD, we are analyzing building stocks. In addition to that, don't freak out about a BREXIT or BREMAIN. Assets will follow sentiment. The only thing that can spoil the party is volatility. Keep positions small and keep an eye on economic sentiment.
Click on the link to visit the website of the European Sentiment Index.
Disclosure: I/we have no positions in any stocks mentioned, and no plans to initiate any positions within the next 72 hours.
I wrote this article myself, and it expresses my own opinions. I am not receiving compensation for it (other than from Seeking Alpha). I have no business relationship with any company whose stock is mentioned in this article.