Introduction
I normally avoid M&As, wherein PEs or any kind of financial advisors are involved. These buyers do not provide synergies at all, and the transaction is usually very bad for the company. However, at some rare occasions, this kind of acquisition may be a great idea. In this article, I will deliberate upon the opportunity that a go-shop provision included in the merger agreement can offer us. In addition, the price paid is very low, and I will give you an idea about this fact.
The business and its performance
SciQuest, Inc. (NASDAQ:SQI) ("SciQuest") is another cloud-based SaaS company, which is being sold. There is currently a big M&A wave, and some activists are pushing companies to consolidate. I wrote several articles about what I thought were the best opportunities:
- Activism On Support.com: 60% Return
You Made A 20% Return With Infoblox - What Now?-
SciQuest provides automation solutions for spend management:
"- spend analytics solutions that cleanse and classify spend data from a wide variety of
- sources and formats putting data and analytics to work to drive and measure cost savings;
...
(Source)
I had the chance to talk with an IT specialist, who works for one of these SaaS companies. He did not accept to be cited here. He thinks the services that he provides have a lot of future, but the transformation will take a long time:
"Companies still use internal solutions because they are easy to customize. However in a 5 to 10 years period most of the mid-size and small companies will use certain type of cloud services because it is very cheap and scalable."
I think the PEs buying cloud-based businesses are quite sharp. Right now, customers do not really understand the potential of this technology. But, in a few years, the companies will realize that they cannot work without it. In 5 to 10 years, PEs will sell the companies to the public again (IPOs), and will make tons of money.
If you take a look at the revenue growth of SciQuest, it is really impressive. In just 5 years, the revenue grew from $50 million to $106 million. In addition, during the same time, the work force increased from 187 employees to 510.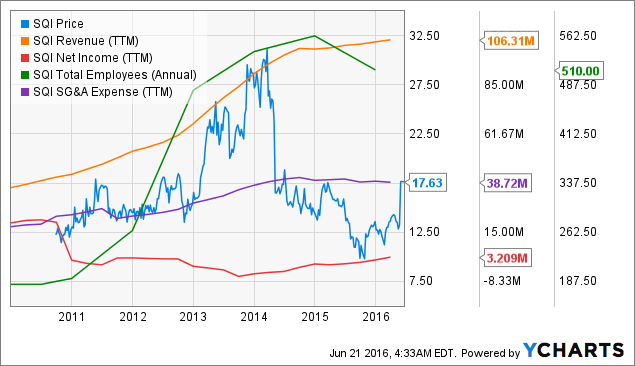 The company did not have good results, as it is expending a large amount of its revenues for R&D. The market did not recognize it, since just a few market participants truly understand the business. The company expends around 50% of its revenue for R&D, so it has built intangible assets ($7 as of March 31, 2016).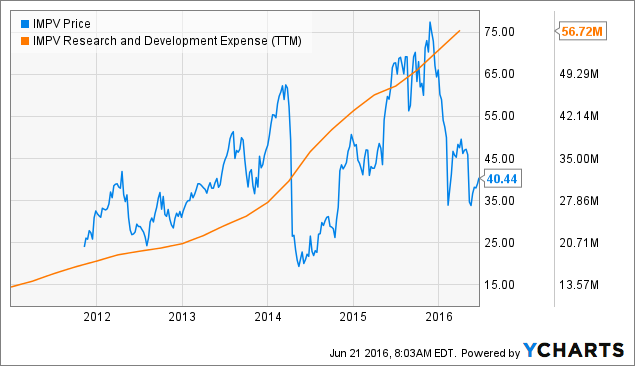 Balance Sheet
Like the other SaaS companies, SciQuest does not have debt, and has $8 in cash per share. Its book value per share is $7. In addition, it has $230 million of NOLs that can be used by an acquirer.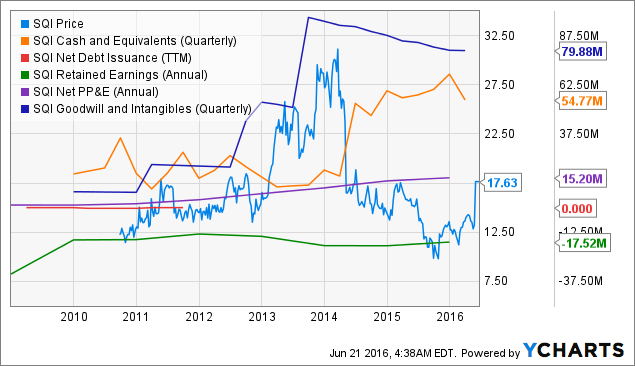 This is a great company for a financial buyer, because it will be very easy to include debt in the balance sheet. A strategic buyer could also be interested, as the company has intangible assets and a know-how.
Valuation
It is very difficult to value a company like this. The EBITDA is negative; there are just a few of them of this type. However, I could find, in the merger agreement, a simple DCF valuation done by the investment bank. As expected, the price to be paid by the buyer is quite reduced. It is in the low range of the football field:
"These equity values were then divided by fully-diluted shares outstanding using the treasury stock method to calculate implied equity values per share ranging from $16.15 to $20.11. Stifel noted that the per share consideration of $17.75 to be received by holders of the shares of common stock pursuant to the merger is within such range."
(Source)
I would like to note that in the background of the transaction, I could read that the same buyer, AKKR ($4 billion AUM), offered $21 per share a few months ago. The company had a bad quarter recently, and this buyer could lower the price:
"On March 18, 2015, the Company received from AKKR a verbal indication of interest for an acquisition of the Company at a price of $21 per share."
(Source)
I could also see that several other strategic and financial buyers were interested. In fact, one of them communicated to the Board of Directors that he needed more time to conduct further due diligence:
"Later in the morning of May 20, 2016, the board of directors met telephonically in a special meeting to review the status of the discussions with AKKR and the other potentially interested parties. All directors were in attendance as well as Ms. Kaelin and Mr. Collingsworth... Financial Sponsor Party D indicated that it might have an interest in making an offer in the $17 to $18 range, but that it would need to conduct further due diligence, and that all results of due diligence would have to be positive in order to make an offer approaching $18 per share. Financial Sponsor Party B indicated some interest, but stated that an offer in the "high teens" would be very challenging and would be subject to diligence that would be in similar scope to the diligence conducted in March of 2015. Financial Sponsor Party J indicated that it would be open to discussing an offer, but that significant additional due diligence would be required. Representatives from Stifel noted that Financial Sponsor Party J had done less diligence than other interested parties to date, so would likely require more work than others before it could get to any firm offer."
(Source)
Go-Shop
The Board of Directors of the target asked for a price of $20, but it only received $17.75 per share and a go-shop provision. According to this provision, the target can solicit bids until June 24, 2016. If they did not look for other buyers, then they had to include this period in the merger agreement. If they want to contact any other player that they forgot to contact before, then this buyer may be conducting a due diligence right now. We could see some other bids.
Conclusion
This is great investment idea: heads I win, tails I do not lose. If there is another buyer, we may see a bidding war. If the company does not receive any other bid, we will get paid by AKKR, and we still make some money.
Disclosure: I/we have no positions in any stocks mentioned, and no plans to initiate any positions within the next 72 hours.
I wrote this article myself, and it expresses my own opinions. I am not receiving compensation for it (other than from Seeking Alpha). I have no business relationship with any company whose stock is mentioned in this article.