Hugo Boss (OTCPK:BOSSY) is a very interesting but probably underfollowed stock. I have already written an article about the stock on SA. I exposed a positive view about the company's long-term potential, justified by several factors such as its brand strength, the strong position in several markets, and the "short-term" nature of some of the events that are hurting financial performance and therefore pushing down the stock price.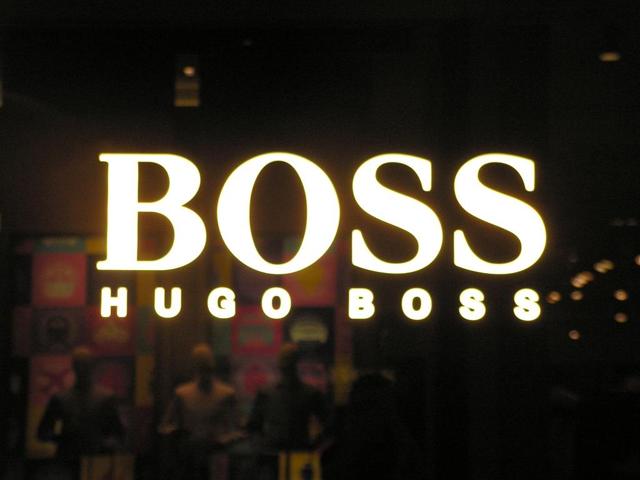 The stock is in a downtrend triggered by several macro and industry factors that contributed to push down all the stocks in the fashion and retail industry.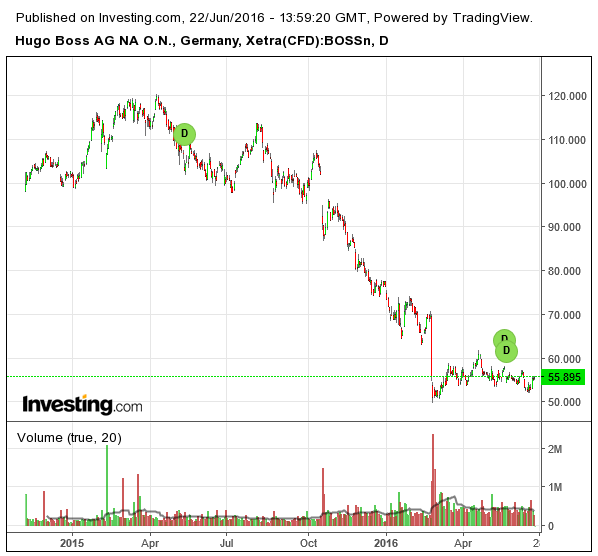 Chinese slowdown, together with the Brazilian and Russian recessions, have instilled expectations of a potential global recession as an effect of the weakness of emerging markets, that have been very important drivers of global growth in the recent years. Falling retail sales in the US and Europe negatively impacted companies in the retail and fashion industry and created bad expectations for the near future. A rising dollar weighted on tourism in the US and on the related spending on fashion goods by tourists. At the same time, a shift in consumer spending preferences led people to spend more in sectors such as leisure, travel and entertainment, at the expense of other sectors, including apparel and accessories. In Europe, tourism declined as an effect of fears of terrorist attacks, with similar negative effects on sales of Apparel and accessories.
My idea was that those could be considered as circumstances with a short-term effect on sales and profits, but no particular repercussion on the long-term prospects of the company.
The strength I saw in Hugo Boss stock was mainly related to a few factors I consider important for this stock. First of all the brand strength. This is probably the most important qualitative factor when assessing the value of a fashion stock. Long-lasting brand strength keeps company's products attractive and let them maintain high prices that allow good margins. The famous brand consultancy firm Interbrand ranked the HUGO BOSS brand 13 th among German brands and gave a positive outlook thanks to the company's continuing efforts to improve brand awareness. I still consider Hugo boss brand a very valuable asset that the company can exploit to grow in the coming years.
Another factor that I thought was worth mention is the level of concentration of Hugo Boss sales, that allows a strong position in some core markets and leaves large room for international expansion. According to the last annual report, 67% of Hugo Boss' sales in Europe are concentrated in only 6 countries: Germany, France, United Kingdom, Belgium, Netherlands and Luxemburg. This means that those 6 countries account for roughly 40% of Hugo Boss revenue. The level of penetration in many European countries such as Italy, Spain and all the Eastern region is still very low, as it is in many parts of the Asia-Pacific region and above all Latin America. The company's efforts to grow internationally are clear, and in 2015 the company reported sales growth in all the regions, with the exception of China.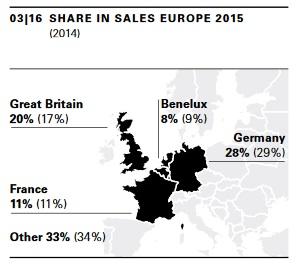 Recent results
In Q1 2016, the company reported sales of €642.6million (USD 732.56 million), down from sales of €667.5 million (USD 727.57 million) reported in Q1 2015. Net income fell from €75.6 million (USD 82.40 million) reported in Q1 2015 to €38.5 million (USD 43.89 million). This means a 4% decrease in sales and a 49% decrease in Net Income QoQ. Roughly half of the decrease in net income was a reflex of lower revenue against cost of goods sold at the same level of Q12015, resulting in a slightly lower Gross Margin (64.1% against 65.5%). The other half of the difference was due to higher operating costs, mainly an effect of the expansion of the group's own retail business.
Sales in Europe, Middle East and Africa fell by 2% on Q1 2015 (1% in constant currency terms). Sales in the European region were affected by declining tourism and therefore declining sales from tourist spending. The decrease in tourism was mainly due to fears of terrorism, as data from the single countries confirm. In fact, France and Benelux reported very weak performance in comparison to the other European countries, down 3% and 8% QoQ. The UK outperformed the rest of the region and grew by 4% in currency adjusted terms. In Italy, a country with still a low level of penetration, sales grew at double-digit rate.
Regarding Americas, Sales in the United States fell by 14% to EUR 99 million, 16% in constant currency. In Canada, sales rose by 5%, 14% in constant currency terms. Despite the unfavorable economic environment in South America, sales rose by 17% in the Group's reporting currency and 42% in local currencies. The growth was significantly helped by takeovers in connection with the expansion of the Group's own retail business in the region occurred during 2015. In Asia, sales declined by 6% (5% in constant currency terms), as a result of very weak performance in China, Macau and Hong Kong.
The company suffered in many regions, especially in the developed markets. In the U.S., France and Benelux the company suffered from declining tourist spending and from a general moderate shift of consumer spending preference towards leisure, travel and entertainment, at the expense of apparel and accessories.
Negative results came therefore in a difficult context, with developed markets suffering from external events such as currency disadvantages, terrorism concerns and temporary shifts in consumer spending preferences. At the same time, the slowdown in China and recessions in emerging markets such as Brazil and Russia have created a negative environment for international growth. I believe that most of these factors are temporary and already largely discounted in the stock price.
Catalysts
Since the negative performance of the recent quarters was mainly a result of weakness in emerging markets and contingent events in the developed ones, it's quite logical to expect improving sales once such negative factors start to reverse. Improving macroeconomic environment in China, rising tourism and of course a shift in consumer preferences towards apparel and accessories are factors that would have a good impact on the stock.
Besides those factors, some stock-specific catalyst that would trigger significant growth can be easily found.
The first positive catalyst would be given by positive results in Hugo Boss women's wear lines. Boss women's wear seems to be performing well under Jason Wu's artistic direction but the segment still accounts for only 11% of the company's sales. The company should try to accelerate the segment growth, that since 2011 has grown at a modest 7.46% CAGR.

Another positive catalyst can be found in possible buybacks of own shares. During the annual shareholders' meeting held on May 12th 2015 management was authorized to buy back the company's shares within a limit of 10% of outstanding shares. By the way, current performance and dividend policy wouldn't allow the company to buy back this amount of shares in the short-term. We should wait and see what happens during the next quarters to understand if this is a viable strategy for unlocking value.
Risks
The company's growth largely depends on the general state of the economy. If the slowdown in China and the economic downturn in other emerging markets persist, the company could have some difficulties and the return to growth could be delayed.
Concerns about Brexit have triggered a short-term sell-off during the last few weeks. The tragic death of Jo Cox has apparently mitigated such concerns. Brexit can trigger concerns about a socio-political contagion that could put doubts on the forever-lasting nature of the EU and Eurozone. The idea that Eurozone can break-up could trigger a sell-off in the stock markets, a steep rise in interest rates and a temporary GDP contraction in European countries. This could harm the company's profitability and growth prospects in the short to medium-term. As I explained in one of my recent articles, I believe that Brexit could even create a situation similar to 2011.
We know the Fed has quashed the idea of a tightening occurring in July, but if they decide to hike in the coming months, we could see a significant market reaction, with fashion stocks falling to lower lows.
Conclusion
Hugo Boss AG is a good company that enjoys brand strength and leading positions in some markets. The company's recent results have been negatively affected by several factors in both the developed and emerging markets. These factors include recessions in the emerging economies and declining tourism in the developed ones. I expect the situation in both the emerging and developed markets to gradually improve, creating a more fertile ground for fashion stocks.
Nonetheless, the stock market is still significantly exposed to some macro factors that could give short-term pain. In the case of Brexit, Fed tightening or continuing weakness in the emerging markets, fashion stocks could fall further. I still believe Hugo Boss gives an attractive buy opportunity, but we shouldn't forget that the business highly depends on the general state of the economy. I therefore decided to wait for the Brexit turmoil to pass before considering buying the stock.
Disclosure: I/we have no positions in any stocks mentioned, but may initiate a long position in BOSSY over the next 72 hours.
I wrote this article myself, and it expresses my own opinions. I am not receiving compensation for it (other than from Seeking Alpha). I have no business relationship with any company whose stock is mentioned in this article.
Editor's Note: This article discusses one or more securities that do not trade on a major U.S. exchange. Please be aware of the risks associated with these stocks.