By Contributing Analyst Kevin Caldwell
Howard Schultz's innovation in the iced coffee industry is similar to changes that have taken place in other industries. Most notably the craft beer industry, as well as the bottled tea industry. Howard's innovation will be a catalyst for future earnings growth.
Strong leadership combined with a vision has proven to be a success in previous companies. To notable leaders are Steve Jobs and Apple (NASDAQ:AAPL) and Richard Kovacevich with Wells Fargo (NYSE:WFC). During his tenure, Kovacevich brought WFC up approximately 65%, and Jobs up around 55% with AAPL. Although we are unsure of how much farther Schultz will take Starbucks (NASDAQ:SBUX), we do believe that his leadership, enthusiasm, and innovation for coffee will bring joy to shareholders.
Brand New Menu
The iced coffee industry has grown 75% in the past decade and Cold Brew sales grew over 300% between 2010 and 2015. We believe this growth isn't over yet. Because the iced coffee industry is relatively new, it's best to compare it to the current market of iced tea. In America, 85% of teas are iced. The retail value of coffee in America is a little over $30 Billion. Currently, cold brew coffee does around $8 million in sales. If cold brew coffee can gain an 80% market share of the coffee industry in America alone, the cold brew industry would increase to a $24 Billion valuation.
The thesis of the potential success over Starbucks's new cold menu revolves around them being able to add value at an extremely low cost. In the past decade, they have transformed their business into more than a coffee shop. They have become a recognizable brand. The new products will also gain the company a greater foreign and American market share. This business will allow them to capitalize on the cold coffee fad. Investors can turn to the success of McDonald's (NYSE:MCD) and Lululemon (NASDAQ:LULU). Both companies were able to capitalize on the all-day breakfast fad as well as the yoga fad.
Starbucks is adding a new dynamic to the coffee business. They aren't the first company to release chilled beverages, but we believe that this product line along with their brand notability will allow them to sell more cold coffees than other companies.
Starbucks's same store sales are projected to grow 6% in 2016, and we believe their new menu plays a major factor behind this. To go along with their new refreshing cold coffee menu, they have also released healthier breakfast sandwiches. Their customers are coffee fanatics who crave their high-quality beverages. Initially, the company is releasing 6 different core types of cold brew. With this being said, customers can easily customize the core choices to personalize their drinks.
No other international company is expanding their products with innovations like this. Between being an international leader in this industry, to an impressive track record, expect Starbucks to reap the gains from this potential growth.
Deal with Anheuser-Busch
Beginning in 2017, there is going to be a change in the 5.5+ Billion dollar ready to drink bottled tea industry. This industry showed a 3% increase in 2015. We don't see this growth to decrease anytime soon. Tea has proven to be a healthier alternative to coffee. This new product line is similar to Starbucks's bottled iced coffee product line they released in 2006. In hindsight, the bottled coffee line was a great source of revenue in the U.S. Since 2006, they have expanded this line of business to other continents.
The teas are expected to be in stores in less than a year. In 2012, Starbucks purchased Teavana. They will be using the Teavana teas in this new product line. Starbucks needs Anheuser-Busch's (NYSE:BUD) connections for retail and wholesale distribution. Between the superb product in Teavana, and the international distribution network that Busch has, we believe this partnership will be a success. The primary competitor in the industry will be Snapple (NYSE:DPS), which holds 70% of the industry's ready to drink tea sales. We predict that Starbucks's brand notoriety will gain a sizable share in the bottled tea sales.
Without the partnership with A-B, Starbucks was still able to sell over $1 Billion worth of Teavana drinks in 2015. This deal will cut costs, and allow the product to reach over 300,000 convenience stores.
Although the deal has only been agreed upon at the U.S. level, we can see them offering these products internationally in the future. Some countries aren't as dependent on coffee as America. Their high-quality products and accessibility could gain them a greater share of the international tea market should they begin offering these products abroad.
Fundamental Valuation
Starbucks has no short-term debt, allowing them to make the financial maneuvers that are required to take on innovations like this. Their main competitor in the breakfast food/drink industry is clearly Dunkin' Donuts (NASDAQ:DNKN). It is difficult to compare SBUX to McDonalds because MCD's business is much more diverse. Historically, DNKN has proved to be much more profitable than SBUX. Their business operates with higher gross margins. However, with regard to business expansion, our SBUX valuation primarily revolves around its stellar equity margins.
Its rate of invested capital margin of 35.61%. They are a very strong and stable company as a whole. Compared to Dunkin's ROIC margin of just 4.794%, we believe that SBUX will gain a large share of the coffee industry's niche. Starbucks is also currently the cheaper stock of the two with a P/E of 30.12 compared to 39.93. With betas under 1, neither of these stocks are very volatile. Both of them offer dividends, although Dunkin's is slightly higher at 2.77% compared to 1.46%. Consumers have shown they prefer Starbucks to Dunkin' these past 5 years with a 16.42% sales increase compared to Dunkin's of 8.311%.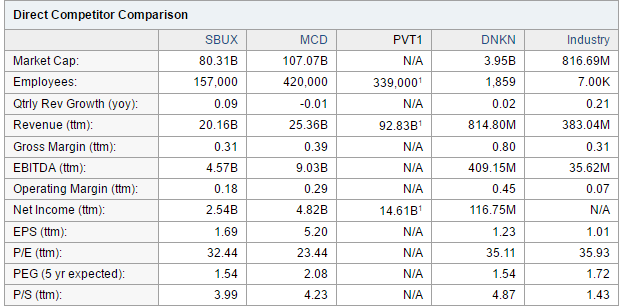 Taken from Yahoo Finance on 6/2/16
When analyzing the graph above, Starbucks appears to be about average for the industry. What this graph doesn't account for is Starbucks's business potential. Starbucks's revenue is significantly above the industry average with $20.16 Billion in revenue. Their gross margins are at the industry average, but less than the competitors listed. This is believed to be because of the higher quality food products Starbucks offers.
Their EPS at 1.69/share is significantly higher than the industry average. Only McDonald's has a higher EPS (TTM) than Starbucks, and their breakfast business accounts for a very small percentage of that. The 5-year PEG of Starbucks is significantly below the industry average, but this doesn't concern us. The size of SBUX's business makes it difficult for rapid expansion of their traditional business. The 5-year PEG listed also doesn't account for the changes in their menu, and the potential growth of coffee's cold brew.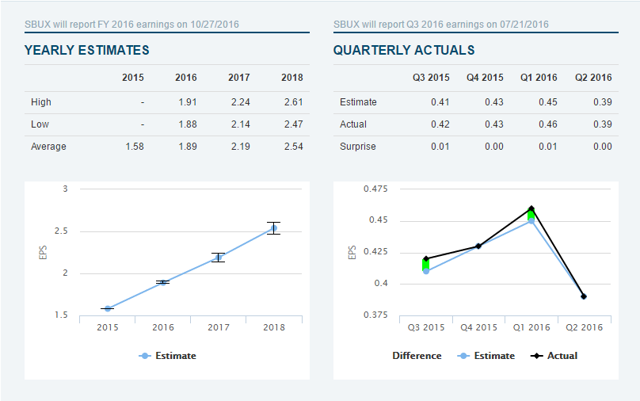 Click to enlarge
Taken from Barrons.com 6/3/16
In the past, SBUX has done a stellar job with beating or meeting earnings. Their consistency makes them a great company for a Traditional or Roth IRA. We expect their future yearly estimated earnings to expand even more with the increased potential of SBUX's business.
Technical Valuation
Starbucks is currently trading at 54.50/s which is about $10/s lower than their 52-week high. It is extremely close to its support level of $54.82/s. Recently, their 20-day EMA has ticked upwards and breached the 50-day EMA making us believe that SBUX could hit the $56 mark in the short term. Their RSI hasn't changed much, and has continued to be relatively average. In late April, the stock breached its resistance level of 59.55 but couldn't hold. The stock has been trading at a higher volume than historically, so be prepared for volatility in the future.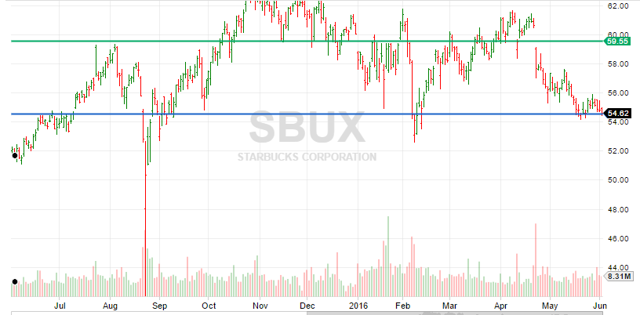 Click to enlarge
Summary
Starbucks's new businesses should allow them to have future success. Fundamentally, they are a very strong and profitable company. Their lack of short-term debt as well as Schultz's previous successes with the company makes us believe that both the Anheuser-Busch deal, as well as the new and improved menu will lead the company to meet future earnings expectations.
Disclosure: I/we have no positions in any stocks mentioned, but may initiate a long position in SBUX, MCD, DNKN over the next 72 hours.
I wrote this article myself, and it expresses my own opinions. I am not receiving compensation for it (other than from Seeking Alpha). I have no business relationship with any company whose stock is mentioned in this article.