EOG Resources Inc (NYSE:EOG) has been steadily developing its top tier position in the Eagle Ford play through a drilling program which will soon include the Austin Chalk horizon as well. The Austin Chalk interval is located on top of what could be a significant portion of EOG Resources' prospective Eagle Ford acreage position, and several strong wells point towards its productivity.
The Leonard AC Unit 101H well had a 30-day IP rate of 2,100 bo/d, 295 bpd of NGLs, and 1.9 MMcf/d of natural gas (2,715 BOE/d) as it tapped into the Austin Chalk play. Another Austin Chalk well that had been producing for only 20 days as of EOG's earnings update, the Denali Unit 101H well, had a 20-day IP rate of 2,265 bo/d, 415 bpd of NGLs, and 2.7 MMcf/d of natural gas (3,130 BOE/d). That well was turned online in April, and management will provide further updates on both of those wells in the future.
Compare those results to EOG Resources' Eagle Ford wells nearby (all 30-day IP rates);
Gonzales County
Stills Unit 2H - 2,775 bo/d, 345 bpd of NGLs, 2.2 MMcf/d of natural gas (3,490 BOE/d)
Neets Unit 9H - 2,355 bo/d, 255 bpd of NGLs, 1.7 MMcf/d of natural gas (2,895 BOE/d)
Fleetwood Units 5H - 8H (average of four wells) - 2,330 bo/d, 320 bpd of NGLs, 2.1 MMcf/d of natural gas (2,995 BOE/d)
Lavaca County
Boedeker 18H - 2,305 bo/d, 220 bpd of NGLs, 1.4 MMcf/d of natural gas (2,760 BOE/d)
While additional data is needed, it appears the Austin Chalk is more or less on par with EOG Resources' Eagle Ford in terms of well productivity. The Austin Chalk isn't a new oil & gas play for the industry, but it is one that only a few players have been able to successfully tap into from an economical prospective. EOG's CEO and chairman aptly noted:
Although the industry has known about the Austin Chalk for many years, it took a new approach to turn it into a high rate of return play which competes with EOG's top-tier assets. We expect the Austin Chalk to make a meaningful contribution to our future success.
EOG Resources Inc's Austin Chalk delineation and exploration program could materially bolster the company's premium well location inventory. The Eagle Ford play represents 1,535, almost half, of EOG's 3,200 premium well locations.
Premium well locations can generate a 30% after-tax ROR at a $40/barrel realized oil price and 60% when realizing $50 per barrel on an incremental well basis assuming a flat price throughout the life of the well. Realized natural gas prices are assumed to be a flat $2.50/Mcf. Due to its geographical location, realized prices out of the Eagle Ford tend to be very close to WTI and Henry Hub prices (sometimes even at a premium to benchmark pricing).
If the momentum continues, EOG Resources should be able to add additional well locations to its premium portfolio by delineating and developing the Austin Chalk. EOG Resources' vice president of exploration and production stated:
It's too early in our exploration efforts to know how much of the Austin Chalk is prospective over our acreage, but subsurface data and detailed mapping throughout the field are encouraging. We plan to drill seven additional Austin Chalk wells in 2016 and look forward to updating you with future drilling results as we learn more.
As the unconventional player monitors the production results of its existing and future wells, EOG Resources will be able to truly get a grasp on what the size of its economical Austin Chalk position really is. Seven more wells are expected this year, and the 90-day and 180-day IP rates should be monitored to see what kind of EUR (estimated ultimate recovery) rates these wells will sport.
Material uplift
EOG Resouces is reviving output at its producing wells through a gas injection EOR (enhanced oil recovery) pilot program that has yielded positive results. In various portions of the Eagle Ford play, EOG Resources has found that gas injection significantly boosted well productivity through four pilot projects targeting 15 producing wells, specifically in the oil window. Below is a look at the impact of those pilot programs in the crude window.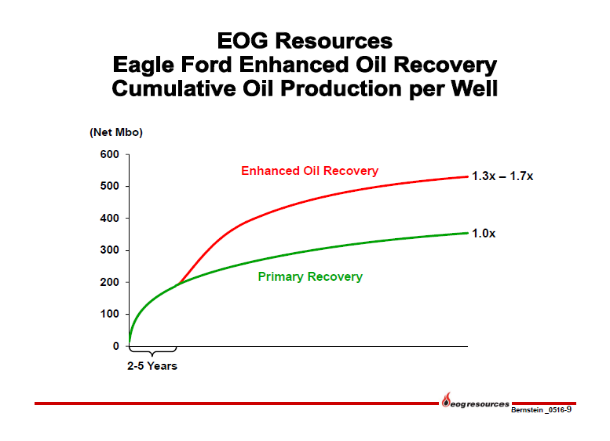 Source: EOG Resources Inc June 2016 Presentation
Outside of the oil window, EOG doesn't see the EOR program being nearly as effective and economical, so it plans to selectively utilize gas injection in key parts of its acreage position. Leveraging existing infrastructure in the area bolsters the economics of this program, and it costs on average $1 million per well to pursue this EOR method.
These pilot projects were the result of a culmination of efforts that started out three years ago, where initial lab testing showed gas injection EOR programs could be utilized, "but the economics and operational execution were going to be challenged without some creative problem solving." It appears that as the industry gained a better understanding of the Eagle Ford and unconventional plays, EOG Resources was able to vault over those hurdles.
During EOG's conference call, management commented that due to the "highly proprietary" nature of the program, the company would only disclose part of the knowledge it has gained so far. Moving forward, this is a program that should yield future upside as EOG's next step is a 32-well EOR pilot program (slated to start up some time this year). That should begin over the coming quarters (management was intentionally coy on how that schedule would look as well). However, management has provided some guidance as to what the economics of its EOR program could look like at top tier prospects.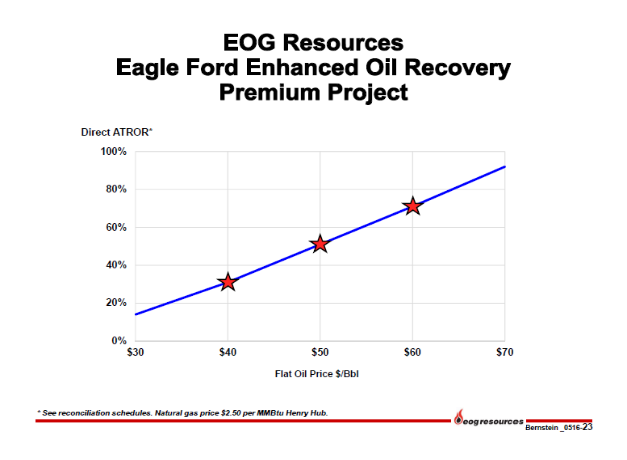 Source: EOG Resources Inc June 2016 Presentation
Final thoughts
EOG Resources Inc has been a fun company to watch over the years as it was one of the primary players spearheading the unconventional revolution in America while showcasing the economic potential this relatively new technology would eventually yield. During the boom years, high oil prices "justified" hefty outspends as capital markets were more than willing to lend lend lend as they sought out yield in a ZIRP environment. EOG Resources Inc fell prey to that notion, but was able to adjust to the new pricing paradigm once it became clear $100 WTI wasn't coming back anytime soon.
Looking ahead, EOG Resources Inc plans to focus only on potential well locations and parts of its DUC inventory (drilled but uncompleted) that will yield a 30% after-tax ROR on an incremental well basis when realizing $40 per barrel of oil. In a $50+ WTI environment, EOG Resources stands to do quite well. In a $60+ WTI environment, EOG Resources' premium inventory starts generating wells with after-tax rate of returns in the triple digits on an incremental basis.
The Eagle Ford and now the Austin Chalk horizons are two prime reasons why EOG Resources Inc remains one of the kings of shale, as it continues to showcase its strong understanding of developing unconventional oil & gas plays. Investors looking to read about why EOG Resources Inc is worth taking a look at in a broader sense should check out this article.
Disclosure: I/we have no positions in any stocks mentioned, and no plans to initiate any positions within the next 72 hours.
I wrote this article myself, and it expresses my own opinions. I am not receiving compensation for it (other than from Seeking Alpha). I have no business relationship with any company whose stock is mentioned in this article.