By FS Staff
Each month, the Federal Reserve Bank of Philadelphia produces a monthly coincident index for each of the 50 states in an effort to "summarize current economic conditions in a single statistic." (source)
The Philly Fed State Coincident Index measures four variables - nonfarm payroll employment, average hours worked in manufacturing, the unemployment rate, and wage and salary disbursements - and has continued to weaken since we last featured it in our April piece, 15 Warning Signs of Possible Market Top, Recession Next Year.
With its current reading of 60, it is now back to late 2010, early 2011 levels, which is also where it fell to during the 2000 and 2007 stock market peaks (S&P 500 in black below).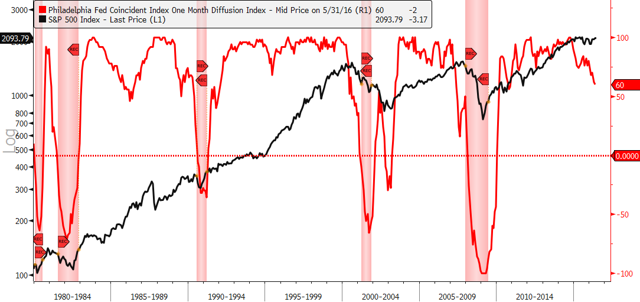 Click to enlarge
Source: Bloomberg
If the current downward trajectory of the Philly Fed index and other economic indicators we use for tracking recessionary risks continues, we believe there is a strong possibility for the world's largest economy to enter recession by 2017.