Alibaba Group Holding Ltd. (NYSE:BABA) has been a favorite target of short sellers and skeptics since almost the time it went public in September 2014. There are many reasons to be skeptical of the company - from the Variable Interest Entity (VIE) ownership structure to concerns about counterfeit goods and inflated gross merchandise value (GMV) reported to the public - investors just do not seem to trust Jack Ma and Alibaba. Then, of course, there is the SEC inquiry into the company's accounting treatment of unconsolidated entities and its reported GMV on Singles Day. All these supposed red flags have kept short sellers crowing and a lid on the share price, even as the company continues to execute well on its corporate plan. For the rest of this article, I will focus on the following criticisms made by short sellers and explain why investors need not be overly concerned about them.
Alibaba spends every penny it makes, leaving nothing for shareholders
GMV is inflated and misleading
Alibaba's accounting treatment for minority investments is wrong
Alibaba's disclosures relating to minority-owned investments are inadequate
Investments
I have heard Jim Chanos on CNBC complain that every dollar Alibaba makes goes right out the door. By this he means the acquisitions and investments the company makes and funds with the cash it generates from its core marketplaces businesses. It is true that Alibaba makes a lot of investments with the cash flow it generates from its mature operating businesses. The company could just let the cash pile up on the balance sheet, but that provides very little benefit to shareholders in the long run… just ask Apple's (NASDAQ:AAPL) investors. Alibaba is building the next generation of growth engines for the company. If you have ever heard Jack Ma speak about his vision for Alibaba, you would know that he believes in investing today so that the company will continue to be a powerhouse for decades to come. That is exactly what the company is doing right now. It has invested in several areas outside its traditional core competency, including digital entertainment, cloud computing, local services (food delivery, flash deals and taxi services), healthcare and logistics. Some of these are wholly owned by Alibaba but others are minority investments (less than 50% ownership). Many are also loss-making today, which is a concern for some observers. However, investors should really give the company credit for knowing what it is doing. Some may be unaware, but the core marketplaces business was loss-making for a very long time. In fact, when Taobao was competing with eBay in the mid/late-1990s, Alibaba had no revenue and was burning a lot of cash. Long story short, eBay was driven from China with its tail between its legs and Taobao and Tmall are now wildly profitable. I expect Alibaba will follow the same blue print for many of its ventures that are still in their infancy. First you build the massive customer base by heavily discounting services and squeezing out competitors, then you build a revenue stream and eventually profits will follow. Uber is getting creamed in China trying to compete with Didi Kuaidi and others (Alibaba is an investor in Didi). I have little doubt Uber will eventually pull out of China. The losses will just get bigger and bigger until finally investors have had enough.
So should investors be concerned that Alibaba takes the money it makes in the marketplaces business and invests it in money-losing ventures? The short answer is no. Alibaba is not torching capital by doing this. It is building long-term shareholder value. Chanos and the bears are wrong to be critical of this aspect of Alibaba's business model. What I find extremely ironic is that Apple sits on a huge cash pile and invests very little outside of its core competency (does constructing a $5B R&D building with the world's most expensive pieces of curved glass count as investing in the future? just kidding) and is criticized for doing the exact opposite of what Alibaba is doing. Damned if you do. Damned if you don't. Alibaba is doing the right thing and should continue to ignore the critics on this matter.
GMV
Many are also critical of Alibaba's reporting of gross merchandise value or GMV. Alibaba reports gross GMV, which does not subtract for transactions that are never completed. Many argue this overstates GMV as many orders are faked in order to inflate sales figures and boost a seller's standing on Taobao. I have no doubt this occurs and that it is a meaningful number. But does it really matter? Investors should not be evaluating Alibaba's financial performance directly on GMV growth. Alibaba generates revenue from its marketplace sites through fees and advertising. The overall take-rate is rising year-over-year as the company is making great strides in monetizing mobile.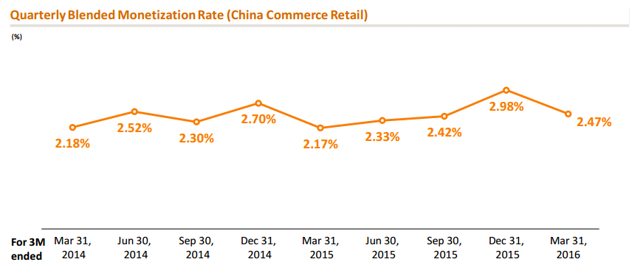 Click to enlarge
Whether the company reports gross or net GMV does not really matter - though BABA will tell you (and the SEC) that reporting gross GMV is standard industry practice. Regardless, the company is going to earn what it earns based on advertising revenues and fees for transactions that are actually settled. Even if the SEC somehow forced the company to change how it reports GMV, it will not affect what Alibaba earns. At its Investor Day last week Alibaba announced a change to its disclosures relating to GMV, in an effort to shift the investor discussion away from this metric. At its first ever Investor Day, the CFO announced that the June quarter would be the last time the company reports GMV on a quarterly basis. After that it will only be reported at year-end. This makes sense as the company's revenues and ultimate profitability are not tied to GMV directly and the discussion related to gross versus net GMV is largely irrelevant. In addition, Alibaba's long-term fortunes will be less and less determined by the marketplace business as its other businesses reach scale in the coming years.
Accounting Treatment for Minority Investments
The accounting treatment for minority investments was discussed at Investor Day. The company views it as a non-issue for the most part, and I tend to agree. Alibaba has made several strategic, equity investments in companies. It owns between 20% and 49.9% of these companies, most notably logistics company Cainiao Network (47% ownership), ele.me (20%) and Koubei (49.6%). Many question the accounting method Alibaba is using to report these investments on its financial statements. Yet, there is nothing wrong or illegal with Alibaba's accounting treatment. The company uses the equity method of accounting for these investments, as required by GAAP. This means Alibaba reports its share of the profit or loss from each business on its income statement, not the entire profit or loss for the business. One can argue that, in the case of Cainiao, Alibaba should own all of that business, and that the only reason they do not is because Alibaba is trying to mask all the losses it is currently generating as it ramps up. I cannot stop anyone from thinking that, but to suggest Alibaba is doing something illegal in its financial reporting is flat out wrong. What if, in a couple of years, this business reaches scale and becomes profitable? Will the bears still be crowing about Alibaba's accounting treatment? Of course not.
The fact of the matter is that Alibaba is not afraid to lose money in the near term for the sake of long-term success. Some of the company's ventures are still in their infancy and are bleeding a lot of cash. But the company is confident in the long-term prospects for these businesses, and given its track record with the marketplace business and other ventures like Alipay and Alibaba Pictures, investors need not be so concerned about losses in the early days for these investments.
Inadequate Disclosures
Another common complaint from the bears is in regards to disclosures related to Alibaba's non-marketplace businesses. Previously investors did not know the profitability of each unit, except for those that are also publicly traded. However, beginning with the FY2016 year-end 20-F filed in May, Alibaba is disclosing both revenue and net income for its major strategic investments - Cainiao Network, Koubei and Alibaba Pictures. The first two are growing very rapidly but are burning a lot of cash, as should be expected. Alibaba is attempting to position itself for the next phase of its growth story by transforming into a media and local services powerhouse. These businesses (along with its logistics investment, Cainiao) are in their infancy and should be expected to be losing money, possibly for many more years. Investors asked for more disclosures related to these investments and the company delivered. I think Alibaba should be commended for doing so. Another irony - no one seems to ask any questions about how much Facebook (NASDAQ:FB) is losing on Oculus or WhatsApp today, for which the company spent $20B on acquiring. Why is Alibaba so different?
Alibaba will also break out quarterly results of each of its major segments on a go forward basis. This is a huge increase in transparency for the investment community. This is more granular detail than almost any company of Alibaba's size discloses for its subsidiaries. What else do investors want to see from the company before they can get comfortable with its accounting?

Click to enlarge
Conclusions
I believe I have shown that none of these four criticisms of Alibaba are warranted. I am not all that concerned about the SEC inquiry. The company is complying with GAAP and calculating GMV in a customary manner. Any changes to reporting or penalties handed down by the SEC should be minor in nature. Certainly, an investment in Alibaba is not for everyone. Many cannot get past the VIE ownership structure, the questionable reasoning for the majority ownership spin-off of Ant Financial or the opacity of operating in China. However, I think the positives outweigh the negatives, particularly at this valuation. I see a dominant, highly profitable online marketplace in a huge and growing market. I see a first mover in cloud computing that is growing triple-digits annually. I see the company leveraging its 420M annual active buyers to unlock great value in a growing digital entertainment content and distribution business. And I see a local services business in its infancy that one day could rival the marketplace in size. Oh and do not forget one-third equity ownership in Ant Financial (pending regulatory approval, otherwise 37.5% profit sharing) which is expected to IPO next year at a valuation north of $60B. Put it all together and at 25x EPS, Alibaba is a solid risk versus reward. I expect profitability to grow significantly slower than revenues in the near term as the company invests for its next leg of growth, but that is okay - particularly at this valuation.
So what will it take for Alibaba to break out of its current trading range and make another run toward $90+ per share? I don't expect a conclusion to the SEC inquiry anytime soon. But I do think the company puts up steady quarterly performance in FY2017, while addressing skeptics' criticisms with additional disclosures. Slowly more investors will get comfortable with the story and be compelled to own it at this valuation. Certainly more confidence in the macro story in China will help as well, though I am not counting on that anytime soon. I would own the stock today as a long-term hold as a patient investor.
Disclosure: I am/we are long YHOO.
I wrote this article myself, and it expresses my own opinions. I am not receiving compensation for it (other than from Seeking Alpha). I have no business relationship with any company whose stock is mentioned in this article.