For the first time in multiple years, we are in an REIT market that could be described as normal. Valuations are now within a normal range and pricing more accurately reflects intrinsic value. In this article, we will discuss how to position in a somewhat normal REIT environment.
Normalcy in a volatile world
At the start of 2016, REIT pricing got out of line with reality as overvalued stocks continued up while already cheap value stocks plummeted. Since that time, value has materially outperformed and REIT valuations have generally moved closer to intrinsic value. Despite a litany of volatility and fear triggers ranging from negative interest rates to Brexit, general REIT valuations have somehow shaken into place. We measure this in 2 ways:
P/FFO multiple relative to history Distribution of FFO multiples across REITs (kurtosis)
The broad REIT market now trades at a roughly 20X multiple on LTM FFO.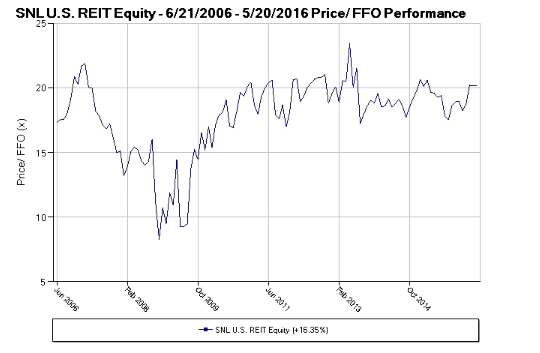 Source: SNL Financial
While slightly higher than the long-run average, it is within the normal range and valuation arguably should be at the high end of normal given where interest rates are today. As you can see in the chart above, REITs have bounced around 20X for the last 5 years so the overall REIT valuation really hasn't changed much. So why do I refer to this as a normal REIT market when I have previously called it severely mispriced?
Well, the distribution of valuation has changed. The expensive REITs have come back to earth while value REITs recovered from their February lows. This leaves REITs with a healthy mesokurtic distribution of multiples shown below.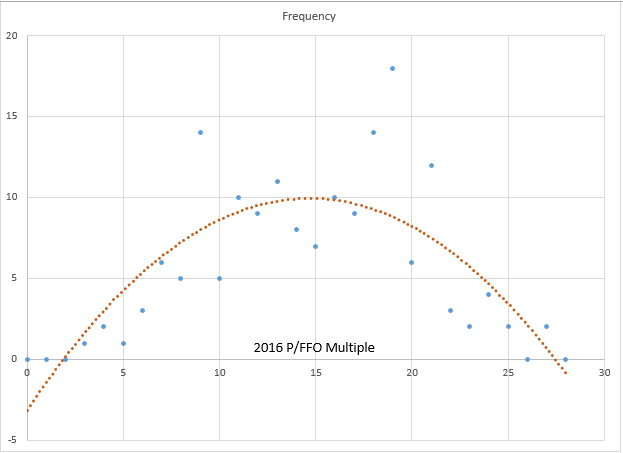 Essentially, this chart is measuring the marginal cost of quality or how much extra the market is paying for higher quality earnings. We view the current marginal cost of quality as reasonably appropriate, such that one cannot expect to generate alpha simply by positioning in high quality or low quality.
How to play it
Top-down driven outperformance will be harder to find as REITs are correctly priced on a broad scale. However, bottom-up stock picking still remains a strong strategy for alpha generation as individual securities remain mispriced. One can no longer simply buy value REITs and expect to duplicate the outperformance of the most recent quarter. Instead, success will require deeper fundamental analysis to select undervalued, yet high quality REITs. Two additional tools for navigating this environment are:
Opportunism
Broader diversification
Volatility remains quite high so any portfolio manager would be wise to position to take advantage of it.
Diversification and opportunism work in tandem to combat such volatility. Defensively, diversification should help to mitigate the impact of wild price swings to which all stocks seem to be susceptible at the moment. Upon a negative price shock, the portfolio manager can evaluate whether the drop was fundamentally warranted or just noise. If it was noise, he or she can buy more at the bottom and ride the stock back up to its normal price with a substantially larger position size than was held on the way down. Essentially, this process converts volatility within the portfolio into alpha. While it is a valid tactic in any environment, it is particularly effective now with the increased noise of the market.
Just this week, Communications Sales & Leasing (NASDAQ:CSAL) dropped nearly 5% as Windstream (NASDAQ:WIN) sold its remaining position in a private placement transaction. Since the purchaser(s) of Windstream's shares received them at a material discount to market price, they likely flipped all or a portion of them the same day. This temporary flood of supply was likely the cause of the 5% drop and it was very clearly not fundamental in nature. No new shares were issued, so there was no dilution and CSAL's operations were entirely unaffected.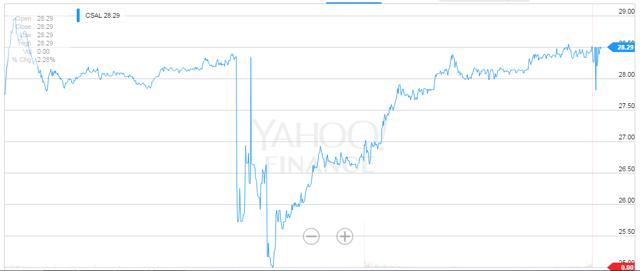 Click to enlargeSource: Yahoo Finance
Since then, CSAL shares quickly rebounded to above the price they traded at prior to the drop because the market figured out that it was just noise. This is merely one example of the value of opportunism in this market. Similar events occur on a daily basis and one merely needs to be vigilant and know their stocks to capitalize.
In summary
This newly normalized REIT environment can still bear fruit if one takes a bottom-up approach with sufficient diversification and opportunistically take advantage of the excessive volatility.
Disclosure: 2nd Market Capital and its affiliated accounts are long CSAL. I am personally long CSAL. This article is for informational purposes only. It is not a recommendation to buy or sell any security and is strictly the opinion of the writer.
Disclosure: I am/we are long CSAL.
I wrote this article myself, and it expresses my own opinions. I am not receiving compensation for it (other than from Seeking Alpha). I have no business relationship with any company whose stock is mentioned in this article.