Shares of Legacy Reserves (NASDAQ:LGCY), as well as shares of the company's preferred units, Legacy Reserves (LGCYO) (LGCYP), took a beating on June 21st, falling 5.8%, 11.7%, and 15.9%, respectively, as of the time of this writing. This came despite the fact that the market rose for the day and that oil prices dipped just more than 1%. In what follows, I will dig into why this went down and what it means for investors in the long run.
An explanation for the drop
During the day, no meaningful news came out, nor did anything important come out a day earlier. In fact, the most recent news on the business appears to be from June 17th when management released a statement claiming that it would be paying itself quarterly cash retention bonuses throughout the rest of this year that would come out to $1.20 million collectively. Another author on Seeking Alpha, whose article you can find here, has given a good breakdown of why shares have been slammed by this news.
The general argument here is that, just as in the case of Breitburn Energy Partners (OTCPK:BBEPQ), a move to pay management to stay on board and to do so in cash instead of shares is a sign that bankruptcy could be around the corner. Certainly, it makes sense that if a ship is taking on water, those aboard the ship will do everything in their power to protect their own self interests before worrying about people who are not at risk; after all, the livelihood of investors does not matter anywhere near as much on Legacy's success as the livelihood of management who work there so this is sensible.
Even for me, a person who has Legacy as my third-largest holding right now, seeing such a move is questionable and does raise some flags because I greatly prefer a management team that will prioritize the health of shareholders over their own interests. Because of this, I intend to watch the situation closely moving forward but I do not yet see this as a reason to divest of shares. In fact, after reviewing the financial information of the company again, I increased my firm's ownership over the entity by over 13% (up nearly 57% over the past week since I bought some more shares just prior to the announcement). This ownership increase was also in the form of the LGCYO preferred units, not common units.
What does this mean for shareholders?
Absent the risks associated with Legacy's credit facility, there is no debt due until 2020 and then some more that's due in 2021. Assuming the company can survive long enough and if cash flow numbers rise thanks to a rebalancing of the oil market, refinancing this debt or even paying some of it down is probably not much of a concern. This leaves the credit facility as the one major risk for the entity over the next couple of years, an issue I talked about in a prior article when I stated that the firm needs to pay down debt or reduce costs in order to avoid an eventual covenant breach that could be disastrous.
Thankfully, I believe management is on the right track in addressing these problems though. In its last quarterly report, the firm stated that they had sold $68.46 million worth of assets during the quarter that allowed them to reduce long-term debt (including reducing the credit facility to $560 million, granting it wiggle room of $68.6 million). They also sold another $5.4 million worth of assets after the quarter and intend to increase sales to an aggregate of $100 million by the end of the second quarter this year. Assuming that management allocates all additional sales to paying down its credit facility, the firm's borrowings under this would come out to $528.46 million.
Under 2015's PV-10 measure, valuing reserves net of all costs and after accounting for a discount rate at $649.9 million, this means that Legacy's borrowing 76% of their reserves worth. This is still quite high and needs to come down but we need to be cognizant of two things. First is the fact that cash flow for the business is still expected to be meaningfully positive over each of the next few years (through 2019) if current energy prices remain unchanged, with oil averaging $48.95 per barrel each year and natural gas averaging $2.767 per Mcf. This can be seen in the table below, which does not factor in interest savings associated with additional debt reductions beyond what has already been confirmed by management.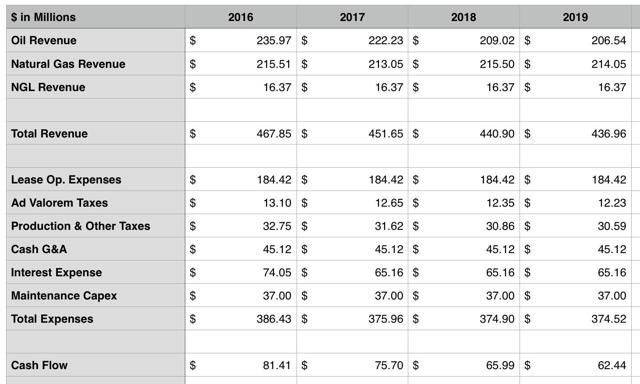 Click to enlarge
The second issue relates to the fact that rising oil prices should have a material impact on the firm's bottom line should they continue. In the table below, you can see how cash flow looks now (based on my estimate above) and how it would be if energy prices were at the level that the PV-10 indicated late last year. An increase in the price of oil of just 4.6% and an increase in the price of natural gas of just 6.8% during this time frame would increase cash flows for the business by between $12.39 million in 2016 and $15.01 million in 2019. Should prices continue to rise, not only will cash flow improve, but management will also see the value of its properties rise. Augmented by potential asset sales in the future, this could help to reduce debt even more in the future.

Click to enlarge
Takeaway
At this moment, I am slightly concerned about the news reported by Legacy's management team that cash retention bonuses will be paid out and it does seem to imply that the risk for the enterprise may be greater than it was before the news came out, but it's also not a good idea to lose track of the bigger picture. Looking at cash flow, combined with all of the efforts undertaken by the company's management team, things still look very positive at the moment and would only look really bad, in my opinion, if energy prices fell hard. Of course, this could happen, as could unforeseeable circumstances, and investors who cannot deal with this uncertainty should not hold onto the business's stock, but I am continuing to hold on right now and may increase my stake further under the right circumstances.
Disclosure: I am/we are long LGCY.
I wrote this article myself, and it expresses my own opinions. I am not receiving compensation for it (other than from Seeking Alpha). I have no business relationship with any company whose stock is mentioned in this article.
Additional disclosure: My LGCY position is in the form of preferred units, not common ones.
Editor's Note: This article covers one or more stocks trading at less than $1 per share and/or with less than a $100 million market cap. Please be aware of the risks associated with these stocks.