On May 24, 2016 I showed everyone how they could analyze any ETF, Mutual Fund or Index using three unique free cash flow ratios that I introduced in an article here on Seeking Alpha . Today I will continue my series of articles by comparing two Dividend ETFs.
PowerShares High Yield Equity Dividend Achievers Portfolio ETF (NYSEARCA:PEY)
Schwab U.S. Dividend Equity ETF (NYSEARCA:SCHD)
In 2011 Charles Schwab (NYSE:SCHW) launched the Schwab U.S. Dividend Equity ETF and both it and the PowerShares High Yield Equity Dividend Achievers ETF have done quite well since then vs. the S&P 500 Index (NYSEARCA:SPY) as you can see in the chart below.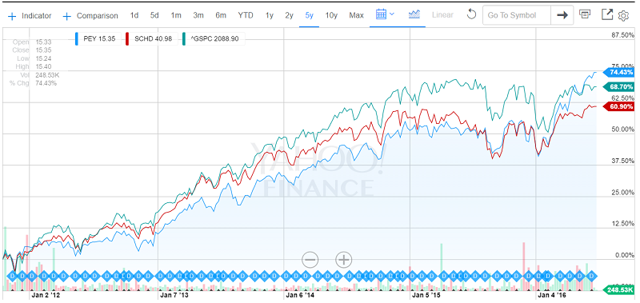 Click to enlarge
The S&P 500 Index outperformed both ETFs until 2016, but because investors are looking for yield anywhere they can get it these days, many have flocked to the PowerShares ETF in a big way and now is actually outperforming. Since we cannot analyze the performance data for the Schwab dividend ETF going back farther than 2011, we are left with just analyzing the longer term performance of the PowerShares ETF vs the S&P 500 Index and the Dow Jones 30 Index (NYSEARCA:DIA), which we did going back ten years.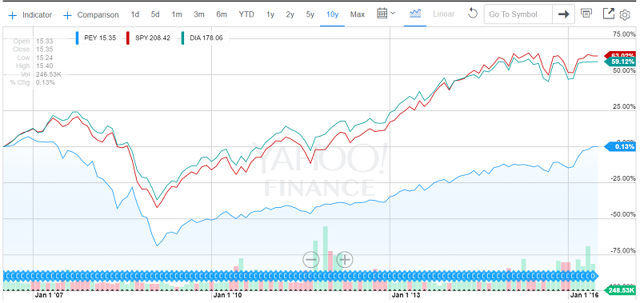 Click to enlarge
When investing it is important to always look at the past performance of how your current investments have done, because over your investing lifetime you will have to deal with both bull and bear markets. So we saw that the PowerShares ETF has done quite well in the last five years during a bullish dividend environment, but during the market correction of 2007 to 2009 it actually imploded and you would have only made +0.13% on your investment, had you held the ETF from 2006 to 2016. Thus despite what many investors may think, dividend ETFs at times are aren't as safe as one is led to believe. But why is that? Well the answer maybe found in the actual analysis of each holding of each ETF in order to see where the weak links may be. But how is that to be done,when each ETF has so many holdings? Well you are in luck, since we have my Friedrich Algorithm working for us, which can analyze ten years of a company's balance sheet, income and cash flow statements in about 10 seconds, which therefore gives me the ability to analyze any ETF, Index or Mutual Fund by analyzing each instruments holdings or components. Thus that gives us the advantage, as it allows me to analyze any ETF and do a TTM or trailing twelve months analysis of each of its holdings. When we do that for the PowerShares ETF we get the following: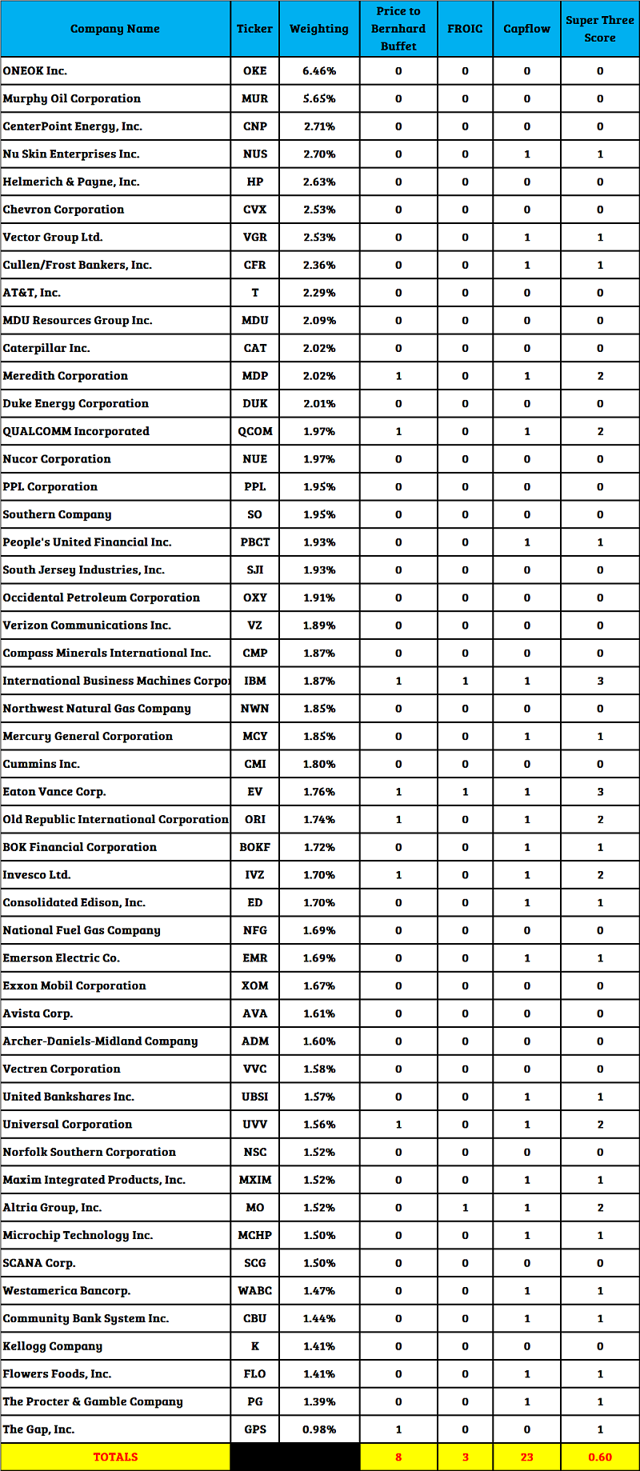 Click to enlarge
Then while we are at it here is the same type of analysis of the Schwab U.S. Dividend Equity ETF

Click to enlarge
Now with the Schwab ETF coming in at 1.00 and the PowerShares ETF coming in at 0.60 both seem to be rather expensive, especially when you factor in that a perfect score is 3.00. But what about the markets in general? Are the markets overvalued as well and how do these two dividend ETFs stack up?
Well here is your answer, as I present what I call my Friedrich Standings.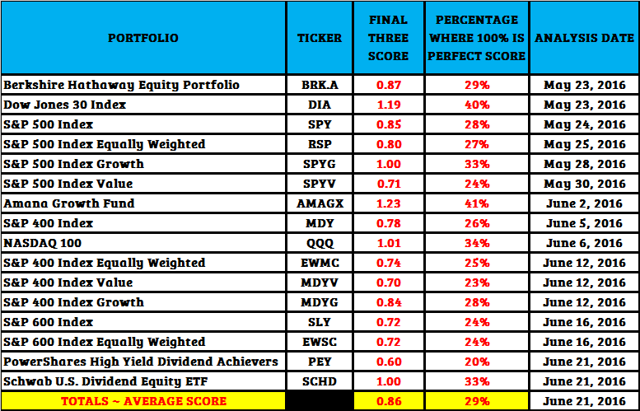 Click to enlarge
The PowerShares ETF came in with the lowest score of the group, because it is heavily weighted in stocks like ONEOK Inc. (NYSE:OKE) and Murphy Oil (NYSE:MUR), which my Friedrich Algorithm is not a big fan of.
ONEOK INC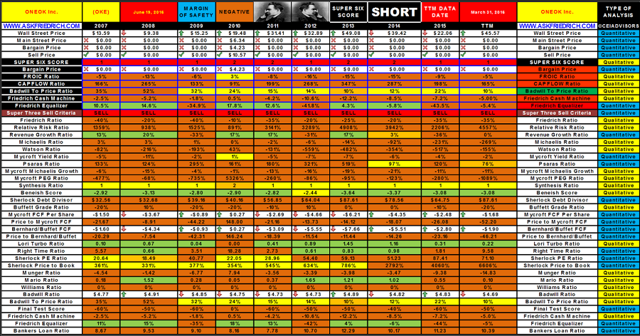 Click to enlarge
Murphy Oil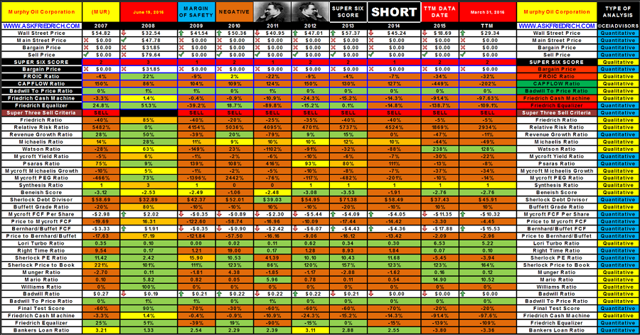 Click to enlarge
If you look closely at each Friedrich Data file you will find that both companies have negative free cash flow show up for the Bernhart Buffett free cash flow ratio and when that happens I automatically assign a $0 value for the stock as I don't want anyone using my system to invest when there is negative free cash flow present.
With having over 12% of the ETF in just those two stocks makes it far from safe in my opinion, especially if a bear market were to show up. Instead for those seeking yield I would suggest the following:
Ryman Hospitality Properties (NYSE:RHP)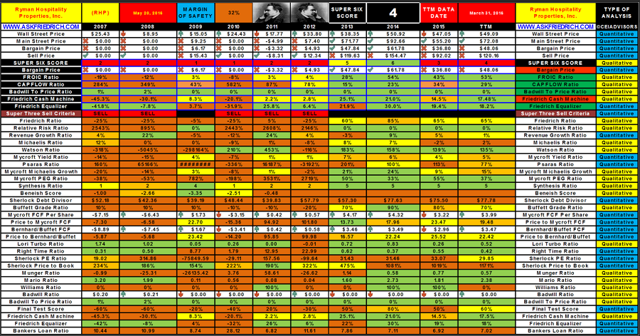 Click to enlarge
Ryman pays out a very safe 5.83% dividend that is fully backed by the company's strong financials. It also has strong management at the helm that are clearly experts at what they do. For those of you who want to investigate the company further I wrote an article about it here on Seeking Alpha, which you can read here.
Going forward when you compare Wall Street's valuations to the reality of how companies are actually doing on Main Street, then you find that Wall Street and Main Street are on opposite ends of the spectrum. With so many investors flocking to anything associated with a decent dividend yield, each may be putting too much trust in the yield and are not bothering to look at how the underlying companies are doing on Main Street.
As I have shown you in the example above you would be getting a much more impressive yield by investing in Ryman of 5.83% vs investing in which only offers a 3.27% yield or which only offers a 2.90% yield. Besides the strong yield you can also simplify your life and focus your attention on individual holdings and track them, while even with a system like Friedrich at your disposal you would still need to track over 150 stocks by investing in those two ETFs, which combined are a lot less safe in my opinion than an investment in would be. Of course you should also diversify, but don't diversify just to diversify, but instead identify other strong companies to diversify in. I for example have my clients in a 2% position in and look for other stocks to eventually have a 50 stock portfolio. When I can't find anything to buy I just wait in cash, especially when I see how overvalued the markets are from the analysis I did on the 17 instruments I did above.
In the end if a company does poorly on Main Street, an investor can hope and pray all they want, but in the end those facts will show up on Wall Street.
"In the short run, the market is a voting machine but in the long run, it is a weighing machine." ~ Benjamin Graham
Disclosure: I am/we are long RHP.
I wrote this article myself, and it expresses my own opinions. I am not receiving compensation for it (other than from Seeking Alpha). I have no business relationship with any company whose stock is mentioned in this article.