Chinese billionaire Chen Tian Qiao has amassed a sizable position in Lending Club (NYSE:LC) through Shanda Group. As of June 20th, 2016, Chen Tian Qiao owned 57.7 million of Lending Club shares, representing a 15% stake in the company. Could he be thinking about a buyout? Wall Street Journal reported that Shanda has no such intentions, but this hasn't stopped investors from speculating.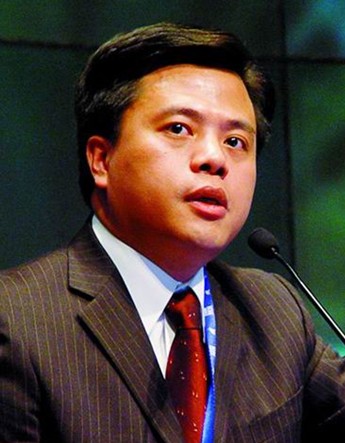 Source: en.people.cn
Chen Tian Qiao isn't famous outside of China like Jack Ma of Alibaba (NYSE:BABA), but he did found one of the biggest gaming companies in China: Shanda Interactive Entertainment. He has since sold the stake in the company and has moved on to asset management through Shanda Group. Note that Shanda Group is not a traditional money manager (i.e. mutual fund), which would negate any possibility of a takeover.
Strategic Rationale
Shanda does a little bit of everything, consistent with the diverse interpretation of asset management. For example, the company has been seeding various virtual reality focused start-ups such as UploadVR and Solfar Studios. Of particular interest is Shanda's stake in a social platform called "Youni." In addition to the typical social aspects of such communication platforms, Youni has also been experimenting with social payment, which enables money transfers between users and possibly businesses directly through Youni.
Unfortunately, Youni has been completely eclipsed by WeChat in China. But by integrating Lending Club's technology into Youni, it's possible that the app can be reinvigorated. From this perspective, taking over Lending Club could make some strategic sense. Whether it would be a financially sound decision, I cannot say since Shanda Group is private. However, one must wonder why Chen Tian Qiao would want to purchase a foreign P2P lending company when there are already plenty of P2P lenders in China. There is even one listed on Nasdaq, Yirendai LTD. (NYSE:YRD). Furthermore, there is rising regulatory concern concerning P2P lenders in China.
Speculative Option Positions
We can learn a lot from how Chen Tian Qiao built up the stake. In May and June, he opened large option positions covering 27.6 million shares (roughly half of his current holding), consisting of long calls with strikes at $3 and $4 and short puts with strikes at $4 and$ 5. This is a classic speculative position, with the puts financing the calls at the expense of higher risk exposure.
The puts were sold close to the money to increase the premium, again at the expense of higher risk. The durations of the options also tell the same story. They ranged from a little over a month to just three days. The only way these trades could have been profitable was if Lending Club's stock rose significantly in a short period of time (thankfully, it did). If Chen Tian Qiao's intention was to execute a strategic acquisition, then the trades he made were unsuitable, even if they made him money.
Conclusion
Although Chen Tian Qiao could be eyeing Lending Club to complement Youni, there are plenty of substitutes in China alone. From the option positions, we can tell that he set up the trade to take advantage of short-term fluctuations of the stock, which is not characteristic of a strategic buyer. Given the above, I believe that the chance of Chen Tian Qiao bidding for the entire company is small. Of course, that is not to say he won't change his mind.
Click the "Follow" button beside my name on the top of the page to be updated with my latest insights. To learn more about the V20 Portfolio, whose goal is to compound capital at 20% over the long term, I encourage you to read the introduction to my investment process. Premium subscribers get full access to the V20 Portfolio. Track the portfolio through the latest update, here.
Disclosure: I/we have no positions in any stocks mentioned, and no plans to initiate any positions within the next 72 hours.
I wrote this article myself, and it expresses my own opinions. I am not receiving compensation for it (other than from Seeking Alpha). I have no business relationship with any company whose stock is mentioned in this article.