Exxon Mobil (NYSE:XOM) is one of my favorite oil stocks. It is the only publicly listed oil producer in the world that can pump more than 4.2 million barrels of oil equivalents per day. It is the largest natural gas producer in the US and the leading chemicals maker. The company maintains an enviable portfolio of large, complex refining assets which is at par with some of the world's biggest independent refiners. For instance, it owns the Baytown refinery in Texas, which is the second-largest refinery in the US that can process up to 584,000 barrels of crude oil daily. It is also one of the most financially sound energy companies with an under-levered balance sheet and the best credit rating in the industry.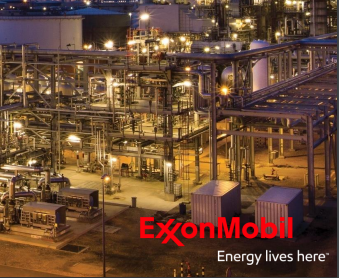 Some Seeking Alpha contributors as well as other commentators and financial bloggers have also recognized Exxon Mobil's ability to generate one of the highest levels of free cash flows in the industry as one of its biggest strengths. Exxon Mobil itself has also frequently touted its ability to generate strong levels of free cash flow in the downturn, as evident from the following image taken from the company's fourth quarter presentation in which it said that it generated positive free cash flows of $6.5 billion in 2015. That certainly looks like an impressive feat since it came at a time when the average WTI spot price dropped by almost 48% while nearly all oil producing companies reported negative free cash flows.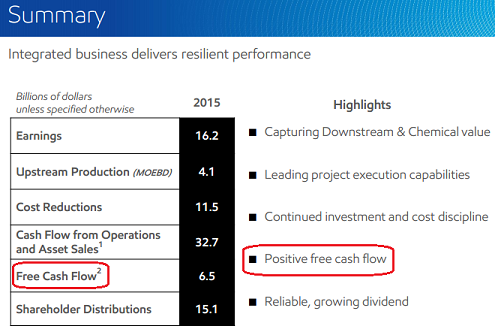 However, it is important to note here that FCF, unlike revenues or earnings per share, is a non-GAAP measure and therefore it does not have a standardized meaning under GAAP. Usually, we define FCF as the excess cash flow generated from operations after accounting for cash spent as capital expenditure. This helps us in deciding whether a company is generating enough cash which is required to maintain or expand its operations. In this case, the formula for calculating FCF would be cash flow from operations minus capital expenditure.
Another popular definition of FCF also includes the impact of cash outflows as dividends and buybacks. In this scenario, the formula for FCF would be cash flow from operations minus capital expenditure minus cash spent on dividends/buybacks (there are a couple of other variations of this formula as well but they are out of scope of this article).
Exxon Mobil, however, does not report its FCF in the traditional manner. Instead of just relying on cash flow from operations, Exxon Mobil also includes the impact of proceeds from asset sales. Moreover, instead of using the entire capital expenditure, Exxon Mobil uses what it calls "PP&E Adds / Investments and Advances," or property, plant and equipment additions or investments and advances which is typically not as large as the total capital budget.
In 2015, the company said that it generated $32.7 billion as cash flow from operations and asset sales while it spent $26.2 billion as PP&E adds / investments and advances. As a result, it was left with a free cash flow of $6.5 billion. The company also distributed $15.1 billion among shareholders, primarily as dividends. Including the impact of distributions, Exxon Mobil faced a cash flow shortfall of $8.6 billion.

However, using traditional method of FCF calculation shows that Exxon Mobil faced a cash flow deficit in 2015. Last year, the company generated $30.3 billion as cash flows from operations, excluding proceeds associated with asset sales, but it spent $31.1 billion as capital expenditure. This translated into negative free cash flows of roughly $800 million. Including the impact of distributions, the company faced a cash flow deficit of $15.9 billion.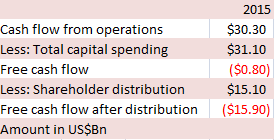 In short, Exxon Mobil does not generate FCF, based on the traditional method of calculating the metric. I believe that there are a lot of reasons to love Exxon Mobil, as highlighted earlier, but FCF isn't one of them.
Note from author: Thank you for reading. If you like this article, then please follow me by clicking the " Follow" link at the top of this page.
Disclosure: I/we have no positions in any stocks mentioned, and no plans to initiate any positions within the next 72 hours.
I wrote this article myself, and it expresses my own opinions. I am not receiving compensation for it (other than from Seeking Alpha). I have no business relationship with any company whose stock is mentioned in this article.