I've first recommended (PRO library) looking into DHT Holdings (NYSE:DHT), a shipping company, October 14, 2013. At the time the company owned no more than eight ships. Now it's up to 20 VLCCs, 2 Aframaxes in operation and 3 VLCC newbuildings scheduled for delivery this year.
At the time I pegged liquidation value of the company at 65% above the share price, and liked it because of its wide margin of safety, allowing room for estimates to be off and potential difficulties encountered when liquidating. Around 2013 the shipping market had been down for quite some time, and many shipping companies were experiencing financial difficulties or selling off assets defensively.
The situation is quite different now (except for container shipping), and everyone knows its. For DHT Holdings management, the shipping cycle is a top-of-mind subject. Since 2013 they have come through what they call the investment phase (PRO coverage here) and some of the recovery phase: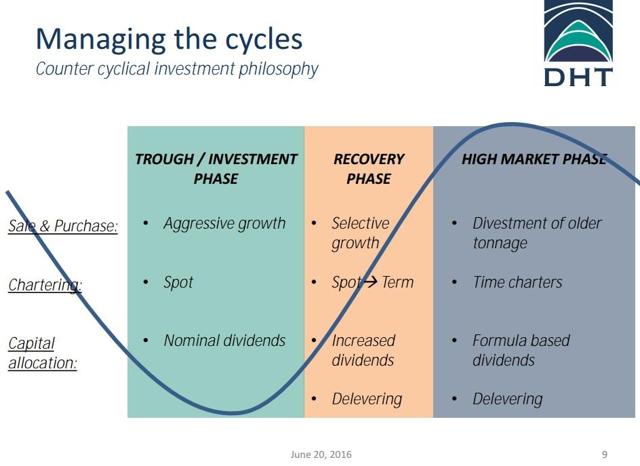 Click to enlarge
Source: DHT presentation.
Currently, DHT Holdings management perceives shipping to be somewhere between recovery and high market phase, as evidenced by its execution timeline: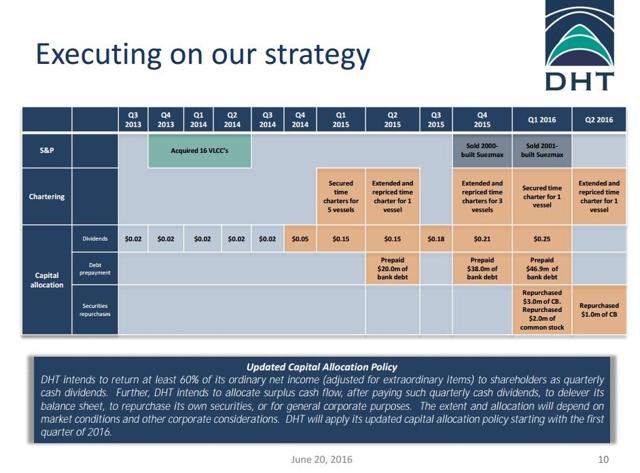 Click to enlarge
The company is selling some Suezmaxes. It is also returning capital and delevering at an aggressive rate. In my opinion, big positives the company has going for it right now.
The worst thing you can hold in shipping is a company that expands its balance sheet at a top and has the market move against it. The market could move up while DHT Holdings delevers and sells some assets, but it won't kill your returns. In this respect, I like what DHT is doing.
Shares are at $5 now, and you are looking at a quarterly dividend of $0.25, while the company is also planning to buy back stock or debt. To dislike the investment you must really hate the near-term outlook for VLCC's. To be fair there are definitely some solid bear arguments to be made. There is 1) the completion of the Panama Canal expansion which is bound to take out some demand for miles and 2) As this Frontline sheet clearly shows quite a bit of VLCC capacity is coming online during 2016 while the effect of aging on the existing fleet peaks around 2020.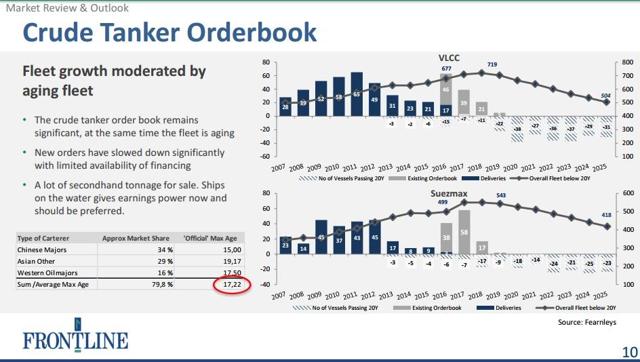 Click to enlarge
Source: Frontline presentation.
Shipping demand is notoriously hard to predict and it's not impossible VLCC rates rebound upwards again, after a recent high, but these two factors are clearly putting a lot of pressure on rates in the short term.
Valuation
DHT Holdings, isn't exactly priced for perfection. If you are on course to deliver a 20% forward dividend yield and return capital to shareholders by other means, the market is clearly not buying the story your earnings will hold up. DHT is even increasing its capacity by 18% this year when three newbuilds are delivered.
What I like to look at is the asset value of the fleet. Keep in mind it's highly correlated to spot rates and expected future spot rates. I prefer to rely on asset values over earnings models because it doesn't require my own input of estimates and it is easier to get an idea of how wide your margin of safety is. If you can get the assets significantly below their market value that's quite favorable.
With DHT Holdings that is certainly the case. The situation isn't as favorable as in 2013 but looking at last week's report on prices by Compass Maritime the company's fleet is worth quite a bit more than its book value.

Click to enlarge
Back of the napkin calculations show a value for the DHT fleet of $1,27 billion vs an Enterprise Value of the company of $1.06 billion.
Summary
DHT Holdings is definitely cheap compared to recent earnings but the market clearly doesn't believe these will hold up. To their credit, DHT management isn't counting on it either and acutely aware of the cycle dynamics. I love how they are vigilantly returning capital.
However, I'm uncomfortable with the near term dynamics caused by the Panama canal expansion and additional VLCC capacity coming online. If these bearish influences were a little bit further out, we would have more time to harvest the 20% annual dividend and decrease our downside further.
The discount to asset value is sizable but not of a magnitude that I'd say we are safe on the downside. If rates go down the discount will evaporate fairly quickly. All taken together it's a very tough choice but I prefer to buy shipping companies when they are going through a significant downturn. Currently, that means I'm much more interested in containers shipping.
Disclosure: I/we have no positions in any stocks mentioned, and no plans to initiate any positions within the next 72 hours.
I wrote this article myself, and it expresses my own opinions. I am not receiving compensation for it (other than from Seeking Alpha). I have no business relationship with any company whose stock is mentioned in this article.