Earlier this week, SA Contributor Anchorite wrote an article that got my attention: "Amazon Cloud: Zero Dividend, 294 P/E Or IBM Cloud: 3.7% Dividend, 11 P/E?" It examined the relative merits of investing in either Amazon.com (NASDAQ: AMZN) or IBM (NYSE: IBM) to leverage the growth of cloud computing.
I don't really have a dog in the fight over the validity of comparing a growth juggernaut like Amazon, with old school blue-chip IBM's shrinking Q/Q revenues, high dividend yield, and share repurchases.
However, on a more basic level, I think the cloud premise is a bit of a "red herring," since IBM, and Amazon results are still driven by legacy IT services, and retail/e-commerce, respectively.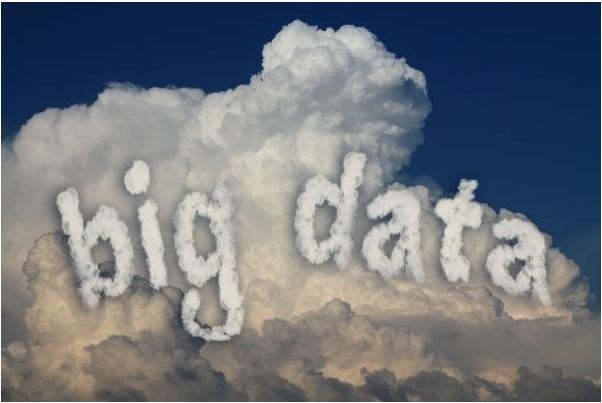 Source: Benzinga
I agree that cloud revenue is growing at a faster rate, but it is still a small piece of the pie in each case, compared with other business segments.
A Better Mousetrap
The cloud lives in data centers, and you can invest in them directly.
In fact, both Amazon and IBM are among the top tenants for data center REITs. Here are links to recent SA articles where I specifically spell-out the rationale for investors to own the data center REIT landlords:
Notably, in the six months since the IBM/Digital article was written, revenues derived from top tenant IBM have skyrocketed.
The Proof Of The Pudding Is In The Eating
Multi-tenant data centers provide a place where cloud providers like Amazon and IBM can literally "hook-up" with content and services providers, and enterprise customers. These locations are often viewed on-ramps to the public cloud.
The exponential growth of cloud computing, wireless data, IoT (Internet of Things), social media, streaming content, and big data/analytics is filling the sales funnel with customers for these data centers.
While data center REITs are growing at a ferocious pace, they are prudently deploying capital in phased developments and build-to-suits, typically at low-to-mid teens ROIC. This strategy has resulted in significant gains for shareholders this year.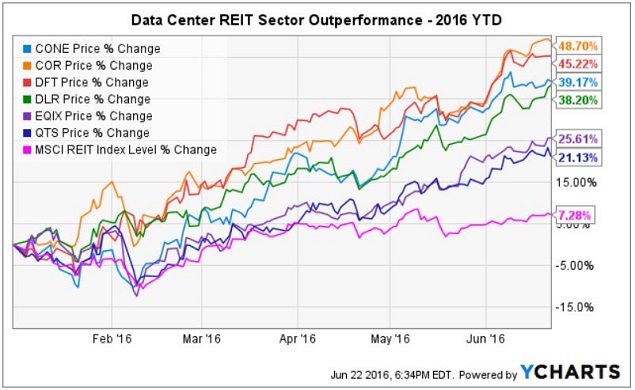 The relative outperformance of these cloud "magnets" vs. the Big 4 cloud services providers has been significant.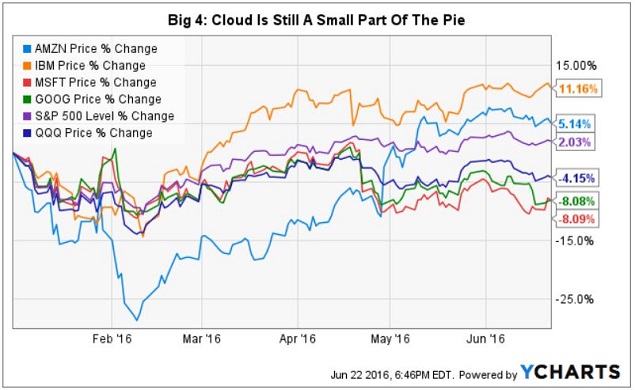 Investors looking for alpha derived from leveraging the growth in cloud computing should spend some time doing diligence and getting to know the six data center REITs:
Equinix, Inc. (NASDAQ: EQIX) a global leader in interconnection and backbone of the Internet. Equinix is an S&P 500 company with a $26.5 billion cap and 1.85% yield.
Digital Realty (NYSE: DLR) is the largest wholesale data center REIT, and has recently pivoted toward connectivity with the purchase of Telx. Digital is an S&P 500 company with $15.25 billion cap, an investment grade balance sheet, and an 11-year track record of raising its distribution, currently yielding 3.4%.
CoreSite Realty (NYSE: COR) was the top performing REIT of 2015, delivering a 50% total return to shareholders. CoreSite is focused on providing connectivity to customers of all sizes for high-performance applications. CoreSite has a $4 billion cap and distribution yielding 2.5%.
CyrusOne Corp. (NASDAQ: CONE) has a focus on providing solutions to Fortune 1000 enterprise customers, with a 5-year plan announced in March 2016 to double the size of the company. CyrusOne has $4 billion cap and pays a distribution yielding 2.9%.
QTS Realty (NYSE: QTS) shares have grown 160% since its October 2013 IPO. QTS offers a complete set of solutions in-house from large-scale wholesale deployments to cloud and managed solutions with a security and compliance focus. QTS has a $2.6 billion cap and pays a distribution yielding 2.6%.
DuPont Fabros Technologies (NYSE: DFT) is the only data center REIT solely focused on large-scale wholesale customers. DuPont shares have led the sector 2016 YTD, benefiting from record leasing to public cloud providers. DuPont Fabros has a $3.45 billion cap and offers the highest dividend yield, currently 4.1%.
The Cloud Land Grab
Microsoft Azure/Office 365 is another top data center REIT tenant, and Google Cloud Platform has now decided to target enterprise cloud deployments, as well. Google/Alphabet (NASDAQ: GOOG) (NASDAQ:GOOGL), and Microsoft (NASDAQ: MSFT) have each announced they are accelerating data center deployments to compete with Amazon. Amazon already has a public cloud market share, and is also expanding its global data center footprint.
Because the competition is heating up, time is of the essence. The fastest way for cloud providers to enter new markets is to lease existing powered shell space that is designed to meet the needs of these hyperscale cloud providers.
Cloud service providers often have limited visibility into the long-term growth of existing customers. The only way to scale up quickly to meet unanticipated customer demand in an existing cloud region is to lease.
Data center REITs have recently reported another quarter of record leases signed, leading to record backlog of booked-but-not-billed revenues. In almost all cases, this is directly or indirectly linked to the rapid growth by the largest cloud providers.
Additionally, in multi-tenant data centers, industry ecosystems can develop and tend to grow over time, making the existing customers "sticky" as the number of available cross-connections continues to grow. The existence of these ecosystems can create a competitive moat, which becomes a barrier to competition.
Public Cloud Is Not Death Ray
In a June 22nd Data Center Knowledge article, the myth of the rapid demise of the corporate data center was debunked by a survey of over 1,000 IT professionals.
"Recent survey data illustrates clearly that while a lot of capacity is being outsourced, a lot of it is also staying put. Results of this year's data center industry survey by the Uptime Institute, published today, show that 50 percent of enterprise IT budgets have been either flat or shrinking over the last five years, and that 55 percent of enterprise server footprints have been either flat or shrinking as well.

At the moment, however, more than 70 percent of enterprise workloads are still running in corporate data centers, according to Uptime. Colocation data centers host 20 percent, and only nine percent is in the cloud."
Notably, in 2014, 18% of participants surveyed indicating they were building or expanding on-premises data centers. In 2015, the number dropped to 15%, and the 15% rate is holding steady based on survey responses for this year.
Since new data center and expansion projects are not necessarily considered every year, a steady 15% annual expansion of the largest piece of the data equation clearly helps to maintain the status quo.
The Hybrid Cloud
The Uptime Institute data supports the widely held belief the configuration for most enterprise IT stacks will be a combination of public (shared), and private (dedicated) cloud infrastructure, along with on-prem data centers. This type of integrated solution is commonly referred to as "hybrid cloud" IT architecture.
These trends also hold true for the Federal government agencies, which currently spend about $80 billion annually on data centers. In fact, these agencies are under scrutiny by the White House OMB data center freeze initiative, and are still required to consider "cloud first."
Common sense and the facts on the ground support the continued growth of public cloud and third-party outsourced data center solutions for new IT deployments. In both cases, enterprises can reduce capex locked away in capital intensive owned data centers, and reallocate capital to core business initiatives.
On the other hand, there are mission critical "crown jewels" and some legacy applications that will continue to run on-premises in both the private and public sector.
Investor Takeaway
It is difficult to pick winners in the technology sector. In clear contrast, publicly traded REIT landlords are selling picks and shovels to technology companies competing to cash in on the cloud computing land grab.
There are hundreds of companies offering network and cloud solutions. Many hundreds more are competing to offer Infrastructure, Software, Platforms, and Disaster Recovery as services to private sector and public sector customers.
One thing they all have in common is they are targeted customers for data center REITs, along with the hundreds of thousands of enterprises that they hope to serve.
Data center REITs have a core business focus on providing state-of-the-art, large scale data center halls, cages and cabinets quickly and cost effectively. These facilities literally provide the foundation for the cloud. They are the most direct way for investors to participate in the growth.
Here is a link to an article from earlier this month on why data center REIT growth can support the current earnings multiples. Investors looking to hedge their bets and cash in on cloud computing can pursue a simple DIY Smart-Beta Data Center ETF strategy that I suggested in January.
I relentlessly hunt for diamonds in the rough and rising stars, in addition to closely following data centers, covering REIT blue chips and breaking news. Please consider following me as a Seeking Alpha author if you would like to be notified when my future articles are published.
Disclosure: I/we have no positions in any stocks mentioned, but may initiate a long position in CONE, COR, QTS, DLR over the next 72 hours.
I wrote this article myself, and it expresses my own opinions. I am not receiving compensation for it (other than from Seeking Alpha). I have no business relationship with any company whose stock is mentioned in this article.