Every month, I go short on one Dow stock to hedge for market risk. I use one month as my holding period because this is easily done with options. But more importantly, most of the stocks in the Dow index have a sort of seasonality that can be reliably leveraged for a better risk-reward profile than merely shorting the entire Dow every month .
Donald Thompson recently published a short and sweet bullish thesis on Visa (NYSE:V). I ran across his article before a final check before deciding on my monthly Dow hedge. With my eye on Visa for July's Dow hedge, I read through Thompson's thesis and was not convinced that Visa will outperform next month.
I will explain my reasoning for Visa as a short leg, but first let me state that Thompson's bullish thesis is based on an extremely long time horizon: one decade. Perhaps he'll be right on such a time frame (I still disagree, as the next decade will likely introduce disruptive technology that will force Visa out of its traditional business model). But on a shorter time horizon, Visa is almost certainly a better short than a long.
Also note that Thompson states that if you held Visa for the last three years, you would have seen great gains. This assumes that past performance will continue in the future. On the contrary, statistical studies show that stocks outperforming for three years actually underperform in the following year.
Earnings:
Many of the bullish arguments for Visa site strong EPS growth, which might be objectively true. However, compared to Visa's true growth days, I see nothing but stagnation: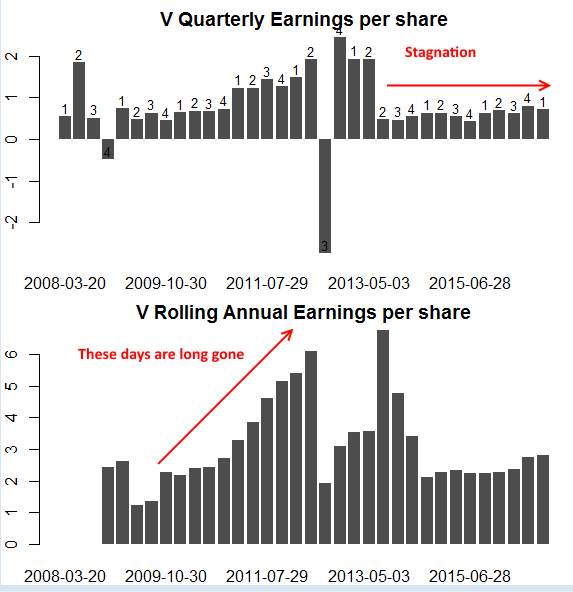 Unless the company has a method to drastically improve revenues or drastically decrease costs, I see no reason to expect anything different from Visa in the coming months.
Insider Activity:
If you want to know whether the market has failed to price in future positive catalysts into a stock, your best bet is to turn to the insiders. Insiders always have more information than retail investors and are likely to buy before positive changes in the company or macro environment. However, in the case of Visa, we see nothing but selling over the past year:

Click to enlarge
Insider selling by itself is not a bearish signal, but the lack of insider buying is a signal of a lack of performance. If the insiders have no faith in the stock, why should investors? Certainly, investors are not buying for the sub-1% dividend, so the only reason to buy is an expectation of growth - something insider activity is not signaling.
Market Changes:
Okay, so Costco Wholesale (NASDAQ:COST) is now using Visa instead of American Express (NYSE:AXP) as their go-to credit card. Perhaps down the line this will add to Visa's revenue. But in the short-term, Visa has more bad news than good, including losing a partnership with Walmart Canada. And it's not just short-term bad news, either.
Here's where the disruptive technology comes in, and it's coming sooner than you'd think. Apple (NASDAQ:AAPL) and Google (NASDAQ:GOOG) (NASDAQ:GOOGL) are now encroaching in Visa's shared monopoly with Mastercard (NYSE:MA). Apple Pay and Android Pay are going the route of becoming full-fledged payment processors. This is not Paypal (NASDAQ:PYPL) but a service that is being increasingly accepted by brick-and-mortar shops.
Risk:
Visa is occasionally cited as a defensive stock. After all, credit cards are used regardless of market conditions and sometimes used as backup plans when household income takes a hit. But the last market crash shows us that holding Visa is no safer than holding the SPDR S&P 500 ETF (NYSEARCA:SPY):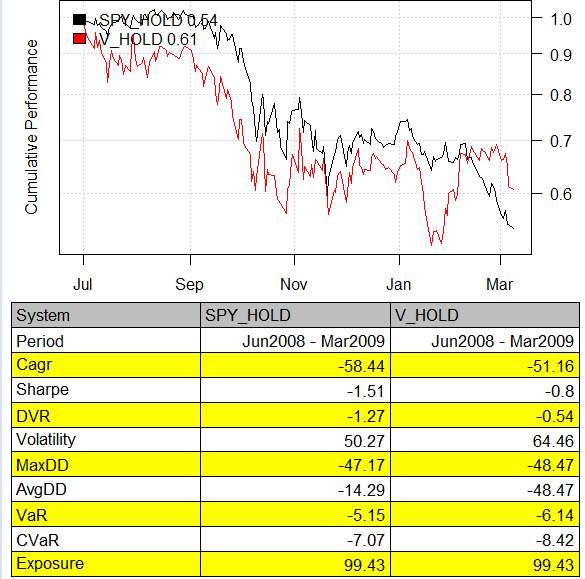 Valuation:
Few will deny that that Visa looks overvalued. It is hard to justify a P/E of 30, as this P/E is double the industry average.
Studies have shown that holding high P/E stocks expose you to extra risks when the company reports bad news or misses an earnings estimate. This is because investors have high hopes for the company, and if these hopes are not met, the stock is quickly dropped. My own discounted cash flow valuation puts Visa at $60.54; this implies a 30% overpricing for the stock.
Options
The options market typically leads the stock market for upcoming price swings, based on known or unknown events (i.e., insider information). The options market is showing more bearishness than bullishness for Visa. The upward divergence of implied volatility away from the statistical volatility trend implies that an upcoming event could drive Visa to a new price range: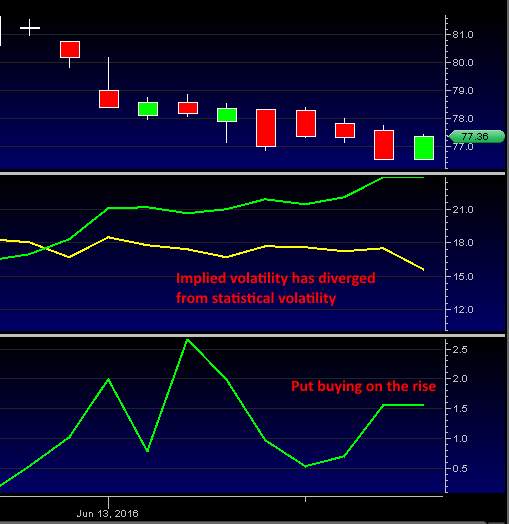 To better understand how to use options in predicting future stock events, watch the following video:
Conclusion:
I see more downside than upside in Visa. Visa has run away during this bull market to a clear overpricing and now faces new headwinds. I hold to my thesis that Visa is the best short leg for a Dow hedge in July.
Learn More about Earnings
My Exploiting Earnings premium subscription is now live, here on Seeking Alpha. In this newsletter, we employ both fundamental and pattern analyses to predict price movements of specific companies after specific earnings. I offer specific strategies for playing those earnings reports. To-date, we are 92% accurate on earnings report predictions.
Disclosure: I am/we are long SPY.
I wrote this article myself, and it expresses my own opinions. I am not receiving compensation for it (other than from Seeking Alpha). I have no business relationship with any company whose stock is mentioned in this article.