As I write, the S&P500 (NYSEARCA:SPY) looks like it is going to stay above 2,100 today and it looks to me that the market is pricing in that Britain will remain in the European Union. Many analysts believe that this event could be the catalyst for the stock market to enter a new bear market but I don't see it that way. If we look at a chart, we can see that the 5 day RSI indicator still hasn't reached oversold levels which would be needed in my opinion to form an intermediate top in the stock market. Could the market get oversold between today and tomorrow which could then force the low? Yes theoretically it could but I still have a few issues with the stock market topping out at these levels.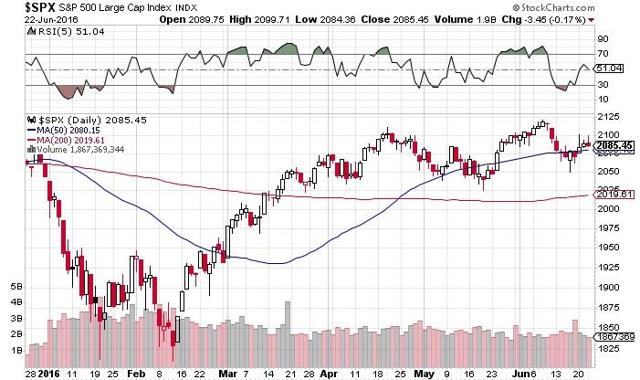 Click to enlarge
Firstly if we top out here when the vote result gets released tomorrow, this will mean that we have topped out on week 19 (we bottomed in February) of this intermediate cycle. This would potentially mean that we would have 10 weeks or more of a decline ahead of us which to me doesn't make sense considering the strength of the rally we have had since February
Sentiment still hasn't reached ultra optimistic levels like we usually have at intermediate tops which gives us another indicator that an imminent top is not at hand (see chart)

Click to enlarge
Source : Sentimentrader.com
A follower a few weeks back questioned my decision to go long the triple leveraged ETF (NYSEARCA:LABU). We are underwater on this position (entry price around $33) but I refuse to give up on this position. Why? Well volume has stayed elevated in this ETF even as we dropped over the last 2 weeks. Technically (as long as the lows hold), this looks like a very strong bottom is forming and if volume is anything to go buy, a violent trend change could be on the cards shortly.. I cannot see biotech rallying and the S&P going the opposite direction especially after Biotech having lead this bull market since we bottomed in 2009.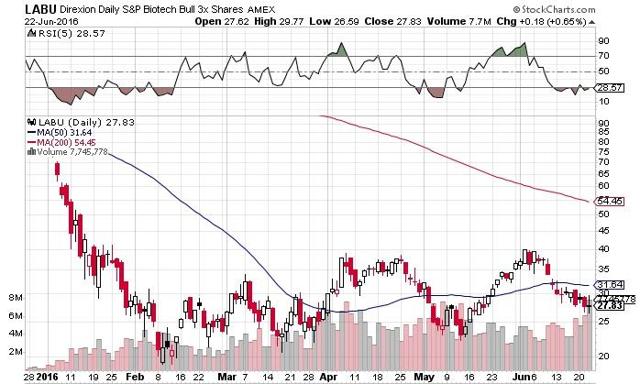 Click to enlarge
Regarding our Walmart (NYSE:WMT) position in our portfolio, we are up $1,400 on the stock part of the covered call trade and down $180 on our call option. We sold the January-2017-$70-Call for $2.78 per contract and now its worth $4.58 per contract. We will leave this position as essentially the short call is "covered" by the stock so followers of this portfolio should be aware of the following.
Covered Call trades Should Be Taken Off As A Unit (Short Call & Stock) - Like When The Initial Trade Was Put On
We are currently holding 200 shares of stock and one short call (see below). Therefore my portfolio followers should not sell all their stock and leave a losing call on in the hope that it will come back into profit. Why? Because at any time the option buyer could exercise the call option which would mean you would have to supply the buyer with 100 shares of stock at $70 a share. If Walmart keeps rallying (which looks likely), the buyer could easily exercise the call option (usually they exercise before the stock goes ex-dividend to avail of the dividend payment). Therefore if you do not have stock when the buyer exercises the option, you would then be assigned 100 shares of short stock which is not a situation you want to be in with Walmart.

Click to enlarge
To sum up, I'm going to be adding a few good dividend and growth stocks to the Elevation Portfolio over the next several weeks, when I see value. In order to ensure that income is brought in every month, it's imperative that they are not correlated and all don't have similar valuations. You can follow along by pressing the "Follow" button above.
Disclosure: I am/we are long WMT.
I wrote this article myself, and it expresses my own opinions. I am not receiving compensation for it (other than from Seeking Alpha). I have no business relationship with any company whose stock is mentioned in this article.