After struggling badly in the earlier part of the year, Marathon Oil (NYSE:MRO) has made a terrific comeback in the past five months. Buoyed by the rally in oil prices and a low-cost asset base, Marathon shares have recovered more than 60% since the end of January.
But, in my opinion, Marathon Oil's rally has not yet ended as the company has geared its business to perform well in a low oil price environment of $50 WTI. This is the reason why the stock was upgraded earlier this week by Morgan Stanley after the PayRock Energy acquisition that will further improve the quality of its asset base.
What the PayRock acquisition means for Marathon
On June 20, Marathon announced that it is acquiring PayRock Energy for a price of $888 million. With this acquisition, Marathon has bought itself more acreage in the lucrative STACK oil play of Oklahoma. Just after the acquisition was announced, Marathon shares shot up over 10% in a single trading session, which is not surprising considering the value that will be added by PayRock to Marathon's existing assets.
More specifically, the PayRock acquisition adds 61,000 acres to Marathon's STACK acreage, with 90% of the acreage in the oil window. This acquisition will take Marathon's production in the STACK to approximately 17,000 BOEPD as compared to the earlier production of 7,700 BOEPD. This means that the production from the acquired acreage will be higher than what Marathon was already producing at this asset.
Now, some of you might wonder why Marathon has taken the risk of making an acquisition at a time when there is still uncertainty as to what direction oil prices will take. But, in my opinion, this is a really smart move because PayRock's assets fit Marathon's production and cost profile like a glove. This is because PayRock's acreage is highly-profitable in the current oil pricing environment.
In fact, Marathon sees internal rates of returns in the range of 60% to 80% at an oil price of $50 WTI in the STACK area, before taxes. Moreover, apart from the $888 million price that Marathon is paying for these assets, it won't have to incur any additional capital expenses to develop the acquired assets. This means that Marathon's production will continue to improve despite the existing capital expenditure budget of $1.4 billion for 2016, which is 50% lower than last year.
The reason why PayRock's wells will perform in such an impressive manner is because they lead the industry in terms of performance. These wells, developed with 5,000 feet lateral lengths, have a higher production than the industry average and can help Marathon make back its investment in just 18 months, depending on completion costs. This is illustrated by the following charts: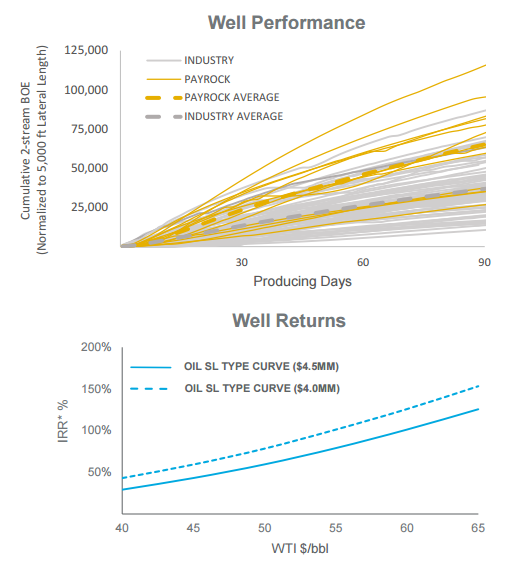 Source: Marathon Oil
The reason why this asset adds so much value to Marathon's existing asset base and delivers such high returns is because it is present in an over pressured oil window. Marathon intends to make the most of these assets by deploying tighter cluster and well spacings, which will allow it to generate more oil despite an average lateral length of 5,000 feet.
There have been examples in the oil industry where E&P companies have been drilling longer laterals to get into the high pressure zones to increase estimated ultimate recovery rates, but Marathon does not need to deploy longer laterals than 5,000 feet. This is because by using tighter spacings and a higher number of stages, the company will be able to generate more oil as more stages will be present in the higher pressure areas. This can be understood from the following: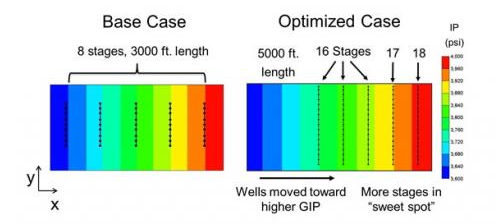 Impact on balance sheet
The good part about Marathon's latest acquisition is that the company has not taken the debt route to finance the same. In fact, the company will be using the cash on its hand to finance this purchase, which is expected to be complete in the next quarter. At the end of the previous quarter, Marathon had cash on hand of $2 billion, so the company has made good use of the cash by buying an asset that will generate impressive returns in the current oil pricing environment.
More importantly, the purchase will not hit the company's liquidity position either as it has sold assets worth $1.3 billion already this year as compared to its earlier target of $750 million to $1 billion. Of these asset sales, the proceeds from the sale of its Wyoming assets are still to be received, and this will add $870 million to Marathon's liquidity. Effectively, Marathon has marshaled its asset base in a smart manner to reduce reliance on higher cost assets by selling them, and then using the proceeds to buy a high-return asset. This is shown in the chart below: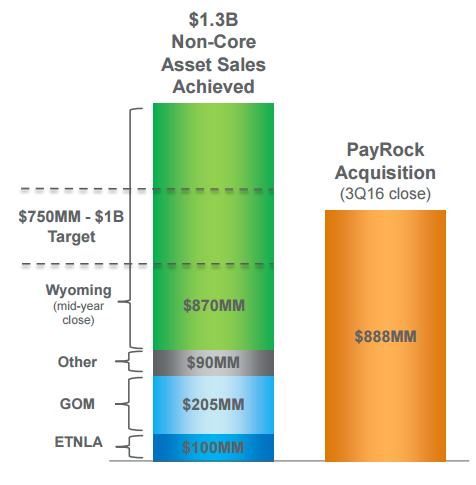 Source: Marathon Oil
Conclusion
Marathon Oil has made the right moves to improve its asset base and that too in a manner that does not impact its balance sheet or capex profile in a negative manner. So, in my opinion, it will be a good idea to remain invested in Marathon shares as the latest asset purchase will allow it to do better in the current oil pricing environment.
Disclosure: I/we have no positions in any stocks mentioned, and no plans to initiate any positions within the next 72 hours.
I wrote this article myself, and it expresses my own opinions. I am not receiving compensation for it (other than from Seeking Alpha). I have no business relationship with any company whose stock is mentioned in this article.