Associated gas production is one of the many reasons why - despite natural gas related rigs being in secular decline - U.S. gas production continued upward.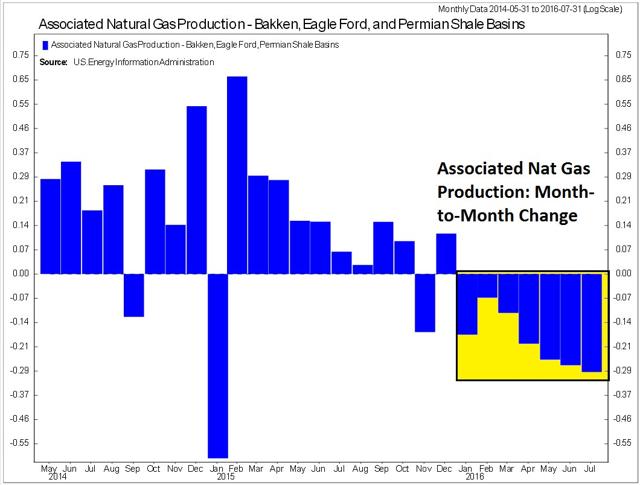 Click to enlarge
Source: Warren Pies
Associated gas is a form of natural gas found when drilling for oil. The cost to extract the gas out is minimal, leaving many of the shale oil producers to capture whatever price they can get on the associated gas. With natural gas prices declining since 2008, gas-related rigs have fallen, but production has grown. A number of factors contributed to this, such as improved drilling results, better technology, DUCs, more prolific wells, and associated gas.
Marcellus and Utica didn't come into play until 2010. Drilling results improved over the years, and better technology allowed drillers to drill with more accuracy.
One of the key components to the surging gas production was the associated gas production increase from oil drilling. Producers like Pioneer Natural Resources (NYSE:PXD) estimate that there are large recoverable natural gas deposits in the Permian if gas prices recover to $3.50/MMBtu or higher. This is another one of the reasons why we think this will be the long-run average price.
Associated gas production is nearly 20% of U.S. gas production. The slowdown in oil-related drilling activity and falling oil production has contributed to the recent fall-off in associated gas production. According to PIRA, associated gas production will keep pace with the oil production decline and won't recover until mid-2017. This will help U.S. gas production reach 68 Bcf/d by the end of the year if the pace of the decline continues.
The producers we follow have also pointed to picking up drilling activity later this year. In that case, we assume that the 68 Bcf/d would be hit prior to drilling activity picking up - and perhaps jumping to 70 Bcf/d by year-end. Winter heating demand will likely absorb much of the production increases, but this could temper our end-of-draw storage figures for next year.
We continue to monitor the weather forecasts, and the current ones point to a resumption of the La Nina trend by the end of this month. This could pave the way for the hot July everyone currently expects. Current estimates, however, suggest a mixed La Nina. There are some estimates that point to a strong one, while others point to a weak one. Obviously, other atmospheric indicators play a role in determining the outcome, but we are doing our best to simplify these forecasts.
As we are long many natural gas producers, the strength of La Nina will play an important role in determining just how cold winter could get. Fundamentals matter, but the ultimate driver of a natural gas producer's value is natural gas prices.
As always, if you enjoy our natural gas (NYSEARCA:UNG) daily, please click on the "Follow" button above and read our other energy write-ups. We also have a premium service tailored to investors looking to how we are thinking about positioning and real-time trade alerts. You can view our delayed one-month portfolio update here. We hope to see you join the HFI community.
Disclosure: I/we have no positions in any stocks mentioned, and no plans to initiate any positions within the next 72 hours.
I wrote this article myself, and it expresses my own opinions. I am not receiving compensation for it (other than from Seeking Alpha). I have no business relationship with any company whose stock is mentioned in this article.