Earlier on Thursday, BlackBerry (NASDAQ:BBRY) announced yet another unimpressive quarter despite an EPS beat of $0.08 that was driven exclusively by cost cutting as revenues plunged 39% YOY on a GAAP basis. Most notably, device sales fell 54% YOY to about half a million units in the most recent quarter.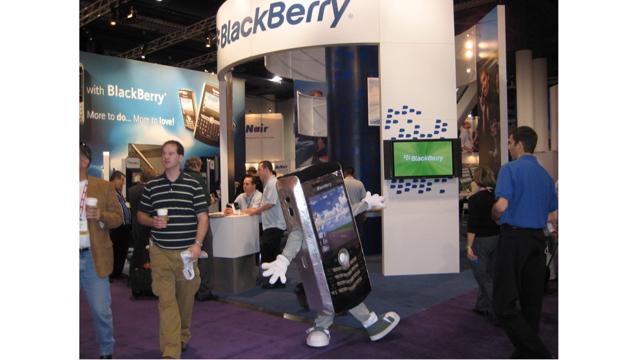 Click to enlarge
Could this sappy smartphone be on its last legs?
Credit: Mdh01.wordpress.com
During his post-earnings morning interview on CNBC, CEO John Chen sent mixed signals regarding his commitment to handhelds. Chen emphasized that he continues to be "bullish that [BlackBerry] can make money on the hardware" side of the business, aligning with his earlier remarks that the device segment has come very close to profitability.
But Chen, in his trademark "no-filters" style, also left the doors wide open for what I interpret to be the eventual disposition of the company's handhelds division, possibly in the near future:
I'm focusing on making sure we make money first in that segment, and then worrying about growing the business. […] I'd rather take less revenue but a much higher margin […]. We will do the right thing for the shareholders, and will not just continuously focus on losing money. Am I still looking at it that way [i.e. considering the disposition of handhelds]? I'm always looking at it that way! […] A business that does not have any possibility of making money in the near term, there is no reason for us to be in it.
It is hard to reconcile Chen's first and second statements, because they each point to different strategic paths. Is the CEO bullish on handhelds, or is he ready to scratch the division if it fails to be profitable in the near term?
Reality check: BlackBerry's hardware has become increasingly insignificant and unprofitable
The table below, which illustrates how BlackBerry and its hardware segment have performed in the past five years, draws a clear picture. Not only is the handheld business fading rapidly and becoming increasingly irrelevant for the Canadian company, but it is also doing so unprofitably. The segment has shrunk an astonishing 94% between fiscal 2012 and the fiscal year ended February 2016. Gross margins, excluding inventory write-offs and supply commitment charges, have reached a historical low of -5.9% vs. +20.1% in FY12. It is obvious to me that BlackBerry's hardware business is heading down a path to irrelevance, and it is consuming some of the company's valuable resources along the way.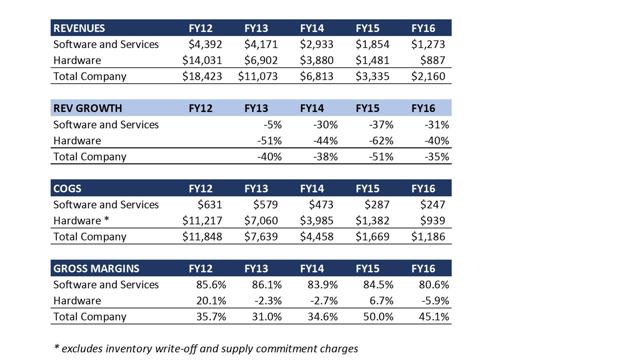 Click to enlarge
Source: DM Martins Research, using data from SEC filings
Chen has made a statement to CNBC that BlackBerry "also [has] branched out, taking [its] hardware know-how, or the device software part of it, and [is] now going to start licensing it to other players. It could be even competitors for that matter." To me, this sounds like a "Hail Mary" attempt at finding a sliver of value to salvage the company's battered devices segment, possibly the CEO's last push. For the sake of BlackBerry's shareholders, I hope John Chen is not only open to the possibility, but also actually putting together a plan for phasing out handhelds and focusing the company's resources on higher-growth, more profitable ventures.
Final thoughts
When I look at BlackBerry, I see only two plausible scenarios: (1) an uphill battle to save the hardware business that will postpone the achievement of sustainable profitability and growth, dragging down the stock as investors continue to perceive risks and to price shares accordingly; or (2) the disposition of handhelds, likely in the form of a liquidation rather than a sale, that could add uncertainty and cause stock price softness in the short term, but that might be the company's best chance at surviving in the longer term.
In my view, it is time for BlackBerry to start tapping into its recent acquisitions (e.g. security and data management providers WatchDox, Secusmart and Movirtu) and position itself to win in more promising markets, including software and security, licensing, M2M and even first-respondent communication systems. Without the drag of hardware, a software- and services-centric BlackBerry would be a much smaller, but likely profitable company that could command higher valuation multiples and help to fire up a dormant stock.
Disclosure: I/we have no positions in any stocks mentioned, and no plans to initiate any positions within the next 72 hours.
I wrote this article myself, and it expresses my own opinions. I am not receiving compensation for it (other than from Seeking Alpha). I have no business relationship with any company whose stock is mentioned in this article.