In early April, shares of the hand-bag fashion brand Vera Bradley (NASDAQ:VRA) were trading right around $20, and I decided to dig in at the time and see if I could find good reason to justify that sort of valuation.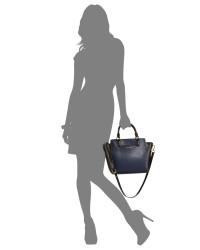 At that level, I believed it was overvalued, based primarily on my discounted cash flow calculations, with specific concern in terms of containing SG&A costs and improving gross margin. Since then, the price has dropped steadily, and it has spent most of June trading under $15. With an earnings call from June 1 giving some full-year guidance and a short stretch of price stability, I think the company merits another look.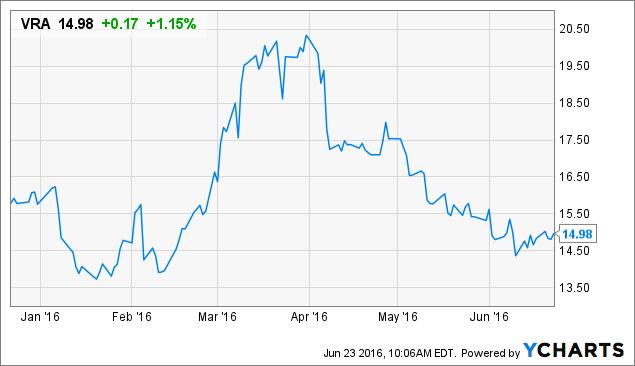 Vera Bradley appears to have some factors in its favor in spite of the challenging retail environment. For starters, management is forecasting revenues to tick up to around $515M, or about a 2.5% increase on FY 2016, which would itself be a turn around after a few years of declining revenue. It is pushing revenue expansion across several channels, including
4 new full line stores, including a new flagship in SoHo
6 new factory stores
Refurbishing of 35 high volume full line stores (around one-third of the total) by year-end, with plans to refurbish 100% of the full line stores by 2019.
Enter 100 new Macy's (NYSE:M) stores this year, and have jewelry and fragrances available in more department stores as well
Total redesign of the Vera Bradley website this year to correspond with the rebranding efforts and new logo
While acquiring a total of 10 new physical locations may not appear overly aggressive, it is not without risk; Miriam Gottfried recently wrote in the Wall Street Journal about the broad need for retailers to close more stores. Her view should be considered as a future possibility for Vera Bradley, although at approximately 180 stores total (full line and factory combined), the company is still under the 200 figured cited by Gottfried as the ideal number.
In addition to new locations, Vera Bradley is working on building up a new image for itself, striving to appeal to women like this one, who cannot get enough of the brand and share it enthusiastically. At the same time, by moving into collegiate apparel, the company hopes to win loyal customers at a younger age, and keep them lifelong customers of not only Vera's handbags, but jewelry, fragrances, and other items beyond the fabric universe. The particulars of the new look are not yet known (scheduled for September), but it is fair to say high hopes are riding on the new marketing emphasis. Vera Bradley CEO Rob Wallstrom ended the last earnings call with these remarks (edited here for length):
Our comprehensive multifaceted media plan is a fully integrated mix of digital, social, exponential and print with our goal being to surround her with our brands . . . As we surround our daymaker, we will continue to connect with bloggers and other fashion and lifestyle influencers. You will see fewer digital banners and more engaging social media including video as well as lifestyle fashion magazine spreads that reach a high concentration of daymakers.
While this approach is hardly revolutionary in 2016, it does reveal both the necessary steps to remain relevant, as well as optimism that the Vera Bradley business will pick up moving forward.
Optimism alone does not make for a sound thesis to go long on a company, but what strikes me as I updated the DCF model is that Vera Bradley is valued like its revenue will grow 1% for five years, and then its cash flows in perpetuity at 1% (assuming it can bring down the SG&A and COGS ratios to around 42% each). The point is that while 1% growth is still growth, it is beneath the expectations management is projecting for 2017, and with better marketing and a wider range of products, revenues can conceivably grow better than 1% per year in the near-term.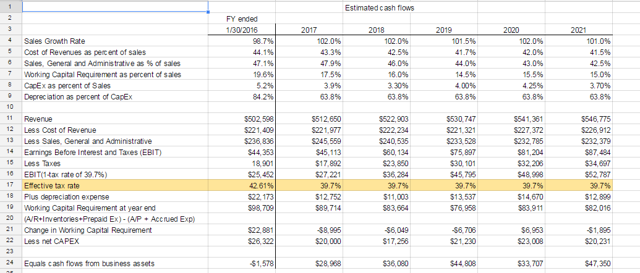 Click to enlarge
I can see a stable growth story unfold for Vera Bradley that would justify an bump to the current $15 share price.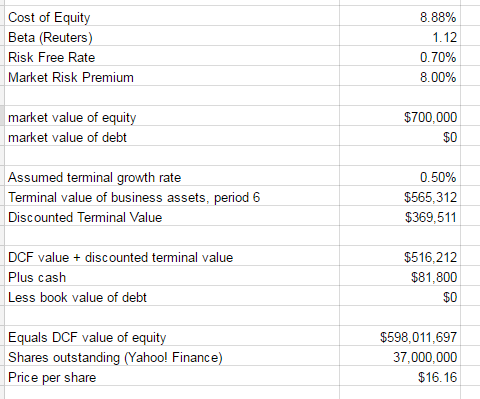 The upside is not necessarily a hefty one, but with a mix of annual revenue growth between 1% and 2% combined with the aforementioned cost containment, a fair price per share comes out above $16. While this is not a massive return, I like it for two reasons: first, I believe the downside risk is minimal; I do not find any evidence to suggest revenues will drop off dramatically or that costs will escalate out of control. Secondly, with the efforts Vera Bradley is putting in place, I think these growth projections are relatively conservative, and the real upside is will be closer to 15% over the next year.
Conclusion
In addition the growth efforts management is putting in place in its turn-around strategy, the company is simultaneously buying back shares and operating without debt. While opinions vary widely on the efficacy of stock buybacks, prospective shareholders should be aware that the company has already bought over 600,000 shares at around $15.40 per share, and has up to about another $40M it can spend on the effort in the coming years.
Undoubtedly, traditional retail is going through a difficult transition at the moment, so I counsel caution generally in this sector, as any long retail play could be subject to real headwinds. While Vera Bradley may never be the most cutting edge player here, I do believe it is slightly undervalued at the moment, moving ahead prudently, and over the next 12 months I would expect it to see $16 territory for the shares.
Disclosure: I/we have no positions in any stocks mentioned, and no plans to initiate any positions within the next 72 hours.
I wrote this article myself, and it expresses my own opinions. I am not receiving compensation for it (other than from Seeking Alpha). I have no business relationship with any company whose stock is mentioned in this article.